Introduction
The international economy has experienced one of the worst economic crises since the Great Depression. The crisis began in the United States and spread through Europe as well as throughout the world in 2008 with its after effects still present in the form of debt crises facing various countries in Europe such as Greece. The financial crisis has led to constriction of the credit markets, stock market crashes, increased unemployment and gradually decreasing corporate profits. January 2009 in which the UK had officially entered a recession. UK's GDP had fell drastically in 2008 and continued to fall throughout 2009 with a devastating impact on the country's economy (Atkins 2009). Peston (2008) has asserted that UK has witnessed its worst downturn in 2009 since World War II since it is worldwide crisis and came about from large amounts of fake debts. The construction industry has also entered into the phase of deflation since the finical crisis in 2008 along with other industries. The Office of National Statistics (2008) reported that construction output fell 1.1 per cent in the fourth quarter of 2008 in the UK, due to this event, many jobs have been lost from 2009 to 2011.
The current study's primary aim is to examine literature to understand the importance of the quantity surveyor and surveying profession in the construction industry in regards to how it has helped the industry during the economic recession. Furthermore, the study will attempt to comprehend how economic recession impacts the construction industry and specifically quantity surveyors.   
Research aims
The primary aim of this study is to examine literature in order to comprehend the important role that quantity surveyors have played in times of economic recession for the construction industry. Secondary aims includes reviewing literature to understand how an economic recession can impact the construction industry and quantity surveyors.
The following are other aims of the research;
Address the research questions: How do quantity surveyors and quantity surveying impact the construction industry during an economic recession? How does an economic recession impact the construction industry and the quantity surveyor?
Develop an understanding of how complexities of an economic recession impact the construction industry?
Highlight the major challenges that are faced by quantity surveyors in the UK during an economic recession.
Investigate the impact of quantity surveyors on the construction industry and their importance during an economic recession.       
Research objectives
The research objectives are;
Reviewing literature on the construction industry to comprehend the impact of economic recessions on the industry and quantity surveyors using a systematic literature review process.
Data from various sources such as databases, peer-reviewed journals, and other literature will be used. This will reveal both current and historic observations and comprehension on the topic of study.  
Undertaking primary and secondary research using qualitative and quantitative data. Analysing the data that has been obtained.
Methodology
According to Hart (1998) a literature review is an independent, comprehensive summary and critical analysis of pertinent existing research and non-research literature on the topic being studied. For the current study, the literature review method used is a systematic literature review. Cronin, Ryan, and Coughlan (2008) state that a systematic literature review is rigorous and well-defined approach to reviewing literature in a specific subject area. The purpose of the review is to use explicit and rigorous requirements to identify, critically evaluate, and synthesize all the literature that is relevant to the topic of study. Parahoo (2006) suggests that the literature review should detail the time frame from which the literature was selected, methods used to evaluate the literature, and synthesize the findings of the studies in question. For the current study a precise criteria has been set to;
Formulate the research question
Set inclusion and exclusion requirements
Selection and accessing the literature
Assessing the quality of the literature that has been included in the study
Analysing, synthesizing, and disseminating the findings          
Review of the literature is based on collective research that has been conducted in countries throughout Europe and Asia between the years 2005-2015 which included cross-referencing peer-reviewed journals and searching electronic databases such as Emerald Insight. The basis of the literature review was conducted using extensive internet search of studies that provided information on the impact of an economic recession on the construction industry with the main focus kept on the recent economic recession of 2008. A three point requirement was used to screen and assess the list of studies for economic credibility, economic reliability, assessment of the construction industry, research focus on quantity surveying. The following are the composed screening requirements that have been used;
Does the literature contain statistical evidence of connection between quantity surveyor and the economy?
Does the literature contain information that is directly targeting the 2008 global economic recession?
Had the researchers of the literature conducted experimental research to produce their conclusion?
Studies which were given first priority were the ones that were able to conform to the three point requirements. However, other studies were also included even if they fit at least one of the requirements. The current study covers themes that had overlapped between the various literature analysed and is discussed in the following sections.         
Findings
Financial crisis and economic crisis
It is imperative to comprehend the difference of a financial crisis and economic crisis and how a financial crisis results in an economic crisis. According to Dikmen et al. (2010); Latham and Braun (2011) and Jensen and Johannesson (2013) a financial crisis can be defined as a disruption in the financial market in which antagonistic selection and moral hazard issues worsen resulting in financial markets being unable to efficiently channel funds to those who have the most productive investment opportunities. However, Lim et al. (2010) proposes a more severe definition in which financial crisis is considered a threat to the country's money supply.
Hence, a financial crisis results in the failure of financial markets to function effectively and efficiently leading to a sharp decrease in economic activities. Based on review of literature there are five primary factors that are the source of financial crisis; increase in interest rates, bank panics, stock market declines, unanticipated decline in the aggregate price level, and increase in uncertainty.    
Analysis of economic crisis 2008
The subprime bubble burst and subsequent financial crisis started in the USA, during the 3rd quarter of 2007 when investors had lost their confidence in the value of mortgages. A liquidity crisis had started in leading banks when there were losses of sub-prime loans resulting in a bank panic which eventually developed the economic crisis of 2008. During that time, the UK, many European countries, and the USA borrowed from Asian and Middle Eastern countries through loans (Ofori and Toor 2012). These loans were then used to purchase houses and support development of property causing a sharp increase in the value of assets. Increase in value of assets had gradually began to encourage increased lending which furthered the rise of asset prices. According to Atkins Group (2009) and Adebamowo (2011) lenders were more willing to lend, even up to 100 per cent of the purchase power.
However, Cacciator and Jacobides (2005), Chiang et. al. 2013, Rostami et al. (2015) have asserted that these increase in home prices were just the housing bubble. Zainul Abidin (2014) have argued that there is no other explanation for the unexpected increase in the relative demand for property which would be able to explain the increase in price and there is no palpable explanation for the increase in property purchase prices that is comparable to rental prices. Thus, it is concluded that unprecedented increase in home prices is the existence of the housing bubble. Williams et al. (2013) noted that the major factor that was driving home sales was the expectation that housing prices would greater in the future. Ofori and Toor (2012) and Lim et al. (2010) argue that this may sustain the prices of home properties for a specific period of time, but it will come to an eventual end.
The bubble did eventual burst, and asset process began a downward spiral. There was a decrease in asset prices making it difficult for investors who borrowed funds to buy those assets causing them to struggle in paying their liabilities. Investors then had to sell their other assets which caused a decline in the price of housing assets. The resulted in defaulting from banks, banks then dried for their resources, causing less credit being readily available decreasing asset prices further. There was an additional narrowing of lending and the rancorous cycle of decline began to proceed. All the events led to financial intermediation of banks decreasing and causing a decline in the aggregate economic activity and subsequently the economic crisis of 2008.
Impact of financial crisis on construction industry         
No industry was immune from the financial crisis of 2008, this also included the construction industry. According to one survey Sonson (2014) new orders in the construction industry were reduced by 39 per cent in the 3rd quarter of 2008 than compared to 2007. There was a decrease in private housing orders by 62% as an average for 2008 and public housing orders decreased by 36%. ONS (2008) notes that private housing orders began to fall by 43% during 2008 and further decreased by 32% in 2009. There was a workload reduction by 0.7% in 2008 within the UK construction industry with an additional decline by 3.1% in 2009 (ONS 2008). The impact of the recession on the construction industry can be monitored through the public and private sector. The output of new housing was selected to analysis and illustrated in figure 1. It is evident that there is a fall in output since the 2008 recession mainly by falling private housing which had declined respectively by 20.8% from 2007 to 2008 (ONS 2015). There is a steady attempt to rise output of new housing since 2009 to 2010 by 52.8 per cent for the private sector and 54.8 per cent by the public sector (ONS 2015).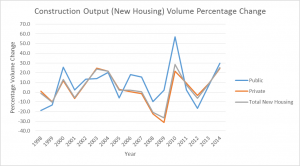 Figure 1- Annual volume of UK construction in new housing output and change over previous years in Great Britain, 1998-2014
Latham and Braun (2011) argues that the most devastating impact of the financial crisis on the construction industry was the falling salaries and job cuts. Felstead et al. (2012) states that almost 400,000 jobs in the construction industry have been lost in 2009-10. Both private and public companies have downsized and re-structure to survive the recession causing loss of technical and expert resources (Frei 2010; Hoxley 2010; Dikmen et al. 2010). May quantity surveyors have faced and experienced the threat of the recession making them redundant. However, quantity surveyors have played an essential role in aiding the construction industry pass through the 2008 recession and also allowed it to grow once economies were recovering.
Quantity surveyors in public and private sectors
According to Henry (2013); Chiang et al. (2013) and CIC 2013 quantity surveyors play a crucial role in ensuring that the resources of the construction industry are used to the best possible advantage of society by providing inter alia, the financial management for projects and cost consultation service to the client and design throughout the entire construction process. Quantity surveyors must have a set of core competencies that have been set out by the Royal Institution of Chartered Surveyors.  
In both the private and public sectors quantity surveyors are imperative consultants for employers. The difference found in both sectors was that the private sector focuses on profits while the public sector ensued the accountability of public finance. Alfred (2007) asserts that over the years both sectors have combined their aims in order to compete against one another for work, business, and profits.
The main concern of a quantity surveyor in the private sector is to find capital and offices, guarantee a flow of work and avoid losses. Thus, quantity surveyors have to exhibit expertise in funding, economics, and the financial consequences of specific kinds of construction projects. Public sectors mostly deal with government organisation (Cacciatori and Jacobides 2005; Atkins Group 2009; CIC 2013). Quantity surveyors within the public sector deal with control of projects, maintenance, and repair programmes. The key responsibility is to control the public money and monitor the methods by which it is spent (CIC 2013).     
Role of quantity surveyors for public organisation during financial crisis
It was analysed that the most important aspect during a financial crisis is cash flow and credit which are requisites in the construction industry. This makes it essential to control and manage these major factors in order to recover from the 2008 crisis expressly in the public sector as the public sector deals with public funds and government budget and that public sector projects are critical needs for the public such as public schools, roads, and hospitals. Also, public sector projects are generally large scaled and lined to intensive capital and budget. This makes the quantity surveyor very important during an economic crisis. The quantity surveyor influences every stage of a public construction project.
According to Burger et al. (2009); Chiang et al. (2013); Henry (2013), during the project evaluation phase a feasibility study is required which takes into account development and investment appraisals, a cost benefit analysis, and other financial components. With a quantity surveyor the factors that affect the feasibility study can be assessed which will enable them to advice the client on the economics of a particular design while implementing value management to take into consideration all the risks that are connected with the project (Felstead et al. 2012; Henry 2013; Jensen and Johannesson 2013). Using the information the surveyor can advise the client about the feasibility of the project in times of recession when cost cutting becomes an important aspect for survival in a market. Since financial control is important during recession, quantity surveyors become useful for evaluating the efficiency of the design using diverse market factors and trends in the industry's cost to prepare a preliminary estimate and analyse the predicted cost throughout the life cycle of the project (Hoxley 2010; Lim et al. 2010; Rostami and Sommerville 2015). Williams et al. (2013) have asserted that during the design stage comprehension of various stages of design by a quantity surveyor allows them to advice on different design solutions that are according to the cost of the project. Most importantly, at times of recession quantity surveyors are needed for their value management competencies. Zainul Abidin et al. (2014) argues that factors such as aesthetic components, sustainability issues, and expandability, and easy remodelling ability is taken into account as the value of these factors are directly related to cost, making quantity surveyors an important role if the company is looking to function during an economic crisis.     
At the construction phase, execution and control of all the site's work and activities are conducted to ensure that the project is abiding and moving forward based on the premises set forth by the contract document. Thus, presence of a quantity surveyor has a significant impact on the project. The quantity surveyor is able to obtain value and control costs of the project using skills of measurement, valuation and defining the construction works. Sonson (2014) stated that surveyors at this stage carry out various quantifying an pricing construction works in order to premeditate the cost throughout other stages of the project. At post-construction stage all other parties of the project have completed their job but quantity surveyors can still be used to advise the client on life-cycle cost. The life cycle cost of a projects is extremely dependent on the functionality of the project as it results in maintenance and services costs. With quantity surveyor, the client is able to estimate and evaluate the lifecycle cost of the project which is taken into account during risk management and sustainability issues, value engineering and value management (Peston, 2008; UK Construction Group 2009; Williams et al. 2013).
The various extensive skills that are held by the quantity surveyors which include project management and value management also aids clients to achieve their needs and expectations that may be present in a financial crisis including cash flow and credit considering to be dominant factors for clients(Williams et al. 2013). Therefore, project management is essential and completing the project at the correct time and within an allotted budget is important in both private and public sectors as they deal with large scale projects and intensive capital (Felstead et al. 2012; Dikmen et al. 2010; Sonson 2014; Williams et al. 2013). As quantity surveyors have the needed capability to secure successful projects using effective technical and financial advices are able to make imperative contribution economic recovery (Felstead et al. 2012; Dikmen et al. 2010; Sonson 2014; Williams et al. 2013).    
Conclusion
Discussion
It is evident that the role quantity surveyors play in the construction industry contributes to local economies. According to UK Construction Group, developments itself is considerably one of the best methods for stimulating economic activity which is vital during a recession periods for a country. This stimulation is not limited to the construction sector but spreads throughout the economy as whole hitting troubled sectors such as manufacturing. Also, Hoxley (2010) argues that construction sector produces low levels of imports so that stimulus being pumped into the economy stays within the national economy. Furthermore, Frei (2010) pointed out that the construction industry, in which quantity surveyors play a key role, is considered as a driver for growth in other sectors of the market from its heavy reliance on extended and varied supply chains. These vital growth factors play a crucial role during times of financial crisis and economic recession. Quantity surveyors are also pivotal to the extensive supply chain that is produced by the construction industry but also directly impact it as well. As produced from evidence of literature, quantity surveyors are important individuals who are the guiding point throughout the project's life cycle. Their expertise produces cost effective decisions and constructions designs that give the project maximum functionality after the completion of the project in order to develop returns on the investment and create new business.
Limitations to Study    
The scope of the current study that was conducted was very limited in producing connections between economic recessions and quantity surveyors. The study was limited due to the amount of literature that is available on data-bases and peer-review journals detailing the impact of quantity surveyors on economies that are facing a recession. There are greater amount of peer-reviewed articles that produce a connection on the construction industry having an impact on the economy during recession. For the limited amount of information available to the researcher, very few conclusive statements can be drawn from analysis. For this reason it is recommended that further studies take place which explore the connection between quantity surveyors and economic recessions. The research that should take place is empirical studies which produce hard evidence to the impact quantity surveyors may have through understanding the value of the market before and after recessions. Through conducting such experimental studies a clearer picture will be obtained of influence that surveyors have directly on an economy through the construction industry. However, analysing the literature has provided the researcher with guidance for conducting further research on this topic.        
References
Adebamowo, M. A. 2011. The implication of global economic recession on sustainable housing in Lagos megacity. International Business Research 4(1), pp. 167- 175.
Alfred, O. 2007. Conflict of interest within construction practitioners: Quantity surveying, case study. Surveying and Built Environment, 18(1), pp. 35-50. 
Atkins Group. 2009. Global construction outlook for 2009. International Construction Intelligence 21(1), pp. 1-6.
BBC. 2009. House prices 'fall to 2004 level'. BBC News 2 January [online]. Available at: http://news.bbc.co.uk/2/hi/business/7807724.stm. [Accessed: 15 December 2015].
Burger, P., Tyson, J., Karpowicz, I., and Coelho, M. D. 2009. The effects of the financial crisis on public-private partnerships. Department of Fiscal Affairs- International Monetary Fund, working paper 09/144.
Cacciatori, E. and Jacobides, M. G. 2005. The dynamic limits of specialization: Vertical integration reconsidered. Organization Studies 26(12), pp. 1851-1883.
Chiang, Y. H., Li, J., Choi, T. N. Y., Man, K. F. 2013. Evaluating construction contractors efficiency in Hong Kong using data envelopment analysis assurance region model. Journal of Facilities Management 11 (1), pp. 52-68.
Contruction Industry Council (CIC). 2013. The impact of the recession on construction professionals. London: Sector Skills Council for Construction. 
Cronin, P., Ryan, F., and Coughlan, M. 2008. Undertaking a literature review: A step-by-step approach. British Journal of Nursing, 17(1), pp. 38- 43.
Department for Business Innovation and Skills (DBIS). 2013. UK construction- An economic analysis of the sector. London: Department for Business, Innovation and Skills. 
Dikmen, I., Birgonul, M. T., Ozorhon, B., Sapci, N. E. 2010. Using analytic network process to assess business failure risks on construction firms. Engineering, Construction and Architectural Management 17(4), pp. 369-386.
Felstead, A., Green, F., and Jewson, N. 2012. An analysis of the impact of 2008-09 recession on the provision of training in the UK. Work Employment and Society, 26(6), pp. 968-986.
Frei, M. 2010. Implication of the global financial crisis for the quantity surveying profession. International Cost Engineering Council Publications [online]. Available at: http://www.icoste.org/Frei.pdf [Accessed: 14 December 2015].  
Henry, L. 2013. Intellectual capital in a recession: evidence from UK SMEs. Journal of Intellectual Capital 14(1), pp. 84-101.
Hoxley, M. 2010. Built environment recession. Structural Survey 28(2),
Jensen, P. A., and Johannesson, E. I. 2013. Building information modelling in Denmark and Iceland. Engineering, Construction and Architectural Management 20(1), pp. 99-110.
Latham, S., and Braun, M. 2011. Economic recessions, strategy, and performance: A synthesis. Journal of Strategy and Management 4(2), pp. 96-115. 
Lim, B. T. H., Oo, B. L., and Ling, F. 2010. The survival strategies of Singapore contractors in prolonged recession. Engineering, Construction, and Architectural Management 17(4), pp. 387-403.
Office of National Statistics (ONS). 2008. Housing in England 2006/07: A report based on the 2006/07 survey of English housing, carried out by the National Centre for Social Research. London: Department for Communities and Local Government.
Office for National Statistics (ONS). 2015. Output in the construction industry, August 2015 [online]. Available at: http://www.ons.gov.uk/ons/publications/re-reference-tables.html?edition=tcm%3A77-358530 [Accessed: 14 December 2015].
Ofori, G., and Toor, S. R. 2012. Role of leadership in transforming the profession of quantity surveying. The Australasian Journal of Construction Economics and Building 9(1), pp. 37- 44.
Peston, R. 2008. The new capitalism. BBC Report, 8th December [online]. Available at: http://www.wtf.org.uk/documents/thenewcapitalism_001.pdf. [Accessed: 14 December 2015].
Rostami, A., Sommerville, J., Wong, I. L., and Lee, C. 2015. Risk management implementation in small and medium enterprises in the UK construction industry. Engineering, Construction and Architectural Management 22(1), pp. 91-107.
Sonson, S. J. 2014. Quantity surveying role and environment influences in Saint Lucia. PhD Thesis, University of Salford.
UK Construction Group. 2009. Construction in the UK economy- the benefits of investment. L.E.K. Consulting [online]. Available at: http://www.nasc.org.uk/NASC/files/ea/eabc21b4-91d3-4e44-8f0f-ab27a7a0a4b1.pdf. [Accessed: 14 December 2015].
Williams, T., Bouchlaghem, D., Loveday, D., and Law, C. 2013. Principal contractor involvement in post-occupancy evaluation in UK construction industry. Facilities 31(1/2), pp. 39-55.
Zainul Abidin, N., Adros, N. A., and Hassan, H. 2014. Competitive strategy and performance of quantity surveying firms in Malaysia. Journal of Construction in Developing Countries 12(2), pp. 15-32.