Hire a Writer
Get an experienced writer start working on your paper

Check Samples
Review our samples before placing an order

Academic Library
Learn how to draft academic papers
Business Management Dissertation Topics
Best Business Management Dissertation Topics for 2021
Are you looking for Business Management Dissertation Topics? Do you need help with dissertation topics in business management so you can start writing your dissertation paper?
If so you are the right place. Our expert writers have come up with an extensive list that captures essential concepts of business management. The listed business management dissertation topics, which includes international business dissertation topics, have been updated for the year 2021, so you can feel at ease while choosing a topic title from the following list.
Note: Visit Business Administration (MBA) Dissertation Topics if you need topic-ideas related to business administration.
Business management is a highly competitive field of study that devotes to organising, analysing, and planning a variety of business operations. This may seem like a general over simplification but that is only because the study field covers numerous aspects. This is why we have developed an extensive list of topic titles which includes international business management dissertation topics and various other examples of dissertation topics in business management.
Need help with finding good dissertation topics for business management? Complete the form to get a free custom topic within 24 hours!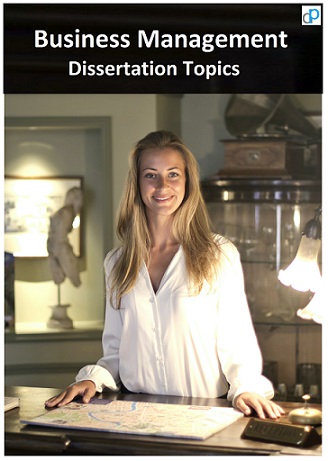 List of Latest Business Management Topics for 2021
Topic 1: Examining the Impact of Integrated Product Development Process and Green Supply Chain Management
Research Aim: The research study looks to analyse integrated product development process models for green supply chain management. The study looks to examine the competitive market to better understand the factors associated for customer and environmental pressures that aid in the simulation of innovative products. The study will qualitative research methods for data collection, primarily through surveys, and analysis. 
Topic 2: Analysing the Impact of Industry 4.0 on Business Models
Research Aim: The purpose of the research study is to examine the dynamic development using Industry 4.0 which aids in data collection, analysis, evaluation and improvement of processed aimed at productivity. The research will analyse how the implementation of Industry 4.0 has led to the emergence of competitive business models with regards to cooperation and use of available sources.    
Topic 3: Examining the Limitations of Knowledge Boundaries in Business Model Innovation
Research Aim: The research looks to analysing various business model innovation tools such as STOF framework, e3-value ontology, and business model canvas. The study analyses using empirical evidence the role and use of business model innovation stools in order to overcome current boundaries in knowledge. The study will be empirical in nature but using case study method to collect and analyse data.  
Topic 4: Analysing System Dynamics Perspectives in Producing Sustainable Business Models
Research Aim: The study will examine the sustainability oriented business model design to develop a sustainable business model approach using tools such as business model canvas and system dynamics modelling. The research will look to incorporate industry perspectives to develop a more adaptable business model for sustainability. The study will use qualitative research methods to go about conducting the study. 
Topic 5: Exploring the Value Destruction Potential- The Use of Artificial Intelligence and Machine Learning as Business Tools
Research Aim: The study will explore the advantages and disadvantages associated with artificial intelligence and machine learning to improve the efficiency of business processes through the identification and examination of risks. The research will explore various frameworks currently available to outline the critical components of artificial intelligence and machine learning for businesses. The proposed study will use qualitative research techniques for data collection and analysis.
Topic 6: Examining Analytical Models of Sourcing Decisions in Supply Chain Management- The Debate of Globalisation vs. Slowbalisation.
Research Aim: The study looks to examine the sourcing and location decisions in supply chains such as reshoring, offshoring, insourcing, and outsourcing. The paper will look to identify the critical factors that impact these variables based on mainstream concepts of globalisations and newer trends of slowbalisation. The study will also examine analytical models under both ideologies to allow businesses to make better decisions.
Topic 7: The Impact of Communication Business Processes in the Conditions of Globalisation
Research Aim: The study analyses the factors that impact communication business processes under the conditions of globalisation. The paper will look to identify and examine the relationship between communication business processes and customer orientation. The research will be conducted using qualitative methods, with data collection being conducted using in-depth structured interviews. The results will then be interpreted using thematic analysis.
Topic 8: Examining the Obstacles and Benefits of Multilevel Models in International Business
Research Aim: The study will analyse the advances of multi-level or mixed linear modelling for international business. The study examines the various advances and drawbacks associated with increased precision to quantitative international business research. The study will use systematic literature review to discusses the methodological issues that are abhorrent with multiple level modelling.  
Topic 9: A Cross-country Examination of the Impact of Business Sentiment on International Business Travel
Research Aim: The study will analyse the impact of business confidence index on demand of international business travels. The study focuses on measures such as manager optimism and pessimism of future business performance to study the impact on business travel. The research will use quantitative methods to model different countries using generalised method of moments estimation model.
Topic 10: An Exploration into Ethical Management- Analysing the Criteria and Interventions for Responsible Management Practices
Research Aim: The proposed study examines the management practices used for sustainability, responsibility, and ethics. The study looks to connect organisational and managerial levels on ethical issues when analysing the relationship between ethics and ethical management. The research will use qualitative methods to extensively map ethical requirements for organisational and managerial levels in addition to mechanism, strategies, and interventions by managers. 
Topic 11: Examining Social Factors Impacting the Perspectives of British Traditional Business SME Ethics in Management
Research Aim: The aim of the research is to analyse the perspectives of British traditional SME businesses by focusing on the management style of British traditional business. The study will attempt to critically comprehend the overall contexts of management and operation plans for sustainability in SMEs. The study will use a constructivist paradigm as the basis for its qualitative research approach when collecting data through structured interviews. The data will be analysed using text analysis in Nvivo.
Topic 12: Analysing the Principles of Management Accounting and its Effectiveness in the Digital Economy.
Research Aim: The study will analysis the evolution of perspectives in management accounting with regards to the emerging digital economy. The research will also compare and contrast conceptual approaches of the digital economy and the industry, as well as their impact on the management of accounting. The research will be conducted using mixed methods approach which combines qualitative and quantitative methods.
Topic 13: Exploring Accounting Functions as Performance Management Tools in UK Organisations.
Research Aim:  The study intends to explore the functions of accurate and sufficient accounting information to aid in the reporting and management of performance. The study will examine, specifically, the adoption of analysis of ratios – profitability ratio, that may aid in the effective management of performance. The research will use exploratory research design to conduct the study and analysis of correlation.
Topic 14: Analysing the Evolution of UK's Policy on Cross-Border Ecommerce Industry Since BREXIT
Research Aim: The study looks to explore the rapid development of cross border ecommerce in the UK and if industrial processes have had any impact on them. The research will use content analysis and social network analysis to examine the dimensions of content theme, policy time, policy document type, and text subject. The study will use a quantitative approach to analysis policy documents to reveal any characteristics of UK's cross border e-commerce policy system in light of UK's departure from the European Union.
Topic 15: The Development of Dynamic E-commerce Frameworks – Solutions for COVID-19 Pandemics Impacts on SMEs in UK.
Research Aim: The primary purpose of the study is to develop a comprehensive systematic framework by utilising the systems thinking method and ecommerce principles. The research looks to address the challenges and opportunities that SMEs in the UK can use in order to develop solutions for market survival and support during future global pandemics. The research will be conducted using qualitative methods, primarily through the use of case study.      
The Importance of Finding a Good Business Management Dissertation Topic
If you are in a business management degree programme, you know that it teaches you the skills required to efficiently and effectively run and manage a business. So don't be surprised because when you see that business management degree holders are in EVERY industry – and we mean EVERY!
The fields of business management are endless! You can have a degree in business management to become financial managers, marketing managers, and even public administrators. Business management also incorporates large knowledge of theoretical knowledge, that is why in the Masters and PhD stages of your academia you may be required to write a business management dissertation. This will allow you to research theoretical and practical issues in order to propose innovative ideas and solutions.
Business management degrees provide you with a multifaceted foundation that aids you long after graduation and entering into the grit and dirt of the job market. As business management students you will develop a strong understanding of critical business principles which includes, but is not limited to, accounting, marketing, ethics, finance, leadership, and governance.
These core skills are then implemented in industry and academia allowing business management students to tackle issues to make businesses more efficient and effective. Business management is of grave importance because of its emphasis on human aspects of running a business.
Therefore, your business management dissertation topic needs to include knowledge from various fields like communication, logistics, information systems, and human resources.
Note: our team of writers have dedicated a separate page that focuses solely on human resource management dissertation topics
Business Management vs. Business Administration
Often times the terms 'business administration' and 'business management' are used interchangeably especially when students are looking for business management dissertation topic examples. It is true that both fields of study have a similar core curriculum in terms of courses and business-related topics.
Review Business Administration (MBA) Dissertation Topics
Both business management and business administration fields teach students theoretical and practical knowledge for organising departments and employees, planning business activities, general management, and running various departments. However, there are extreme differences that need to be acknowledged in order to develop a unique business management dissertation topic.
Firstly, a dissertation topic on business management commonly emphasises on authoritative aspects of the business while business administration dissertations are broader in scope compare to business management. Business administration deals more with the organisation's daily operations, the business administration dissertation will deal more with effective forecasting, strategic planning, and entrepreneurship. On the opposite spectrum, business management deals more with managing teams and interpersonal issues. The management of business management is more human-centred compared to administration.
Now that you have a clear understanding of the differences and similarities in such important fields of study, you are better prepared to develop the best dissertation topic for your specific degree.
We hope that the listed topics for dissertation in business management will help in getting your dissertation topic title approved! If you still have questions, simply drop us an email and our writers will assist you right away!
Review our business management dissertation topic and outline service if you need help with your business management dissertation module.
Review the full list of dissertation topics (all subjects)

For more Business Management Dissertation Topics please keep visiting our website as we keep updating our existing list of topics. Good luck!