Conventional fashion brand development 
Structural Management 
The conventional fashion brand has acknowledged that it is based on structural management to effectively plan the production process. Kapferer (2008) demonstrates that the beginning of a brand embodies a product or service, with tangible or intangible assets. Historically, brands are born because of their innovative products or service that allow them to gain profit.  For instance, Nike and Adidas are known for their innovative and creative sports category, which is considered a tangible asset. Either tangible or intangible assets in selling products, the goal for brands is to offer something desirable to customers. Also, since the fashion landscape demands constant changes to meet customers' preferences, brands would have to consider their competitiveness and maintain market growth by developing the capabilities of their structural planning, processes, and technologies (Varley et al., 2018).  Similarly, according to Jackson (2012), the fashion industry tends to be before "businesses involved" in the design, production, sale, and promotion of clothing. Hence, it could be considered as a commercial purpose in the conventional brand business. In other words, the practical operation is meant for the actual creation of the fashion garments which are created for established selling seasons and therefore generate more income for long-term goals (Kompella, 2015; Varley et al., 2018). 
Strategy for Product development
Low and Fullerton (1994) demonstrate that the history of successful brand management would provide the environmental analysis at the macro level. The starting point for those brands will elaborately plan a strategy and gain an understanding of the external context. Specifically, during product development, some brands will generate their design ideas by modifying existing designs or refer the latest trend forecasting in the conventional design process (Dissanayake & Sinha, 2015). Since 'change' matters to the fundamental of fashion, the fashion range is designed to be "on-trend" in color, print, silhouette, or styling details (Jackson, 2012). For instance, Zara's designers are highly aware of the complete range of trend information such as textile and garment fashion shows, specialist forecasting trends, or even social media: Instagram influencer trends as relevant to stay ahead in the fashion industry (Hanbury, 2018).
Brand Identity
The relationship between a brand and its customers could be acknowledged as an intangible connection (see figure). Varley et al. (2018) recognize that the power of a brand is contributed by the mixture of the brand's functional performance with its emotional meaning. In particular, one of the basic building for brand strategy is brand identity, which is represented as the brand's idea of how the brand wants customers to perceive it (Aaker & Joachimshaler, 2000; Grime et al., 2002). Indeed, it is highly valued as an essential concept to position a brand and achieve differentiation in the fashion market. Thus, brand identity is designed in a framework of a brand identity system, as shown in the figure. Moreover, brand identity plays a considerable role as it has become a powerful and strategic endorsement of quality, value, and reliability (Varley et al., 2018). Since customers have been overloaded with information and messages on social media, they tend to adopt a brand that delivers self-concept and symbolic aspects. Brand identity is not only developed as a communication tool to target efficiently toward customers but also to maintain a connection with them.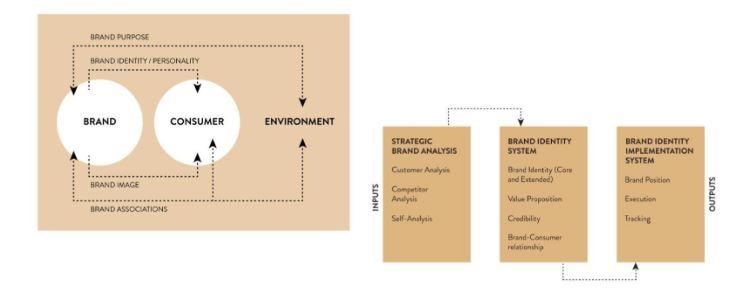 Brand image / Personality 
The interpretation of a brand is reflected in consumers' image of how they have knowledge and experience of the brand, which is a brand image (Varely et al., 2018). Brand image has a strong influence that creates by social media and its constructs in various information, consumer experiences, and word-of-mouth (Schultz and De Chernatony, 2002). Indeed, it also works as brand personality which mirrors a subjective and perceptual opinion of customers' memories. Since the function of structural planning imparts meaning to selling products, it combines brand images and languages (Kompella, 2015; Kapferer, 2008). Therefore, to attach a positive attitude and customer loyalty, the branded garments with the brand image could generate a non-traditional emotional shopping experience (Kompella, 2015; Aaker, 1996).
Brand Authenticity 
 "A brand must convey certitude, trust" states Kapferer (2008). Nowadays, there are more choices and opacity in customers' purchasing experience in which this phenomenon of the postmodern market has been characterized by excessive consumption (Oh et al., 2019).   Brand development has a coordinated relation with authenticity. Vandepas (2003) indicates that authenticity is regarded as the holistic approach to maintaining the relationship between customers. In addition, brand authenticity has a solid influence on brand strategic decisions. While brands design internal and external plans, they consider authenticity as part of their 'cornerstone' to achieve financial growth (Napoli et al., 2014; Hernandez-Fernandez, 2019). Since customers might have less certainty to determine the right product for them and therefore the essence of being authentic is highly valued. Brand authenticity could take time and risks to build trust. Kapferer (2008) suggests that some of the drivers that might affect authenticity could be economical-related (price),  functional-related (product performance), and psychological-related (customers' preferences from brand images). These drivers could further impact how customers perceive a brand and influence their consumption. The study by Choi et al. (2014) shows that fashion brand authenticity consisted of seven factors, which are authority, fashionability, consistency, innovativeness, sustainability, origin, and heritage. It could be noticed that brand authenticity has related more to the product itself. Moreover, brand authenticity is regarded as a multidimensional construction. Research demonstrates that perceived brand authenticity has been managed in fashion brands and it is influenced by indexical cues from objective facts of customers' experience and perceptions such as brand's claiming, iconic cues from customers' subjective impressions such as advertising, and existential cues that involve self-referential characteristic (Carsana & Jolibert, 2018; Choi et al., 2014; Mohart et al., 2014). 
The emergence of influencers' fashion brand
Recently, customers are seeking greater meaning in their experience of living, working, and consuming (JWT Intelligence, 2018). This phenomenon has driven new opportunities for new rising brands, which as the Influencer Fashion Brand.
Influencer personality (self-presentation) 
Conventional brands will create a framework of brand identity to convince their customers, influencers, however, are born to have unique qualities and develop an as distinctive public image to attract audiences. Influencer brands could be acknowledged as 'commercially branded products', which individuals benefit from having their unique selling points that can respond to the needs and interests of target audiences (Khamis et al., 2016).  The messages from influencers are seen as "one of the few forms of real and authentic communication" and thus help them to be shaped and identified as different and unique as a personal brand (Scott, 2015, p.295). Moreover, this phenomenon has been considered an emerging brand that integrates "a means of affirming true identity" (Blanco, 2010, p.1 ). To craft their self-presentation in front of their audiences, influencers adopt various techniques through social media platforms, such as posting original and creative content and photos or shooting videos to share their lives and directly communicate with followers (Duffy & Wissinger, 2017; Marwick, 2013; Suhr, 2014). 
Influencer authenticity
Authentic consumption rises because of a lack of meaning and self-identity in traditional sources in brands (Mohart et al., 2014). Contemporary society is recently coming to terms with the transition towards the informational and knowledge era. Meanwhile, influencers have interpreted their role using the basic principles and foundations of 'intangible brand value'  (Blanco, 2010, p.1). In other words, influencers' authenticity could be seen as a psychological framework and mechanism that provide a source of inspiration and emotional connection to customers. Moreover, the sense of closeness that influencers contrive to is somehow related to the success of building a brand. According to Audrezet et al. (2018), passion and transparent authenticity are the key management to tie with their audiences Similarly, both Khamis et al. (2016) and Abidin (2015) illustrates the way that influencers engage with their audiences appears to be genuine and further give the impression of exclusive and intimate exchange to them, which is important to trade as 'a promise of authenticity' that might solidify a unique brand development compare to conventional ones. 
Social Media 
Definition of social media and individuals' behavior on social media  
The flourishing of social media has significantly influenced the society in which people have experienced diverse social interactions through the Internet. Social media is considered as the combination of ideological and technological platforms that provide users to create virtual communities to share information, idea, personal messages, and content (Hsu & Lin, 2017; Wang et al., 2016). Generally, research on social media usage can be classified into two perspectives: uses and gratification theory (U&G) and perceived interactivity (Hsu et al., 2015). Katz et al. (1973) suggest that the U&G framework is assumed that audiences actively obtain media to satisfy their specific needs. This study will adopt the psychological process by integrating U&G theory as it provides a well-rounded perspective for evaluating Taiwanese customers obtaining gratification through the perceived fulfillment of motivations through social media. Social media has a set of different motivations,  such as information seeking, entertainment, socialization, and self-presentation. Similarly, a survey from InSite Consulting (2019), shows that people who engage in social media mainly for information search (40%), entertainment (39%), and social gathering (33%). Individuals use social media to gratify their social and psychological needs (Katz et al., 1973).  Hence, it is essential to understand this gratification that might influence their reason to use and usage behaviors toward social media and further discuss how Taiwanese customers' behavior might relate to social media. 
Social Identity
Social media is considered a platform that provides opportunities for individuals to fulfill interpersonal and interactive goals (Barker, 2009). Pan et al. (2017) state that social identity could capture the interactive nature of social media which facilitates relationship building. People could identify their belonging community through their interaction with others and further support by specific group identification. There is a correlation between social identity and self-image. Social identity can influence individuals' intention to belong in a virtual community and improve their self-image (Song &Kim, 2006; Fotiadis & Stylos, 2016). Before participating in n particular sociarelationshipsip, individuals utilize social media to share their information on the platform. And this self-expression behavior is aligned with a motivation of self-verification to confirm an established self-concept and maintain consistency in self-knowledge ( Fotiadis & Stylos, 2016; Escalas & Bettman, 2003). To be defined as a social identity, individuals need to express themselves on social media, and critical for them to obtain others' acceptance (Shao, 2009). Thus, the importance of the social identity perspective is appropriate for an explanation of individuals' behavior on social media. 
Social Relationship & Virtual Community 
Individuals perceive social needs as the strongest force to use social media (Wang et al., 2012; Hsu & Lin, 2017). Previous researches demonstrate that social relations could be affected by two potential factors, which are information acquisition and sharing, and also reputation building. The action of acquisition and sharing, allows users to exchange social support and maintain existing or new relationships. Through the relationship, users also can interact with others by sharing the contents and photos online directly and thus enhancing connectedness (Zhao & Rosson, 2009). Regards the importance of information acquisition and sharing, it is acknowledged as one of the main motives for using social media since the actions could influence virtual community development (Hersberger et al., 2007). As for reputation building, social exchange is the foundation of gaining reputation. Individuals seek rewards from others while they provide in the same way to others (Hsu & Lin, 2017). Indeed, the process of exchanging comprises tangible and intangible benefits. Intangible rewards could be recognized as psychological needs, for instance, recognition, respect, or approval from peers. In addition, research shows that people who contribute information will likely be placed a higher reputation in a "virtual community" and it will be defined in more detail below (Oreg & Nov 2008). Meanwhile, Chi (2011) examines 502 Taiwanese social media users which reveals that they considered virtual communities trustworthy and entertaining to satisfy their social needs. Therefore, it could believe that to maintain social relationships, users would attempt to focus on the creation and reputation building.  
The world of social networks has the power to gather virtual communities. Regard to the virtual community, is a group of like-minded individuals who link customers who share a passion for similar activities, products even influencers (Hamilton & Hewer, 2010; Juhlin &Soini, 2018). Social media provides individuals an environment to gather for sharing, conversation, and interaction; this, indeed, provides the opportunity for influencers to form unquenchable social appetites and thirsts of individuals for community affiliation and differences. Meanwhile, Hamilton & Hewer (2010) argue that customers' consumption could largely depend on the factor of a virtual community because it is highly involved in emotion and often appears with individuals' self-concept. In particular, the emotional alliances with influencers could make meaning of an individual's social identity and social relationships with individuals who could create an authentic relationship. Hence, it is essential to understand the insight of virtual communities contributing to the effective relationship between customers and social media influencers and how influencers effectively use the community to maintain the popularity of their fashion labels.
Social media use in Taiwan
Taiwan has an established network infrastructure that encourages the high popularity of internet usage and e-commerce performance (TWNIC, 2018). This result brings the internet and individuals' lives to be interconnected. The annual digital growth in terms of active social media users increased by 11% and 21 million of them spend an average daily time of 1H52M using social media (WeAreSocial, 2018).  According to the survey from TWNIC (2018), it reveals that "content media" and "social media" are the top reason for Taiwanese internet usage, 88.5%, and 80.6% respectively. And three platforms Facebook, Instagram, and YouTube are ranked as the most visited ones. Compare to other Asian countries, Taiwan performs in third place with 76% of Taiwanese browsing social media. Thus, it has gradually transformed people's lifestyles and habits. 
In the case of the use of social media, TWNIC (2018) investigates that it has approached to 80.6% of total social media usage, which by 80.1% of male users and 81.1 female users. Also, the observation shows that the age group between 15-19 years old and 20-24 years old share a similar result of 97.0% and 97.9%. As it can recognize the 20-24 years-old population actively browses social media. And 94.7% of users search on Facebook and 71.0 of users use Instagram. Interestingly, females are highly involved in social media in each age group 99.2%. 
Since previous paragraphs discuss the points of how social media leverage individuals' usage perspective and their gratifications, the research indicates the reasons for user behavior. By the highest rate of 72.2% of users, they browse social media for following others' posts, photos and videos. Around 40 % of others share their mood and update the current situation on social media platforms to communicate and be connected with their friends and followers. Hence, it can be acknowledged that Taiwanese active social media users use social media as a place to socialize and seek psychological needs.  
Social media Influencer definition
The definition of social media influencer (SMI) concept has been defined as a new type of independent third-party endorser who can form individuals' attitudes and perspectives through social media platforms, such as Facebook, Instagram, or Twitter (Freberg et al., 2011). Similarly, both Abidin (2015) and Enke & Borchers (2019) define influencers are active and ordinary internet users who accumulate a relatively large following on social media platforms through the textual and visual narration of their living and lifestyles. Also, by engaging with their audiences in digital spaces, influencers have had to monetize their power of impact, such as posts and stories, to make further commercial activities. Hence, to demonstrate influencers' position in the value creation process and further deliver an effective impact to their fashion labels, it will identify four elements of influencers' competencies regarding their productive relationship inputs. 
Social media influencer competences
Content distribution
SMEs are known for their ability to draw audiences' attention through their content on social media (Enke &Borchers, 2019). They acquire the ability to produce successful content on social media to gain interest from their audiences, hence SMIs emerge from the dynamic of a multitude of communities and publics that have developed a well understanding of the online platform environment (Arvidsson et al., 2016). For instance, SMIs strategically apply hashtags and mentions to link back to their posts on specific discourses or users and also carefully choose the right titles to attract attention on the scheduled timetable. 
Interaction 
The characteristic of social media allows two-way communication and dialog, which it becomes a useful tool for SMEs to interact with their audiences. SMI acquires the competencies to initiate, encourage, and direct interactions on platforms that could further enhance a specific quality of audience relationship (Solis & Breakenridge, 2009; Enke &Borchers, 2019). For example, SMIs will invite their audiences to comment and share experiences with them and might discuss topics for a closer understanding. These types of actions are essential to SMIs since they signal accessibility and authenticity for a peer status, which can contribute to establishing a value position in audiences' perspectives. 
Public persona
The concept of public persona has been highlighted that this creation is based on self-branding's techniques and could be consumed by social media users (Markwick, 2015; Hearn & Schoenhoff, 2015). Meanwhile, Hearn & Schoenhoff (2015) argue that the activities of how SMIs cultivate attention and craft an authentic 'personal brand' through social media could be captured as the concept of personal brand capital.  
Relationships quality
SMI and their audiences relationship could be described in three types, such as peer-to-peer relations, egalitarian friendships or a sense of equality (Jerslev, 2016; García-Rapp, 2017). The peer status is implied a similarity between SMI and their followers in their structural situatedness. For instance, both fashion influencers and their audiences might face comparable issues when they try to find the right outfit for their appearances. Moreover, García-Rapp (2017) shows that YouTuber Bubz discloses her daily activities and information to deepen the affective connections. This relationship could heavily draw on intimacy and support the perception of peer-to-peer qualities in between SMI-audience relationships.