Proposed Project Outline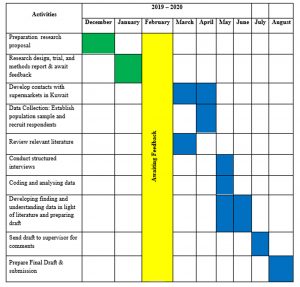 References
Agboola, A. O. (2019). Human resource management practices and performance of selected supermarkets in Kampala, Uganda (Thesis, Kampala international international : College of Economics and Management). Retrieved from http://localhost:8080/xmlui/handle/20.500.12306/4776.
Agnese, J. (2003), "Industry Surveys: Supermarket & drugstores". [Accessed December 11, 2019], Available at: www.standardpoors.com.
Ali Syed, D., & Siddiqui, D. A. (2019). Impact of Outsourcing and Other Factors on Logistics Performance in FMCG Sector of Pakistan (SSRN Scholarly Paper No. ID 3381501). Retrieved from Social Science Research Network website: https://papers.ssrn.com/abstract=3381501
Andrews, C. K. (2018). The Overworked Consumer: Self-Checkouts, Supermarkets, and the Do-It-Yourself Economy. Rowman & Littlefield.
Barker et al., (1956), Principles of Retailing. New York: McGraw Book Company.
Benson, V. & Filippaios, F., 2016. ECRM2016-Proceedings of the 15th European Conference on Research Methodology for Business Management ": ECRM2016, Academic Conferences and publishing limited.
Blisard et al., (2002), "America's changing appetite: food consumption and spending on 2020" Food Review, Vol. 25 No.1, PP. 2-9
Bosire, R. M., Nyaoga, R. B., Ombati, T. O., & Kongere, T. O. (2013). The Impact of Outsourcing on Lead-Time and Customer Service in Supermarkets in Nairobi-Kenya.
Bozarth, C.C. (2008). An introduction to operations and supply chain management, Pearson Education,Inc., Upper Saddle River, New Jersey.
Braun, V. & Clarke, V., 2006. Using thematic analysis in psychology. Qualitative research in psychology, 3(2), pp.77–101.
Brend-Samuel, P. (1999). Turning Lead into Gold: The Demystification of outsourcing. Financial Times, Prentice Hall.
De Caro, W. et al., 2016. Textual Analysis and Data Mining: An Interpreting Research on Nursing. Studies in Health Technology and Informatics, 225, p.948.
Flannery, M., 2016. Common Perspectives in Qualitative Research. Oncology Nursing Forum, 43(4), pp.517–518.
Fugard, A.J.B. & Potts, H.W.W., 2015. Supporting thinking on sample sizes for thematic analyses: a quantitative tool. International journal of social research methodology, 18(6), pp.669–684.
Guest, G., 2006. How Many Interviews Are Enough?: An Experiment with Data Saturation and Variability. Field methods, 18(1), pp.59–82.
Hennink, M., Hutter, I. & Bailey, A., 2010. Qualitative Research Methods illustrated., SAGE. Available at: https://books.google.com.pk/books?hl=en&lr=&id=zN70kC0E3XQC&oi=fnd&pg=PP2&dq=qualitative+research+methods&ots=HWZb0DvCyr&sig=z5kHuWizeqrVJWF1bQjUCbNZREI#v=onepage&q=qualitative%20research%20methods&f=false.
Karonjo, T. N., Peterson, M., & Omukoko, S. (n.d.). CATEGORY MANAGEMENT PRACTICES AND SUPPLY CHAIN PERFORMANCE OF SUPERMARKETS IN NAIROBI. 14.
Khalfan, A. Mo., & Alshawaf, A. (2003). IS/IT outsourcing practices in the public health sector of Kuwait: A contingency approach. Logistics Information Management, 16(3/4), 215–228. https://doi.org/10.1108/09576050310483817.
Khong, K.W., Nair, M. (2004), "The effects of customer service management on business performance in the Malaysian banking industry: an empirical analysis", International Journal of Banking and Marketing.,
Khong, K.W., Richardson, S. (2003), "Business Process Re-engineering (BPR) in Malaysian banks and finance companies", Managing Service Quality, Vol. 13 No.1, pp. 54-71.
Kotler, P. (2000). Marketing Management, 10th ed., Prentice-Hall, Englewood Cliffs. NJ.
Kotler, P. (2003). Marketing Management, 11 ed., India Branch, Delphi: Pearson Education (Singapore) Pte.Ltd.
Lysons, K and Farrington, B (2006). Purchasing and Supply Chain Management, 7th ed., Prentice-Hall, Pearson Education.
Mahmood, S. M. F. (2018). Building strong brand equity through developing and implementing strong brand strategy: In the perspective of Bangladeshi supermarkets. South Asian Journal of Marketing & Management Research, 8(1), 19. https://doi.org/10.5958/2249-877X.2018.00003.6
Malagueño Ricardo. (2019). Customer categorization, relational justice and SME performance in supermarket supply chains. Supply Chain Management: An International Journal, 24(3), 417–429. https://doi.org/10.1108/SCM-06-2018-0237.
Nyaoga B. R., Mundia M. Caroline, Riungu Irene (2013), The effect of Benchmarking on Performance in Secondary Schools in Nakuru Municipality. International Journal of Management, IT and Engineering ( I J M I E). Vol. 3 No. 2 pp 283-289.
Oates, J., 2015. Use of Skype in interviews: the impact of the medium in a study of mental health nurses. Nurse researcher, 22(4), pp.13–17.
Onwuegbuzie, A.J. & Leech, N.L., 2007. A Call for Qualitative Power Analyses. Quality & quantity, 41(1), pp.105–121.
Palinkas, L.A. et al., 2015. Purposeful Sampling for Qualitative Data Collection and Analysis in Mixed Method Implementation Research. Administration and Policy in Mental Health, 42(5), pp.533–544.
Scandura, T.A. & Williams, E.A., 2000. Research methodology in management: current practices, trends, and implications for future research. Academy of Management Journal, 43(6), pp.1248–1264.
Stevenson, W. J (2007). Operations Management, 9th edition, The McGraw-Hill, New York.
Winnie Chebet Kosgey, & Dr. Reuben Njuguna. (2019). COMPETITIVE STRATEGIES AND PERFORMANCE OF FAMILY-OWNED SUPERMARKETS IN BOMET COUNTY, KENYA. International Academic Journal of Human Resource and Business Administration, 3(8), 17–38.