Research Plan and Timeline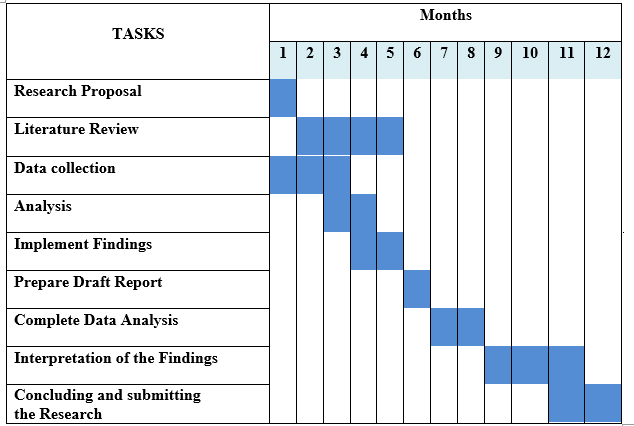 References
Adhariani, D., Sciulli, N. and Clift, R., 2017. Research methodology. In Financial management and corporate governance from the feminist ethics of care perspective (pp. 81-117). Palgrave Macmillan, Cham.
Aselage, J. and Eisenberger, R., 2003. Perceived organisational support and psychological contracts: A theoretical integration. Journal of Organisational Behavior: The International Journal of Industrial, Occupational and Organisational Psychology and Behavior, 24(5), pp.491-509.
Bakker, A.B., 2015. Towards a multilevel approach to employee well-being. European Journal of Work and Organisational Psychology, 24(6), pp.839-843.
Bryman, A. and Bell, E., 2015. Business research methods. Oxford University Press, USA.
Caesens, G., Stinglhamber, F. and Ohana, M., 2016. Perceived organisational support and well-being: a weekly study. Journal of Managerial Psychology, 31(7), pp.1214-1230.
Dall'Ora, C., Ball, J., Recio-Saucedo, A. and Griffiths, P., 2016. Characteristics of shift work and their impact on employee performance and wellbeing: A literature review. International journal of nursing studies, 57, pp.12-27.
Danna, K. and Griffin, R.W., 1999. Health and well-being in the workplace: A review and synthesis of the literature. Journal of Management, 25(3), pp.357-384.
Eisenberger, R. and Stinglhamber, F., 2011. Perceived organisational support: Fostering enthusiastic and productive employees. American Psychological Association.
Flick, U., 2015. Introducing research methodology: A beginner's guide to doing a research project. Sage.
Goleman, D., Boyatzis, R.E. and McKee, A., 2013. Primal leadership: Unleashing the power of emotional intelligence. Harvard Business Press.
Guest, D.E., 2017. Human resource management and employee well‐being: Towards a new analytic framework. Human Resource Management Journal, 27(1), pp.22-38.
Joseph, D.L. and Newman, D.A., 2010. Emotional intelligence: An integrative meta-analysis and cascading model. Journal of applied psychology, 95(1), p.54.
Khan, U.R. and Salahuddin, W., 2018. Impact of Workplace Environment on Employees' Performance. RADS Journal of Social Sciences & Business Management, 5(1), pp.66-76.
Kurtessis, J.N., Eisenberger, R., Ford, M.T., Buffardi, L.C., Stewart, K.A. and Adis, C.S., 2017. Perceived organisational support: A meta-analytic evaluation of organisational support theory. Journal of Management, 43(6), pp.1854-1884.
McGuire, D. and McLaren, L., 2009. The impact of the physical environment on employee commitment in call centres: The mediating role of employee well-being. Team Performance Management: An International Journal, 15(1/2), pp.35-48.
Mkansi, M. and Acheampong, E.A., 2012. Research philosophy debates and classifications: students' dilemma. Electronic journal of business research methods, 10(2), pp.132-140
Nielsen, K., Nielsen, M.B., Ogbonnaya, C., Känsälä, M., Saari, E. and Isaksson, K., 2017. Workplace resources to improve both employee well-being and performance: A systematic review and meta-analysis. Work & Stress, 31(2), pp.101-120.
O'Boyle Jr, E.H., Humphrey, R.H., Pollack, J.M., Hawver, T.H. and Story, P.A., 2011. The relation between emotional intelligence and job performance: A meta‐analysis. Journal of Organisational Behavior, 32(5), pp.788-818.
Ogbonnaya, C., Daniels, K., Connolly, S. and van Veldhoven, M., 2017. Integrated and isolated impact of high-performance work practices on employee health and well-being: A comparative study. Journal of occupational health psychology, 22(1), p.98.
Thompson, C.A. and Prottas, D.J., 2006. Relationships among organisational family support, job autonomy, perceived control, and employee well-being. Journal of occupational health psychology, 11(1), p.100.
Van De Voorde, K., Paauwe, J. and Van Veldhoven, M., 2012. Employee well‐being and the HRM–organisational performance relationship: a review of quantitative studies. International Journal of Management Reviews, 14(4), pp.391-407.
Wright, T.A. and Cropanzano, R., 2004. The role of psychological well-being in job performance:: a fresh look at an age-old quest. Organisational Dynamics, 33(4), pp.338-351.