Situational Leadership in LCCA
The focus on the best action depending upon the specific situational variables is known as situational leadership theory. For example, in LCCA, when there is any inevitable conflict in roles, team, and responsibilities of the team members, applying situational theory effectively solves the conflict as these leadership styles deal with challenges that arise within a firm. Influential situational leaders in LCCA scan the situation and, with the proper knowledge, respond to the situation in the most effective way (McCleskey, 2014).
Situational leadership can enhance collaboration among faculty members based on the relationship between leaders and followers. These leaders also tend to demonstrate adaptability to fit situations and improve work productivity, faculty motivation, and development. On the other hand, they also assist in assessing the maturity levels of individuals, encourage support, provision of guidance and direction, assist in countering uncertainty, volatility, complexity, and ambiguity, effectively respond to situations and control possible outcomes in LCCA (Thompson and Glasø, 2015).
Contingency Leadership in LCCA
This theory is closely linked with situational theory and depends upon environmental variables (Bhuyan, 2019). It determines the way any situation should be led. However, there is a strong correlation between situational and contingency theory and is one difference. Therefore, the class of behavioural theory is called contingency theory, which depends upon a firm's internal and external factors (Nwagbara, 2010; Ivanov et al., 2017). In LCCA, the leader guides his subordinates on how to act in a particular situation when there is a need to make a shared decision (McCleskey, 2014). The contingency theory of leadership can display if a leader's leadership style matches the situations (Fiedler, 2015) in LCCA, as the work environment, faculty members and the culture in LCCA can impact a leader's or manager's success in the process of leadership (Fiedler, 2015).
System Leadership in LCCA
System leadership theory focuses on results and does not rely upon the steps taken to attain achievement in certain activities, i.e. effects are monitored earlier and later compared with the actual outcomes. Among several leadership styles practised by managers in LCCA, the system leadership style of leaders and managers can facilitate the situations in which its members can advance towards social change (Senge, Hamilton, and Kania, 2015). This leadership style can introduce the ability to see a larger system and generative conversations, foster reflection, and shift the overall focus from problem-solving to co-creating a future by engaging, energizing, committing, acting with accountability, reviewing, revising, and learning (Senge, Hamilton, and Kania, 2015) in LCCA. In addition, the gaps in system theory are fulfilled by contingency theory. However, the main difference is that system theory considers internal factors as an essential characteristic of the firm. In contrast, contingency theory deals with external determinants; it works to remedy any crucial situations (Nwagbara, 2010). 
Strengths and Weaknesses of Different Approaches to Situations within the Work Environment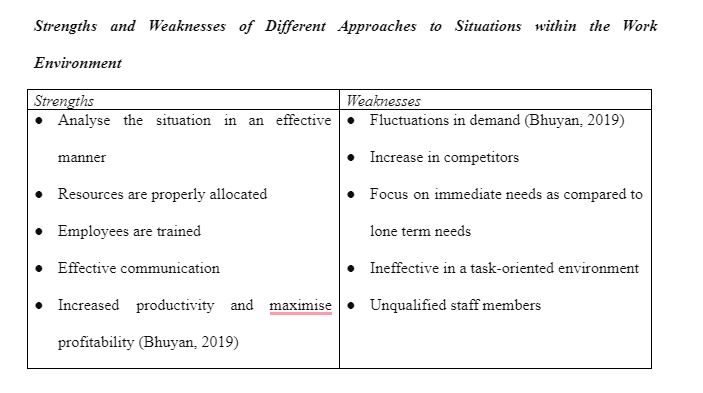 Critical Analysis of Leadership Theories
The prominent leadership theories are situational, behavioural, and trait (Nawaz and Khan, 2016). Trait theory examines what makes a leader successful depending upon innate and acquirable qualities. The trait theory is simple but criticized for providing no precise results (Sethuraman and Suresh, 2014). In comparison to trait theory, behavioural theory is emphasized as a practical theory to explain the role of the behaviour of strong leadership (Nawaz and Khan, 2016). The behaviour is affected by goals, leaders, followers, and the environment.
Therefore, the difference between these two theories is that behavioural theory examines the particular trait of the leader. This is more effective than trait theory but suffers from a drawback, the time factor, and it does not result positively in every situation (Nawaz and Khan, 2016). Situational leadership is surrounded by these essential factors and is better than behavioural theory. It is the most essential leadership theory as it determines how leadership behaviours should vary with multiple situational variables (Thompson and Glasø, 2015).
Conclusion
The report analyses the role of managers and leaders and how these roles differ in an organizational context. Leaders in LCCA follow the transformational leadership style by adopting appropriate strategies to enhance management practice by achieving targets and gaining competitive advantages compared to other colleges. Moreover, managers have subordinates who direct their actions to make effective decisions.
Review the following:
References
Algahtani, A., 2014. Are leadership and management different? A review. Journal of Management Policies and Practices, 2(3), pp.71-82.
Antonakis, J. and Robert, J., 2013. House (2013).'The Full-Range Leadership Theory: The Way Forward', Transformational and Charismatic Leadership: The Road Ahead 10th Anniversary Edition (Monographs in Leadership and Management, Volume 5) (pp. 3-33). Emerald Group Publishing Limited
Asgari, M.R., 2014. The effect of leadership styles on employees' commitment to service quality in bank Melli branches of Isfahan. Kuwait chapter of the Arabian journal of business and management review, 3(12), p.113.
BAC., 2019. BRITISH ACCREDITATION COUNCIL INSPECTION REPORT. [online] Available at: <http://www.the-bac.org/wp-content/uploads/2019/05/LCCA-End-of-Probation-Supplementary-Management-Report-March-2019-FINAL.pdf> [Accessed 25 March 2020].
Beaver, H.O., 2011. The relationship between situational leadership and student achievement.
Bhuyan, A.H.M.M.I., 2019. Organizational Performance Management and Leadership Development: Theories, Styles, Ethical, and Legal Issues. In MESSAGE FROM THE CONFERENCE CHAIRS (p. 356).
Fernie, J. and Sparks, L. eds., 2018. Logistics and retail management: emerging issues and new challenges in the retail supply chain. Kogan page publishers.
Fiedler, F.R.E.D., 2015. Contingency theory of leadership. Organizational Behavior 1: Essential Theories of Motivation and Leadership, 232, pp.01-2015.
Ibrahim, A.A., Alkhawlani, M.A.A. and Al-shaghdari, F.M., 2017. Customers' Desires on Marketing Mix and Its Impacts on Tesco (Malaysia). International Sciences of Management Journal, 1(1).
Ivanov, D., Tsipoulanidis, A. and Schönberger, J., 2017. Global supply chain and operations management. A Decision-Oriented Introduction to the Creation of Value.
Khalid, A., Zafar, A., Zafar, M.A., Saqib, L. and Mushtaq, R., 2012. Role of supportive leadership as a moderator between job stress and job performance. Information Management and Business Review, 4(9), pp.487-495.
McCleskey, J.A., 2014. Situational, transformational, and transactional leadership and leadership development. Journal of Business Studies Quarterly, 5(4), p.117.
Muthiani, M.J., 2019. The Impact of Leadership on Learning Outcomes: A Study on Effective Leadership Style for Principals in Vocational Colleges. In Predictive Models for School Leadership and Practices (pp. 308-327). IGI Global.
Nawaz, Z.A.K.D.A. and Khan, I., 2016. Leadership theories and styles: A literature review. Leadership, 16(1), pp.1-7.
Nwagbara, U., 2010. Managing Organizational Change: Leadership, Tesco, and Leahy's Resignation. E-Journal of Organizational Learning and Leadership, 9(1), pp.56-79.
Popovici, V., 2012. Similarities and differences between management and leadership. Annals Economy Series, 2, pp.126-135.
Prudzienica, M. and Mlodzinska-Granek, A., 2014. The role of manager or leader in a non-profit organization. Актуальні проблеми економіки, (10), pp.321-328.
Rautiola, J.D., 2009. Effects of leadership styles and student academic achievement. Unpublished master thesis), MI, USA: Northern Michigan University.
Samantara, R. and Sharma, N., 2015. Talent Management at Tesco: A Case Study. Parikalpana: KIIT Journal of Management, 11(2)
Senge, P., Hamilton, H. and Kania, J., 2015. The dawn of system leadership. Stanford Social Innovation Review, 13(1), pp.27-33.
Sethuraman, K. and Suresh, J., 2014. Effective leadership styles. International Business Research, 7(9), p.165.
Sohmen, V.S., 2015. Reflections on creative leadership. International Journal of Global Business, 8(1).
Thompson, G., and Glasø, L., 2015. Situational leadership theory: a test from three perspectives. Leadership & Organization Development Journal.