Executive Summary
The research aims at assessing the various European and Chinese standards relative to the type and quality of Steel Beams and Concrete used in construction endeavors. Through literature review and case studies analysis, the paper attempts at discerning the inherent significant difference in the quality standards of the UK and Chinese construction industry with emphasis on guidelines applicable to the use of structural steel and reinforced concrete in building infrastructures. With the growing concerns over the quality of Chinese steel beams and concrete by the UK construction industry, it is important to analyze the reasons amounting to the questions sparked and this study aims at doing so through literature analysis.
Research Question:  To investigate the significant difference between the European and China standard of Quality about concrete and steel beam.
European & Chinese Construction Standards
The Building and Construction Design guidelines specifically highlight the code of practice for the particular use of construction feed-stock, raw materials and construction materials like steel or concrete in every country across the globe. This particular research aims at understanding the difference in the quality standards of the materials such as steel and concrete in construction structures with emphasis on the UK and Chinese Construction Industry. The European standards for the use of steel and concrete in various structures has been highlighted in charters that promote Construction Industry sustainability and at other platforms for various vendors and steel manufacturers to conform to when planning for production. These standards and quality codes are adopted by the UK construction industry and other vendors across the world to ensure that these construction materials provide the desired functionality and optimum performance in structures that they are a part of thus facilitating the sustainable development objective along with enhanced performance (Engineering Employers Federation, 2015)
The UK steel, which is the standard organization representing the UK steel industry frequently publishes updates regarding the design and construction practices and guidelines in relevance to steel and its alternative forms including new steel and reused steel. Some of these material standards relative to the design and quality of construction materials include the British Standard "BS 5950 Structural Use of Steelwork in Building" and Eurocode 3 "EN 1993 Design of Steel Structures". There are various other standards established by the UK industry and European nations including manufacturing, transporting, marking and cutting of steel, alternative steel and concrete for use in construction structures (Building and Construction Authority, 2012).
There are European and Chinese standards established for the proper use, preparation, testing and packaging of Concrete. The core European standard for the specifications,  performance,  manufacturing and conformity is the EN-206-1 which is termed as the framework standard providing leverage to the British concrete standard BS-8500. This standard provides detailed technical specifications and guidelines for cement, admixtures and aggregates to be used in buildings. The Chinese national and industry standard for concrete that provides detailed specifications regarding the concrete quality control is GB- 50146-12 along with other national standards like DT/L 5100-2400 for hydraulic concrete and GB-10424-2003 for concrete use in railway works and masonry.
Vendors have to adhere to these British and European Standards that also encompass areas like quality assurance standards relevant to the materials along with performance testing procedures and guidelines. Most countries have their own code of practice for the optimum use of materials like concrete and steel which is in accordance with the European standards along with an additional practice code designed to cater to materials that are manufactured outside the European standards. The figure below illustrates the parameters of the such processes against the reference standards to be followed, which provides a clear indication that almost all of the processes involved must be completed in accordance with the quality standards implicated by the governing organizations.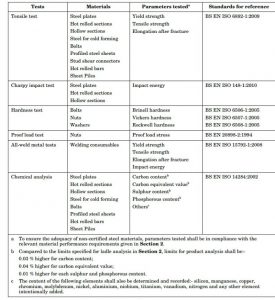 Figure 1: Steel Testing Procedures
The Chinese market is the primary hub for its growing construction industry with the imports of cement, slabs, steel materials such as beams, plates, piles and bars experiencing a boom. The Chinese steel materials to be used in buildings and other construction structures are imported across the European countries and although the Chinese quality standards for concrete and steel beams are adhere to the same European acceptable standards (as illustrated in the figure 1 above), there has however been a growing concern over the last few months with regards to the quality of steel products like beams and piles by the UK steel industry. What exactly is this difference in quality of construction materials that is sparking this concern?
The UK construction standards places special focus on the sustainability of the construction industry and the need for public safety and quality relative to the design of permanent and temporary construction structures or buildings. The quality system specifically highlights areas of focus like traceability and reusability of construction materials with emphasis on the chemical and physical composition of the construction materials like concrete and steel products. The testing guidelines and quality assurance procedures highlighted by the UK industry state that the supplier or fabricator of the construction material must ensure aspects like durability, mass and dimensional tolerance in order to promote best construction practices. Procedures for individual marking, curing, transporting and testing of new and reusable steel for beams, plates and other products are highlighted through these guidelines. TEST reports, manufacturer test certification and relevant material documentation relative to such products is mandatory for the material to be used in buildings (Building and Construction Authority, 2012).
Although the Chinese Steel industry have set the similar standard as to Europe, the standard of the legislative authorities which ensure the implications standard of the Chan's industry are difficult to assess.  One methods is material traceability with the ease of tracing back to the source of a steel product in order to learn about its raw materials. It's the ability to identify a specific steel or concrete product through quality assurance functionality and identification. While guidelines stress on the material traceability aspect, material reusability is also emphasized which reflects the construction material's ability to be reused in a structure and to manifest desired performance. Factors like mixing of steel grade, proper marking and corrosion protection coating have been highlighted.
Causal Analysis - Growing Concerns over Chinese Quality Standards
Steel is often added to concrete for the preparation of reinforced concrete HC and High performing concrete, HPC for use in buildings and other structures. Forster (1994) defines HPC or High performance concrete as an optimized mix of carefully selected materials assembled according to design guidelines with appropriate marking, curing, batching, transportation and consolidation to reflect high performance and load balance in structures. Reinforced concrete is largely used along with high strength concrete HSC in buildings to increase durability and tensile strength of the structure. These concrete variations in structures include steel products like steel bars, piles and sheets or plates and therefore the performance of this concrete would largely depend on the quality of admixtures including steel products. Chinese steel plates are imported to European countries and questions have been raised regarding the chemical composition of steel that has been used in beams and bars. (Engineering Employers Federation, 2015).
As per the publication by UK Steel, which is an active member of The Engineering Employers Federation (EEF), there was a safety warning issued on 3rd March 2015 by the trade body reflecting the quality of  Chinese structural steel products like plates and beams. According to Ian Rodgers (2015), UK Steel's director, there was quality concern regarding imported Chinese steel sections and structural steel bars that had entered the UK construction market. Apparently these steel products did not fully comply or adhere to the European and British standards of steel structure designs. There had earlier been similar concerns regarding Chinese reinforcement bars and the quality of admixtures used for the preparation of RC or Reinforced concrete.
According to the UK Steel official, the European standard guidelines clearly highlights structural steel standards as being applicable to non-alloy steel which means steel that does not include an addition of certain elements to enhance durability. The guidelines also state the acceptable levels of additional elements added to steel in order for the material to be branded as a non-alloy. All steel products relative to the non-alloy specifications need to meet these defined limits to ensure that the weldable functionality is enhanced and that there is no further need for including additional welding parameters or aspects. The quality of non-alloy steel will have a significant impact on the performance and sustainability of building structures including the augmentation of security fundamentals relative to the construction structures.
The imported Chinese steel bars and beams have however, been reported as containing high levels of elements like Boron and Chromium that obviously does not meet the non-alloy requirements of the European of and British standards. The growing concern over elevated levels of additional elements to Chinese steel has been frequently highlighted over the past few months raising serious questions regarding the use and import of Chinese steel. (Engineering Employers Federation, 2015).
The Chinese vendors make use of such elements adding them to steel in order to benefit from the tax rebate that is applicable on the export of such alloy materials. These structural steel products however, do not meet the standards outlined by European design and construction guidelines for use of structural steel. It is also noteworthy that these alloys will have a less positive impact on steel especially when it is being welded since such elements pose a serious threat to functionality including the efficiency of the welding process often resulting in material cracks, that can only be detected after 48 hours depicting problems in production and design.
Similarly,  there have been concerns regarding the quality of concrete in China Construction Industry.  As per the publication from Wired UK (2013), low-quality concrete was found in the construction of China's tallest Skyscraper, in Shenzhen during 2013 and it was found that the composition of cement contained unprocessed, coarse sea sand particles that resulted in the building's construction being halted. Typically, the optimum cement or concrete consists of carefully selected proportions of crushed gravel or rock  and other proper admixtures but State officials found sea sand particles in almost 15 buildings concrete. The UK industry also has published notifications regarding the quality of reinforced concrete bars being sold in the UK market with emphasis on the chemical composition of the admixtures.
Further research has also revealed that Chinese imported steel plates and beams also contain higher levels of copper (Ian Rodgers, 2015). UK steel has strictly suggested avoiding the use of alloyed steel products especially in the welding process and ensuring additional care and vigilance when using steel products like plates, bars and sections during welding. Practitioners have been asked to thoroughly check alloyed steel products before processing them for constructional use as structural steel is increasingly used in heavy machinery domains and in construction. UK Steel, being the primary trade body for the UK steel industry and steel vendors in the UK affiliated with the organization through membership places strong importance on the quality of construction materials. According to the director this was the second warning that had been issued for the quality concerns regarding Chinese imported steel plates, beams and bars. (Ian Rodgers, 2015)
In another publication by UK steel in Oct 2014, there were concerns regarding the quality of steel used in imported Chinese steel rebars and beams. The supply chain functional area relative to the reinforced steel was notified of the quality standards reflected by these rebars and Chinese steel beams stressing on the practices to ensure that structural steel that was at present available in the market was compliant with the European and British certification scheme. This was also brought to the attention of the UK Certification Authority for Reinforcing Steels- CARES, highlighting how the Construction material in particular deviated from the traceability requirements associated with the CARES standards (Engineering Employers Federation, 2015).
The initial notification was launched in August last year that reflected the Chinese structural materials noncompliance with the European standard BS 4449. There were a total of three complaints or notifications by UK steel and all three were in relation to imported Chinese structural material products in the UK market. Ian Rodgers (2005) specifically stated that it has become increasingly important for fabricators and construction organizations that non-European steel rebars, concrete rebars and beams be evaluated with regards to conformity with the design and construction guidelines especially, the traceability requirements.
Another publication by the UK steel trade body in January early this year highlighted how the imported Chinese steel bars and rebars had increased levels of boron that was outside the acceptable scope of British and European Standards catering to the use of structural steel. As per Chinese records, there is only a minimum amount of elements added to the steel beams and bars imported to the UK and currently available in the European market to reap benefits from the tax rebate for the 'alloy' category but the UK officials claim that a significant portion of the Chinese steel bars and beams contain almost 8 parts per million and beyond of Boron amounts. Evidence has been collected through samples tested for conformity to established criteria for steel use and samples with Boron limits of 30ppm have been discovered through these testing procedures. (Engineering Employers Federation, 2015)
According to the Welding Institute, which is the primary certification and training organization for welding procedures, a professional engineering institute and a reputable research and technology center, the recommended optimum Boron limit of 5ppm is acceptable, excess of which would require additional changes to the standard welding procedure. The particular risk with Chinese rebars and beams is that each beam needs to be tested for Boron Limits for Fabricators and construction companies to assess which specific welding technique to employ, which can create considerable difficulties. This raises questions regarding the importing of Chinese construction materials with special emphasis on the cost effectiveness and quality considerations relative to the safety and durability of construction and building structures. The welding institute suggests that additional practices relative to an excess of 5ppm of Boron would entail additional changes to the welding technique including practices like added vigilance for acceptable hydrogen levels that are consumable, slower welding and an increased input of heat during the process. This is a significant suggestion for Fabricators who are currently working with the Chinese Steel products like rebars and beams.
The institute has also further recommended that an optimized welding procedure be developed including the recommended practices highlighted for materials with an excess of Boron levels to ensure efficiency in the welding process and to safeguard against risks such as material cracks, dried surface, improper storage, consumables not appropriately controlled, beam diameter and other aspects pertaining to elevated levels of Boron in structural steel. UK steel and the UK construction industry places significant emphasis on sustainability of construction endeavors and the improvement of weld procedure development which is also why Chinese quality standards of steel beams and concrete bars have raised concerns in the UK Market. (Engineering Employers Federation, 2015). There is considerable emphasis on the use of sustainable steel in the British Construction Projects and hence,steel products available and being sold in the UK market must conform to the European guidelines and standards.
The Chinese Steel and Concrete Industry is a growing market that is experiencing a boom in terms of steel materials exports. The Chinese design and quality standards relative to the use of construction materials are noteworthy of largely catering to the local and global construction markets. However, with the significant difference in the particular steel standards relative to the structural steel and it's use between Chinese and European Guidelines, it is yet to be seen how the construction industry responds to the growing concerns as Chinese steel products are exported widely across global markets specifically the European construction market. As per the recent Article by Joseph Ash (2015) published in April this year, the elected Chairman of the China Iron and Steel Association apprised the industry in February 2015 about the rising growth of the steel market in China and how it was contributing to the overall economy. He further stressed on the fact that China should now focus on the quality and efficiency of steel products apart from production which comes as a relief for the UK steel industry as well as most of the fabricators and members of the Construction Industry. The Chinese Concrete industry also needs to evaluate the quality of concrete used in buildings locally and across the globe.
The European  and Chinese construction industries both have refined and established quality standards and guidelines for the manufacturing, design, use and quality or performance testing of the construction materials like concrete and steel. Although the quality standards have slight variations in terms of chemical compositions with respect to alloy materials, the dynamics do not reflect expanded deviation. The concerns of the UK steel industry regarding the Chinese steel rebars and beams and the questions raised relative to Chinese concrete quality is valid to some extent as the UK industry gives prime significance to sustainable measures in Construction. As per the EEF (2015) the British Steel production largely contributes to the UK economy with steel exports worth £4.9bn in 2013 and a £2.4bn contribution to the UK's balance of trade. The overall economic contribution amounts to £9.5bn a year through tax revenues and supply chain support with the British Steel industry employing 20,000 people approximately. The BES 6001 standard ensures sustainable steel production with quality values focusing on material traceability and reusability. Further, there are established European guidelines for the proper use of concrete in buildings.The various European and Chinese standards for cement as well as steel products are readily available from their restive official web-pages
Reference List
Ajdukiewicz, A., Kliszczewicz, A., 2002. Influence of recycled aggregates on mechanical properties of HS/HPC. Cem. Concr. Compos. 2, 269-279.
Aggregates for Mortar and Concrete, 2002. Part 100, Recycled Aggregates; Deutsches Institut Fur Standardization: Berlin, Germany, 2002. p. 18.
BC1- Design guide on use of Alternative Structural steel to BS5950 and Eurocode 3, Building and Construction Design Guide 2012. Building and Construction Authority 2012.
Concrete—Complementary British Standard to BS EN 206-1—Part 2: Specification for Constituent Materials and Concrete; British Standards Institute (BSI): London, UK, 2006. p. 38.
Domingo-Cabo, A.; Lázaro, C.; López-Gayarre, F.; Serrano-López, M.A.; Serna, P.; Castaño-Tabares, J.O., 2009. Creep and shrinkage of recycled aggregate concrete. Constr. Build. Mater. 2009, 7, 2545-2553.
Engineering Employers Federation, 2015. Available at: <http://www.eef.org.uk/uksteel/Representing-our-sector/briefings/UK-Steel-Warns-About-Boron-Alloyed-Chinese-Rebar.htm/> Accessed [1 December 2015]
Evangelista, L., Brito, J. Mechanical behavior of concrete made with fine recycled concrete aggregate. Cem. Concr. Compos. 2007, 5, 397-401.
Eurocode 2: Design of Concrete Structures—Part 1-1: General Rules and Rules for Buildings (EN 1992-1-1), European Committee for Standardization (CEN): Brussels, Belgium, 2004.
Figure 1: Steel Testing Procedures, BC1- Design guide on use of Alternative Structural steel to BS5950 and Eurocode 3, Building and Construction Design Guide 2012.
Figure 2: European Standards -1, BC1-Design guide on use of Alternative Structural steel to BS5950 and Eurocode 3, Building and Construction Design Guide 2012.
Figure 3: European Standards -2, BC1- Design guide on use of Alternative Structural steel to BS5950 and Eurocode 3, Building and Construction Design Guide 2012.
Figure 4: Chinese Standards -1, BC1- Design guide on use of Alternative Structural steel to BS5950 and Eurocode 3, Building and Construction Design Guide 2012.
Figure 5: Chinese Standards -2, BC1- Design guide on use of Alternative Structural steel to BS5950 and Eurocode 3, Building and Construction Design Guide 2012.
Gómez-Soberón, J.M.V. Shrinkage of concrete with replacement of aggregate with recycled concrete aggregate. ACI Spec. Publ. 2002, 209, 475-496.
Gómez-Soberón, J.M.V. Creep of concrete with substitution of normal aggregate by recycled concrete aggregate. ACI Spec. Publ. 2002, 209, 461-474.
López-Gayarre, F., Serna, P., Domingo-Cabo, A.,Serrano-López, M.A.,López-Colina, C. Influence of recycled aggregate quality and proportioning criteria on recycled concrete properties. Waste Manag. 2009, 12, 3022-3028.
Malešev, M.,Radonjanin, V.,Dimča, 2006. M. Research of possibility of application of recycled concrete as aggregate for new concrete—Part I. In Proceeding of 4th International Science Meeting, INDIS 2006 (Planning, Design, Construction and Renewal in the Construction Industry), Novi Sad, Serbia, 22–24 November pp. 495-504.
Poor-Quality Chinese Concrete Could Lead to Skyscraper Collapses, Wired UK, 2015. Available at: <http://www.wired.com/2013/03/poor-quality-chinese-concrete-could-lead-to-skyscraper-collapses/> Accessed [3 December 2015]
Poon, C.S., Azhar, S.,Kou, S.C., 2003. Recycled aggregates for concrete applications. In Proceeding of the Materials Science and Technology in Engineering Conference—Now, New and Next, Hong Kong, China, 15–17 January 2003; p. 16.
Rahal, K. Mechanical properties of concrete with recycled coarse aggregate. Build. Environ. 2007, 1, 407-415.
Recycling and reuse of waste concrete in China: Part I. Material behavior of recycled aggregate concrete. Resour. Conserv. Recycl. 2008, 1-2, 36-44.
Sanchez de Juan, M., Gutierrez, P.A., Influence of recycled aggregate quality on concrete properties. In Proceeding of the International RILEM Conference: The Use of Recycled Materials in Building and Structures, Barcelona, Spain, 8–11 November 2004, pp. 545-553.
Salem, R.M., Burdette, E.G. Jackson, N.M., 2003. Resistance to freezing and thawing of recycled aggregate concrete. ACI Mater. J. 2003, 100, 216-221.
UK Steel highlights concerns over the quality of imported rebar, Engineering Employers Federation, 2015. Available at: <http://www.eef.org.uk/uksteel/Representing-our-sector/briefings/UK-Steel highlights-concerns-over-the-quality-of-imported-rebar.htm/> Accessed [1 December 2015]
Yang, K.H., Chung, H.S.,Ashour, A., 2008. Influence of type and replacement level of recycled aggregates on concrete properties. ACI Mater. J. 2008, 3, 289-296.
Zaharieva, R.,Buyle-Bodin, F., Wirguin, E., Frost resistance of recycled aggregate concrete. Cem. Concr. Res. 2004, 10, 1927-1932.