Part One
Introduction; Schemes, Tools, and Software used in Civil Engineering
The traditional activities related to civil engineering utilizes a broad range of schemes, tools and software which provides support in various aspects of a project, such as in the management of human resources, process optimizations, selection and/or production of materials, prefabrication and performance measurement techniques etc. These schemes/tools are considered to have significant impact on any project. 
In the last many decades, a considerable amount of research and development has been completed to improve the construction methodologies, which has in fact revolutionized this industry.  These recent development have not only provided numerous opportunities and challenges to the architects, designers and engineers of this century, but it has also imposed significant pressure to ensure effective space utilization, conservation of energy, sustainability adaption and material selection etc. Therefore, much more emphases are given to consideration of prudent use of resources, efficient designing / planning techniques and recyclable/renewable material use (Pacheco, 2007).
Interoperability, which can be defined as the ability to present, communicate and manage electronic data, is considered to hold key importance in the civil engineering industry.  The successful application of interoperability requires that a variety of procedures, schemes and information technology tools are used to create multi dimensional and visualisable plans. There are various methods/software/tools used to achieve this objective, such as Computer Aided Design and Drafting (CADD), TEDDs, MATLAB, ANSYS, SolidWorks, BuildingSMART, VectorWorks etc, which are now often being used to develop engineering drawings, and to perform process simulations and calculations.
With the introduction of such systems, various tools have been integrated to develop models which can provide support in almost every aspect of a project, such as to support estimations of cost, material tracking, scheduling of activities and laser scanning.  These tools not only provide management support to the users, but also allows to communicate/present and share valuable information with clients and as well as with contractors, vendors and suppliers.  These further ensure the ability to streamline engineering designs starting from the initial planning stage, overall project management, and in financial requirements of the project.
Other methods such as Scheduler, Prima Vera, SAP, MS Project and Primavera, and schemes such as the Critical Path Method (CPM), Total Quality Control (TQC) and Just in Time (JIT) approach etc can also be used during the planning and construction stages of a project. However, since the last few years, Building Information Modeling (BIM) has gained much attention from the stakeholders of the construction industry and as well from the policy drivers at the governmental level. The BIM is engineered to produce and manage/organize productive data during project's complete life cycle (Lee et al. 2006). There is an extensive range of parameters which this program can be used for, such geographical and spatial analyses, material properties, quantities, details of processing, drawing, scheduling etc, which makes it extremely effective in almost all phases of the project management, as shown in the figure below;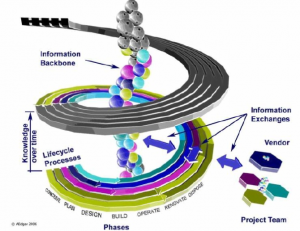 Figure 1: Building Information Modeling Standard (Source: NIBS, 2006)
However, technological advancements with respect to BIM are not the only new entrant in the civil engineering industry.  The Information System (IS), Virtual Construction 3-Dimensional Auto-CAD (VC-3D-CAD), Computer Information Construction (CIC), and Information Technology (IT), are some of the technical advancements being employed in this industry with contributions towards the development of interactive and integrated space information processing. The use of BIM and how its practical application can benefit in various aspects are discussed in the part two of this paper.
Application of such tools and the kind of impact these can have on activities such supply-chain management, sequence of work flows and accuracy of the data is quite influential. Their application aims to eliminate the mismatch/conflicts between the design and engineering. It further enables the stake holders to attain real time data which is extremely useful while working on site. 
Energy Assessment, Sustainable Construction and Other Standards
The energy conservation consideration is another critically important aspect in today's work ethics and development strategies. According the to the climate change act of United Kingdom, 2008, the architectural industry of is required reduce and maintain the amount of release of greenhouse gases to a certain level by the year 2050. The Energy Act of 2011 further requires the subject industry to reach a specific minimum value with respect to standard energy efficiency by April 2018, for all the residential or business premises. The figure below shows the required reduction rate of emissions;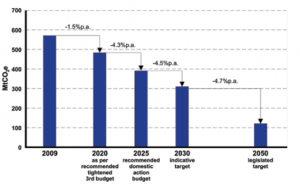 Figure 2: greenhouse gases emission reduction requirement; 2009 to 2050 (CCC, 2010)
Since the construction industry is required to reduce the greenhouse gas emission in the coming years, the stakeholders are now keen to develop and participate in methods/schemes which would allow them to meet this criterion (CCC, 2010); which effectively means adaptation to technology which ensures efficient utilization of resources. The Carbon Reduction Commitment Energy Efficiency Scheme, also known as CRC, is acting as a driving factor/force in order to implement these changes and ensure that a clear path is provided to companies in terms of provision of data, guidance, procedures, energy assessment methods/tools etc. 
Various methods can be adopted to reduce the energy consumption. The Standard Assessment Procedure (SAP) is one method used by the UK's government to assess/compare energy performance of dwellings. The latest version of SAP is available from department of Energy & Climate Change UK (Standard Assessment Procedure, 2014).
The "Retrofit" improvement method/scheme, passive cooling and heating optimization, use of natural renewable energy resources, air tightness of the building, external and internal insulation of the structure walls and use of energy star rating are some of various methods which can enhance the energy performance and provide support in catching up with the legislations and standards.  One example which can be quoted here is the application of the Combined Heat and Power (CHP) systems, which is designed to enhance the efficiency of electricity production and distributions. The system uses locally available energy resources, including biomass and waste, and it is designed to utilize most of the unused energy to provide hot water (Kelly and Pollitt, 2010).
The site waste management plans/legislation (SWMPs) have also been implemented by the agencies of environmental protection in UK, to enforce waste management procedures for all the major projects. Other standards for the onsite construction have also been developed by the government, example of which can be given BS 8102:2009, which characterize in the grades of basement constructions, with consideration clearly stated for the environmental aspects and the provision of the ventilation system (BS 8102, 2009). These are code of practices which must be followed in accordance with such legislations and procedures
Therefore, an accumulative sustainability impact can be generated via efficient selection and usage of materials, reduction in waste, and enhanced performance of equipments. This can be successfully achieved by following the standards and legislations, and by using the available technologies in-terms of tools and software (s). Therefore it is important to 'gain information on the deliverables of such numerously available applications' and also to 'learn how to use them'.