Introduction
The recent demands of customer and market oriented strategies from the visionary clients in construction sector have generated challenges and opportunities in human resource management. The quality and value driven services requirements have changed the priorities of this sector in strategic management of human capital. Likewise, the business models and management approaches are also likely to be modified in view of new HRM paradigms. However, due to the significance in economic activity and labour intensiveness of construction industry, application of contemporary HRM principles is not observed widely (Marchington and Wilkinson, 2012). Though, the management styles and practices can have a significant impact on organizational performance, construction sector lacks long term HRM planning and barely consist on project based workforce management (Storey 2000). This report is based on the critical review of the contemporary HRM approaches in construction industry and applications of management perspective of HRM in global construction sector (Wilkinson et al 2012).
Contemporary HRM Practices and Policies
The basic HRM practices are characterized in three schools of management practices namely, soft, hard, and harvard styles. According to Gill (2007), Soft HRM approach emphasizes on the better response of workforce to the organizational goals once their own needs and expectations are fulfilled. This approach is based on Maslow (1954) hierarchy of needs and proposes a healthy organizational environment if the management addresses the individual needs of employees. In contrast, Noe (2006) argued that individuals better perform if they are enough motivated and feel connected to other people in organization. Hence, employee engagement and better relationship is supported in this model.
However, Hard HRM approach favours the notion that organization should deploy human resource in the structured and systematic way just like any other resource. Therefore, cost effectiveness and maximum output should also be desirable in HRM as in other resources. Kleiman (2000) asserted that using this model assures the achievement of performance through effective management control on HR activities in order to sustain the competitive advantage. The structured HR strategy is designed in this model to be in with the business strategy that includes strict measures of performance management, workplace flexibility, outsourcing, and other important initiatives to operate workforce efficiently.  This management perspective is more prevailing in construction sector as the management designs the workforce practices merely in line with the project requirements and not considerate about the worker's needs.
On the other hand, Harvard model provides a midway between soft and hard HRM models as Lado and Wilson (1994) declared that employees as considered as resource in this model but management considered them human also as far as the decisions of organization and employees' relation are considered. The societal expectations are also counted along with the achievement of business goals. Harvard model is best suited for contemporary learning organizations and include the concern for work flows, reward and appraisals, employees commitment initiatives, competence, congruence to organizational goals, and cost effectiveness in workforce management. In contrast with Harvard and the HRM model proposed by storey (1995), management of workers in construction is most of the time considered as Hard HRM. In this regard, Ness and Green (2012) described this approach in construction industry as being dye to the antagonism of project managers to use contemporary concepts of HRM as a concept. Due to the project oriented nature of this industry, long term HR planning and investment is taken as a luxury practices that does not pay back to the organization.
Critical review of HRM theories implications in Construction
In view of the practices of employment and industrial relations observed in construction sector globally, it is observed as largely inconsiderate, informal, and casual as far as workforce management is considered (Lingard et al., 2008; Townsend et al., 2011). Also, occupation health and safety issues are widely reported in construction (Loudoun, 2010), with issues related to the workforce management and relations (International Labour Office, 2001). In context of management theories and models, the styles of management are found different in various industries and construction is also not an exception. Hence, the main concern arises that a part from the weak impact of long term and visionary management planning and implications, this industry is not properly adjusting to the management approaches in HRM (Townsend et al., 2011).
However, the main theories of HRM are geared around the outcomes as performance and increase in efficiency, the literature suggested MRM models as a way to obtain best practices that lead to achieve competitive advantage in human capital management (Torrington et al.2008; Storey 1995). Though the symbolic nature of discussions is found to have contradiction with above discussed HR models, but this critical review is not found in the literature related to construction sector (Wilkinson et al 2012). Furthermore, Belout and Gauvreau (2004) debated that the contemporary approaches in HRM are based on effective ways to manage and deploy human resource and consider the factors of personnel management.
Similarly, Lin et al (2011) suggested that cost effectiveness of HRM is also an important attribute for construction companies that lead to lack of long term HR planning and development initiatives. Hence, the construction industry needs to change the standpoint of treating people as a resource and deploy them according to like the factors of production; as evident from the fact that considerable proportion construction workforce are non-native / multi-linguals. Although this industry is more labour intensive, the industry needs a more human relations approach of HRM in which employees are treated as individuals possess special attributes and qualities and should be managed according to their skills and willingness (Huemann et al. 2007; Townsend et al 2011). Consequently, Dainty and Chan (2011) also argued that the critical perspectives are important for existing HR theories on their implication to the project based settings like that in construction sector. Therefore, evaluation of the application of existing HRM perspectives on construction sector can provide an insightful and important judgment on their applicability extent in this sector.
Management Focus of HRM in Construction
Management focus selected for this paper is based on one of the three HR perspectives presented by the editorial of Wilkinson et al. (2012) including human, resource, and management focus. This perspective is important in the context of project based on operations of construction industry as the key management practices can effectively enhance the organization and project performance. Also, the remaining perspectives of human and resource are oriented at the demands and needs of employees, whereas management focus is based on the point of view of management and its initiatives to enhance employees' performances. According to Fleetwood and Hesketh (2007), the relationship of HRM practices and organizations performance does not have much theoretical backing in case of construction industry. Therefore, the impact of employees' factors and management requirements can impact the performance of construction projects (Dainty et al., 2007).
Another important management concern is described by Raja et al (2014) that due to fluctuations in market demand for large projects, construction firms focus more on cost versus benefit strategy in HRM, and avoids long term employment and development opportunities for workers. Training and development is supposed to be the part of workers as the company demands appropriate training and experience for hiring on a particular project. This mode of working has raised serious concerns related to various HRM attributes in large construction firms. In the absence of safe and secure working environment and long term career growth, high employees' turnover and outsourcing, and sub-contracting largely prevail in this industry (Green and May, 2003).
Additionally, the involvement of multiple stakeholders in construction industry also affects management strategies in a project. The diverse interests of management and workers make HRM more complicated due to the mismatch of employees and organizational goals; for instance issue of salaries and overtime affect employee relations differently in different geographical rejoins (Forde et al 2009). Also, Wilkinson et al (2012) declared that more strategic role is required from HR managers in construction industry to manage macro and micro level changes and cultural management in international projects. Also, in management focus, enhancement of skills and attitude of employees also need to be addressed to meet the diverse changes in different parts of the world.
Applications of management focus in construction HRM
This section of the report evaluates some important implications of management focus areas in construction sector
Employment/Recruiting
This basic function of HRM can modified through designing of application procedures, interview checklist and material, and assessment tests. The aspect of management in this concern is to attract right target market of potential employees with recruitment and selection techniques. For instance, Tarmac is one of the leading UK based supplier of building material and established in 1903. Due to the project based nature and through competition in the industry, Tarmac use a combination of selection tools like group based exercises, competence analysis, oral communication and presentations, and finally internal tests. Carefully made job descriptions limit confusion in both local and foreign operations.
Learning and Development
The management attribute involves designing of training and development programs after thorough needs analysis.  In this aspect, HR professionals in construction industry foresee the market demands, labour market characteristics, and condition of existing workers in view of new technology and handling techniques of material and labor. The rigorous training and development program can create a competitive advantage for the firm as to assist it to reduce employees' turnover rates.  
For example, Blue circle Cement UK offers training at four levels to senior managers, staff team, team leaders' briefings, and team building workshops. In addition to the team training, employees were expected to carry out a skills training programme. Everyone had to learn at least four new skills and craft workers had to learn at least one other new craft. Initial training involved between four and six weeks for each employee. These learning initiatives have turned Cauldon UK plant a sustainable and dramatically efficient plant in 1990 as compared to 1985 as shown in the image below (BCS 2012). Awards winning Total Quality Approach introduced a Quality staircase by sharing power and responsibility at each level. The following figure shows this quality staircase components used by Blue Circle Cement to develop a learning and development culture.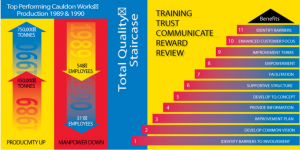 Figure 1; Total Quality Staircase Example (Source: BCS, 2012)
Industrial/ Employee Relations
According to Gospel (2009), industrial relations and employees' engagement are one of the contemporary management issues due to influx of migrant workers, urbanization, and changed working conditions in construction industry. Sisson (2010) declared that the role of HR management is to provide liaison to resolve industrial and employees relation issues, union tackling strategies, assistance in collective bargaining negotiations and employees grievance procedures. Thus role of HR management is both crucial and sensitive as HR managers directly face workers' demands and grievances.
On the other hand, Raj et al (2013) argued that construction companies use outsourcing and subcontracting options to avoid interactions with employees and deploy employee relation responsibility to contracting companies (According to AEII (2007:7), 'Improved productivity and enhanced project management capacity are critical to the industry. With a tight labour supply one of the solutions necessary is to work better'. Hence, avoidance of direct employees' and industrial relations issues to foreign or local subcontractors is mot the long term solution. Strategic HRM approach requires integration of company management with the obligations of employees to secure a better workforce engagement with the parent company to generate a long term commitment.
Occupational Health and Safety
Wilkinson et al (2009) and Sisson (2010) declared that construction industry has high propensity of workplace hazards and occupational safety issues. Therefore, management focused HRM has a prime responsibility to foresee the prevention strategies development for occupational hazards, legal workplace safety policies, wellness and EAP programs, and harassment control procedures. The role of operations management is very crucial with respect to the HR, in making the operations more secure with guarded machinery, safe heavy equipment, and safety precautions in handling with harmful materials like Silica dust and asbestos. 
The measures taken by large constructions firms are found exemplary in this regard, like for instance Balfour Beatty, leading infrastructure firm in UK has used ultimate safety precautions for workforce. The realized improvements in operations, better communication among project teams, time recorded operations, onsite medical and emergency assistance, and insurance cover for workers in provision of occupational hazards are some important initiatives (Balfour Beatty website n.d).
Affirmative Action/ EEO Policies
 Provision of equal opportunity employment is one of the important areas of management concern. Affirmative action or EEO programs development and implementation help the company to resolves disputes related to EEO. For instance, EEO courts US gave the ruling against Skanska USA, leading  Building contractors in USA to pay $95,000 in order to settle a sexual harassment case on the basis of racial and retaliation attributes from the company in case of violating the federal laws and misconduct of termination of Black employees (EEOC US, 2015).
However, de Graft-Johnson et al (2009) argued that construction industry has failed to provide equal opportunity employment and career advancement to hired women, ethnic minorities, and immigrants. Similarly, Wilkinson et al (2009) asserted that in a growing construction industry, these neglected groups and individuals from diverse origins and gender can provide potential and skilled workforce. Also, Campayne et al (2007) suggested that although percentage of women in construction has been increased but still the initiatives towards women hiring and development is slow in this industry.
Work and Family Balance
In busy schedules and heavy mechanical jobs in construction industry with long hours of onsite work, the issues of Work-Life balance are also found important in well-being of workforce. The scholars urge the industry to develop flextime schedules, telecommuting job opportunities, day care and dependent care help, informal family engagements and promotion of family life engagements in employees (Sisson 2010; Li and Namasivayam 2011; de Graft-Johnson et al 2009). In real businesses, large construction companies do tale systematic measures to sustain family- work balance. For instance, Holder Construction has around 728 employees operating 60 sites in the country.   Company offers special programs like paid vacations, Family paid time off (PTO), elderly and family care facilities that allows employees to afford family care and takeout time from official duties (HCC, 2015). However, apart from few such examples, the large portion of construction industry still lacks serious measures in this area of management concern.
Recommendations
On the basis of above discussion, the following recommendations are drawn for the construction industry in general to improve the outlined areas of management concern:
The HR management strategies in construction industry can be more refined through careful employees' filtration and appropriate selection processes, more efficient controls with humanistic approaches, and provision of career advancements and trainings to offer a long time engagement to skilled employees. Though project based nature of the industry is found to provide obstacles in long term HR planning but the competitiveness of companies can be developed through an effective HR only. Squandering of human resources is a drastic as with any other resource of the country.
The role of HR managers needs to be more active and visionary apart from the routine payroll tasks. The basic functions of recruiting, selection, and training should be aligned with the strategic goals of the company. The outsourcing and subcontracting should not lessen the role of HR department as it needs to provide a liaison between the contractor and employees to achieve better employees' commitment. The Hard model of HRM no longer supports the contemporary construction companies and the practitioners need proper implications of Harvard model of HRM.
The awareness and education of employees and all stakeholders of the company about the merits of high skilled workforce is essential. Effective trainings need analysis and development of appropriate onsite and offsite training programs will lead the industry to the forefronts of a responsible and proactive workforce. Dependency of subcontracting and outsourcing can also be reduced through extensive training programs. Unions and training institutions can work as partners in these learning and development initiatives from HR department. Evaluation of these training programs is also important to evaluate their impacts on business performance.
The development of a standard framework for a high performance and efficient workforce needs more concentration on the factors like EEO/ Affirmative action, occupational hazards safety measures, and long term employment opportunities. The construction industry found to have poor performance in these measures that lead to more fatal accidents, high turnover, and demotivation of employees. The rigorous criteria for performance evaluation and considering workforce as human with family and life obligations, personal interests, and career goals will change the mindset of management in devising HR policies.  
References
Alberta Employment Industry and Immigration (2007), A Workforce Strategy for Alberta's Construction Industry. Building and Educating Tomorrow's Workforce, Alberta's 10 Year Strategy October 2007, p7 accessed from http://www.grahamlowe.ca/documents/231/People_Performance_Report-final.pdf
Belout, A. and Gauvreau, C. (2004). Factors influence project success: the impact of human resource management, International Journal of Project Management, 22(1),1-11 .
BCS (2012), Creating a new way of working based on trust: A Blue Circle Cement case study accessed from http://businesscasestudies.co.uk/blue-circle-cement/creating-a-new-way-of-working-based-on-trust/training.html#ixzz3qJBeNqip
Campayne, C., Harper Jantuah, C. and Peters, J. (2007) Different Women, Different  Places: A study of the lives and experiences of black and minority ethnic women  leaders working in the UK and Europe. www.katalytik.co.uk
de Graft-Johnson, A., Sara, R., Gleed, F. and Brkljac, N. (2009) Gathering and  reviewing data on diversity in construction professions. Construction Industry Council  and Construction Skills.
Dainty, a.R.J, and Chan, P. (2011), Human Resource Development: rhetoric, reality, and opportunities, Choinowsky nad Songer, A.,(eds), Organizatuion and Management in Construction, Spon Press, Oxk
Dainty, A. and Loosemore, M. (2012) Human ResourceManagement in Construction:  Critical Perspectives, Taylor & Francis, London.
EEOC US (2015), Significant EEOC Race/Color Cases, asccessed from US EEOc website on Nov 01, 12015, from http://www.eeoc.gov/eeoc/initiatives/e-race/caselist.cfm
Fan, D L Cui, MM Zhang, CJ Zhu, CEJ Härtel, C Nyland, 2014, Influence of high performance work systems on employee subjective well-being and job burnout: empirical evidence from the Chinese healthcare sector,The International Journal of Human Resource Management 25 (7), 931-950
Fleetwood, S. and Hesketh, A. (2008) Theorising under-theorisation in research on the HRM-performance link. Personnel Review , 37 (2). pp. 126-144. ISSN 0048-3486
Gill, C. (2007). A Review of the Critical Perspective on Human Resource Management.
Gospel (2009) 'Human Resource Management: A Historical Perspective', in A. Wilkinson, N. Bacon, T. Redman, and S. Snell, Handbook of Human Resource Management, London, Sage, 12-31.
HCC (2015) what you should know, accessed from https://www.google.com/search?q=Work+and+Family+Programs+in+construction+compaies&ie=utf-8&oe=utf-8#q=Work+and+Family+Programs+in+construction+companieshttp://www.flexibility.co.uk/cases/Balfour-Beatty.htm
International Labour Office (2001). The Construction Industry in the Twenty-First Century: Its Image, Employment Prospects and Skill Requirements, ILO, Geneva.
Huemann, M., Keegan,A. E. and Turner,J.R.,2007,"Human Resource Management in the Project Oriented company: a critical review", International Journal of Project Management, 25(3), 312-320.
Lin, I., Namasivayam, K., (2011), Understanding restaurant tipping systems: a human resources perspective, International Journal of Contemporary Hospitality Management, Vol. 23 Iss: 7, pp.923 – 940
Noe, Raymond A., et al. Human Resource Management: Gaining a Competitive Advantage. 5th ed. Boston: McGraw-Hill, 2006
Raja, J., Green, S., Leiringer, R., Dainty, A. and Johnstone, S. (2013) Managing multiple forms of employment in the construction sector: implications for HRM. Human Resource Management Journal.
Kleiman L 2000. Human Resource Management: AManagerial Tool for Competitive Advantage.2nd Edition, Cincinnati, OH: South-Western College Publishing.
Lingard, H., Townsend, K., Bradley, L. and Brown, K. (2008) Alternative work schedule interventions in the Australian construction industry: a comparative case study analysis. Construction Management and Economics, 26(10), 1101–12.
Lado, A. A., & Wilson, M. C., (1994). Human Resource Systems and Sustained Competitive Advantage: A Competency-based Perspective. Academy of Management Review, 19(4), 699-727.
Marchington, M. and Wilkinson, A. (2012) Human Resource Management at Work, CIPD, London.
Maslow, A. (1954), Motivation and Personality, Harper & Row, New York.
NOE, R. A. (2006). Fundamentals of human resource management. Whitby, Ont, McGraw-Hill Ryerson.
Storey, J. (2000), HRMJ: the first decade. Human Resource Management Journal, 10: 5–7. doi: 10.1111/j.1748-8583.2000.tb00001.x
Sisson, K. (2010) Employment Relations Matters, available at http://www2.warwick.ac.uk/fac/soc/wbs/research/irru/erm (accessed 23 July 2012).
Storey, J. (1995) Human Resource Management: A Critical Text, Routledge, London.
Townsend, K., Lingard, H., Bradley, L. and Brown, K.(2011) Working time alterations within the Australian construction industry. Personnel Review, 40(1), 70–86.
TORRINGTON, D., HALL, L., TAYLOR, S. and ATKINSON, C. (2009) Fundamentals  of human resource management: managing people at work. Harlow: Pearson Education.
Wilkinson, A., Johnstone, S. and Townsend, K. (2012) Editorial: Changing patterns of human resource management in construction. Construction Management and Economics, Vol. 30, pp. 507–512.
Wilkinson, A., Redman, T., Snell, S. and Bacon, N. (2009), Field of human resource management, inWilkinson, A., Redman, T., Snell, S. and Bacon, N. (eds) The Sage Handbook of Human ResourceManagement, Sage, London, pp. 3–12