Review the following:
Expected Outcomes
The expected outcome of the study is to pave the way for other researchers to carry out future research regarding the interventions of stress management in the aviation industry and the role of HRM in it. As the researcher has chosen to interview the cabin crew, this would allow future analysts to assess the issues of stress and burnout from other employees' perspectives that are part of the aviation industry. Moreover, the use of theoretical and empirical data would allow the collection of information to be assessed in a better way.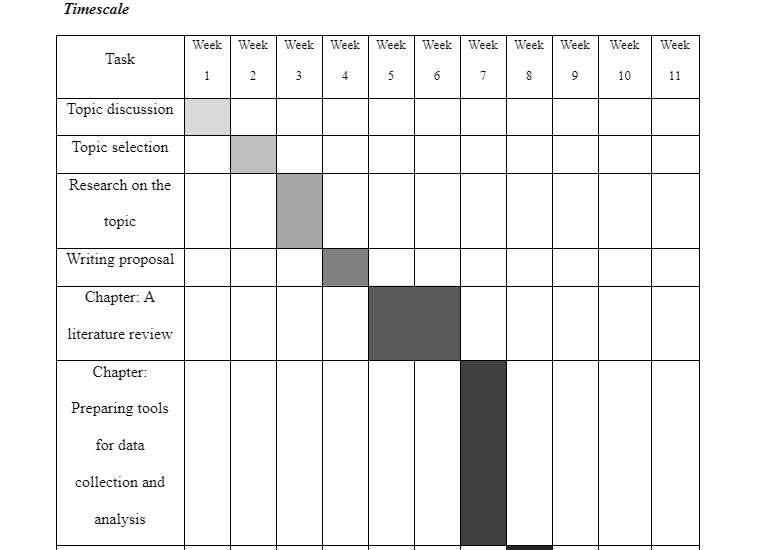 The time scale is divided into 9 phases, which the first phase selects the topic, which is done in week 1. The topic selection phase is in week 2, followed by research on the subject and writing a proposal in weeks 3 and 4. Weeks 5 and 6 would focus on the literature review chapter, followed by working on data collection and analysis in week 7. Lastly, the data collection phase would be done in week 8, followed by data analysis conducted in week9 10, and the conclusion in week 10.
Drop us a message on Whatsapp or by Email if you want to access the complete report of the above article. We will get back to you within 24 hours.
References
Bernard, H.R., 2017. Research methods in anthropology: Qualitative and quantitative approaches. Rowman & Littlefield.
Bryman, A., 2016. Social research methods. Oxford university press.
Cachia, M. and Whitfield, M., 2018. How does workplace stress affect job performance? An employee's perspective. New Vistas, 3(2).
Carrillo, E., Freeman, L.L., Morand, D., Ocampo, R., Afegbua-Sabbatt, R. and Clayton, R., 2018. EXAMINING THE IMPACT OF EMOTIONAL INTELLIGENCE ON WORKPLACE STRESS. International Journal of Management and Human Resources, 6(1), pp.64-83.
Eltorai, A.S., 2018. Lessons from the sky: an aviation-based framework for maximizing the delivery of quality anesthetic care. Journal of anesthesia, 32(2), pp.263-268.
Eriksen, C., 2019. Managing Work and Relationships at 35,000 Feet: A Practical Guide for Making Personal Life Fit Aircrew Shift Work, Jetlag, and Absence from Home. Routledge.
Foy, T., Dwyer, R.J., Nafarrete, R., Hammoud, M.S.S. and Rockett, P., 2019. Managing job performance, social support and work-life conflict to reduce workplace stress. International Journal of Productivity and Performance Management.
Ghauri, P., Grønhaug, K. and Strange, R., 2020. Research methods in business studies. Cambridge University Press.
Hajiyousefi, H., Asadi, H. and Jafari, A., 2017. Work Stress among Flight Attendants; The Perspective of a Standard Sports Examination Designing as a Prerequisite to Flight License. International Research Journal of Applied and Basic Sciences, 11(1), pp.31-40.
Lindlof, T.R. and Taylor, B.C., 2017. Qualitative communication research methods. Sage publications.
Litosseliti, L. ed., 2018. Research methods in linguistics. Bloomsbury Publishing.
Lockwood, G., Henderson, C. and Stansfeld, S., 2017. An assessment of employer liability for workplace stress. International Journal of Law and Management.
Rodriguez-Paras, C., Khanade, K. and Sasangohar, F., 2018, September. Stress Detection techniques in different work domains. In Proceedings of the Human Factors and Ergonomics Society Annual Meeting (Vol. 62, No. 1, pp. 1704-1706). Sage CA: Los Angeles, CA: SAGE Publications.
Rook, C., Hellwig, T., Florent-Treacy, E. and Kets de Vries, M., 2018. Workplace stress in senior executives: coaching the "uncoachable. International Coaching Psychology Review.
Santos, L.F. and Melicio, R., 2019. Stress, Pressure and Fatigue on Aircraft Maintenance Personal.
Smith, T.D., Dyal, M.A. and DeJoy, D.M., 2019. Workplace stress and firefighter health and safety. In Increasing Occupational Health and Safety in Workplaces. Edward Elgar Publishing.
Stokes, A.F. and Kite, K., 2017. Flight stress: Stress, fatigue and performance in aviation. Routledge.
Tomic, I. and Liu, J., 2017. Strategies to overcome fatigue in air traffic control based on stress management. Int. J. Eng. Sci., 6(4), pp.48-57.
Tripathi, S., Joshi, D. and Sharma, A., 2020. To Study the Various Techniques Required To Overcome Workplace Stress among the Employees. Studies in Indian Place Names, 40(3), pp.469-479.
Walliman, N., 2017. Research methods: The basics. Routledge.