The Rolex CBBE model strategy has been carefully formulated and it is uniformly strong on almost all fronts. The Rolex brand pays critical attention to both the highest-quality product features and the associated descriptions (such as product creatives presenting trends and a high-value class), enticing the high-value leads to the Rolex brand.
However, there are various factors that impact the brand's equity (Stoner et al, 2014, p. 200), and a better understanding of the brand values which are detailed Customer-Based Brand Equity (CBBE) Model, can certainly influence perceived quality and reliability for the brand.
The following shows primary CBBE model core elements; 
The Brand's Identity
The Brand's Meaning
The Brand's Perception/Image
The Brand's Resonance/Relationship
The Rolex brand performs well under all specific core elements as per the CBBE model, however, after carefully analysing the Rolex brand equity, it can be argued that the Rolex CBBE Model needs to optimise the interconnections among different brand equity aspects.
A luxury brand such as Rolex, which has one of the best quality and price ratios within the industry, must also emphasise leading the human cultures towards a sustainable and healthy way of living. The brand must, in time, integrate the specific CBBE model core elements and establish itself as the leader in classy as well healthy way of living. 
As a result, a sustainable brand placement will help the brand in attaining even better profit margins because of suppositions that if a product is of outstanding ethic as well quality value, and the higher prices will be welcomed by the modern users around the globe.
In addition, the enhanced brand equity would allow the company to reduce the risk of the company being stagnant and static in terms of growth value. 
The Rolex CBBE Model has been presented in the chart below. This CBBE model example presents conclusive points associated with the study;
CBBE model for Rolex (source: information obtained from Davis et al., 2013, Stoner et al., 2014 and various other sources)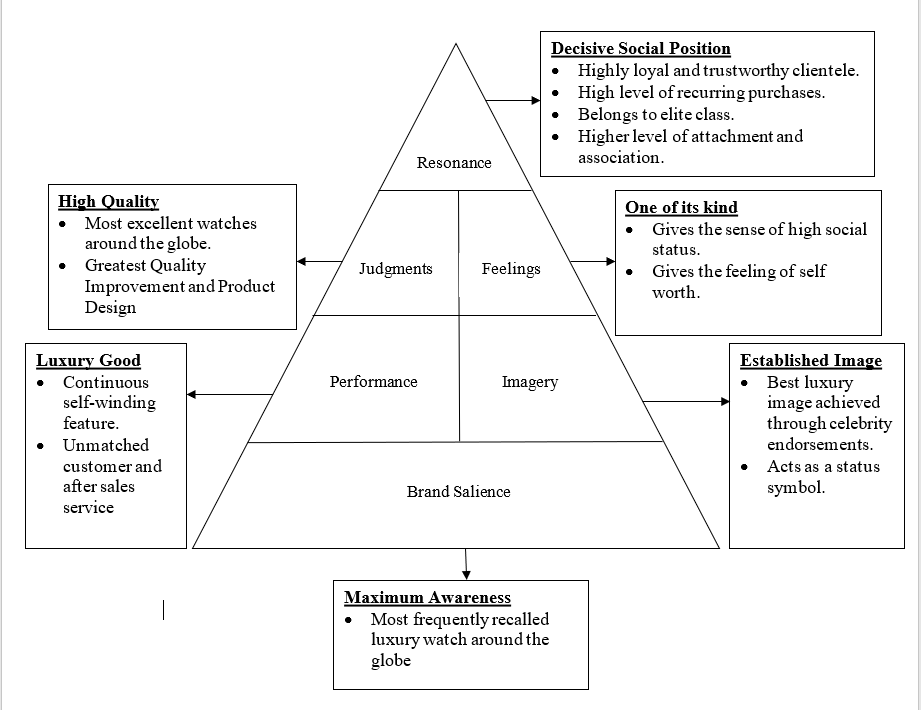 Find out how our writers can assist you!
As it can be seen from the CBBE model presented above, The Rolex brand advertises itself as a brand of high quality and luxury, with a focus on premium customers. Although this unmatched branding under these terms targets only limited customers, their strength relies on producing products with an outstanding reputation across all sectors of societies; to sustain a leading position through performance, brand salience, imagery, resonance and high quality.
Sources of Brand Equity
Ahead of buying a luxury product an "intricate thought process" (Torelli et al, 2012, p. 951) is formed as a result of a highly concerning type buying decision-making process. Generally, luxury products are bought with the intention of satisfying extrinsic requirements like monetary status, social standing and physical appearance. Individuals who are likely to select these products often rely on the way they are perceived by other people.
As a result, a target to achieve social recognition manipulates the inspiration to purchase the product. Nonetheless, it is difficult to find out the likely social effects by evaluating the product by taking into consideration the quality features.
Therefore, branding is the best means for understanding and processing the information regarding the offered alternatives (Han et al., 2013). Rolex has become a synonym of quality assurance, a good reason for a high price and an assurance that the extrinsic objectives of the customers will be fulfilled.
Brand equity aspects can deduct the information regarding the goods and facilitate clientele to make a better buying decision. Moreover, it creates a 'sense of acquaintance' with the product and links with previous buying experience with a specific brand (or product) hence the buyer feels more confident (Davis et al, 2013, p. 100).
Brand equity sources can improve the experience of the customer with any particular brand. Regular use of brand endorsement and publicity motivates the approval of using the product and supports the standing of the brand which leads to a better level of customer satisfaction. Following are the four main sources of brand equity for Rolex;
Brand Loyalty
Brand loyalty is a valuable source of assessing the mindsets of customers. Rolex's clientele fulfils the requirements of both levels of loyalty - i.e., behavioural loyalty as well as cognitive loyalty. It happens because customers are likely to prefer this specific brand of the watch as their primary option and are even ready for a higher initial cost.
Awareness about Brand
Another crucial source of brand equity is powerful brand awareness. Rolex is a distinguished and famous luxury brand as well as a leading player in the luxury watch sector. In the last couple of years, the company has discovered more techniques to fuel brand awareness by means of the revolutionary use of media (Bian & Moutinho, 2011, p. 382).
With the intention of boosting and sustaining powerful brand awareness, Rolex has been making use of event sponsorships, alliances for donations and a lot of similar activities.
Brand Associations
The luxury wristwatch brand is directly linked to expressive as well as traditional aspects. People want a product that is associated with their personal standards, objectives, desirable social standing and sentiment.
Rolex creates the centre of attraction for customers by offering products that are well-matched with their personal standards (for example, family beliefs), objectives (for example, status in society and investment), desirable social standing (for example, goods that depict high earnings, reputation) and sentiment (for example, egocentric requirements) (Han et al, 2013, p. 15).
Perceived Value
Rolex has placed itself as a conventional design watchmaker; however, having expertise in scientific and mechanical areas as well. Rolex sells the goods at a premium price, hence fields like customer service, trademark, exceptional value and emotional characteristics need maximum focus.
The company has targeted customers who would like to have an outstanding 'treat' and exceptional design and artistry; hence a perceived value is very high and should be maintained continuously.
It is convenient to endorse a brand that is recognizable by the market and has been launched formerly. If Rolex would make a decision to launch a promotional campaign for a new watch it would be more successful instead of a preliminary branding activity of a similar company offering identical products.
Brand loyalty is a considerable source of creating customer-based brand equity (CBBE). To begin with, it can decrease marketing overheads as it is convenient to maintain existing satisfied clientele instead of targeting new potential customers. The loyal clientele is likely to suggest specific products to new prospective consumers hence increasing the brand awareness (Pina et al, 2013, p. 1413).
Moreover, loyal clientele offers a steady resource of revenue which leads to higher earnings and constancy for the company. Besides, it also assists in getting time to respond to the actions of rival brands since loyal customers are not simply jumping towards rival products.
These sources of brand equity have given possibilities to Rolex to develop and expand into various segments. The brand equity of Rolex has opened all doors for its manufacturing facilities. Most prominent auctions have Rolex endorsing its products since it forms a connection with its clientele that only good high-quality products will be sold. In addition, strong brand equity generally leads to better placement of products as well as better slots during media adverts.
All in all, brand equity provides a powerful competitive lead to Rolex. Brand characteristics, for instance, custom and tradition, form entry barriers for newcomers. Since Rolex has been operating in the luxury watch industry for over a century, aspects such as custom and tradition are tied to the brand hence a newly formed luxury watch business could not match these characteristics even if it produced completely matching watches.
Our writers can help you right away! Find out how
References
Bian, X., & Moutinho, L. (2011). Counterfeits and branded products: effects of counterfeit ownership. Journal of Product & Brand Management, 20(5), 379-393.
Davis, C., Kahler, J., Moran, P., & Liu, X. (2013). Tiger Woods Now Wears Rolex. Journal of Case Studies, 31(1), 96-109.
Han, Y. J., Nunes, J. C., & Drèze, X. (2013). Signalling status with luxury goods: The role of brand prominence. International Retail and Marketing Review, 9(1), 1-22.
Pina, J. M., Riley, F. D. O., & Lomax, W. (2013). Generalizing spillover effects of goods and service brand extensions: A meta-analysis approach. Journal of Business Research, 66(9), 1411-1419.
Stoner, J. L., Torelli, C. J., Monga, A. S. & Swaminathan, V. (2014). The Complex Role of Brand Meanings in Shaping Consumers' Responses to Brands. Advances in Consumer Research, 42(10), 192-222.
Torelli, C. J., Monga, A. B., & Kaikati, A. M. (2012). Doing poorly by doing good: Corporate social responsibility and brand concepts. Journal of Consumer Research, 38(5), 948-963.