Introduction
The purpose of conducting a skills profile and a development plan inherently is to make the individual realise goals, perceptions, aspirations followed by an action plan in order to achieve these goals. In order to identify particular skills and their development action plan, this report has been divided into four sections: the process of acculturation including a SWOT analysis, followed by an application of Belbin rules for teamwork and presentation, an outlining of professional skills that have been developed followed by a table illustrating the action development plan.
Acculturation
Berry and Sam (2010) state that the process of acculturation involves changes in the culture and psychology when two individual cultures meet. Coming into a multi cultural country, I underwent a profound experience of acculturation. Despite the pre conceived social stigmas attached to various ethnicities and their cultural norms, I let go of my inhibitions and began accepting people despite the social and cultural standards. Similarly, my diverse group of friends today helped me settle in, welcomed me into their society while dispelling the pre conceived notions about my culture and ethnicity. Looking beyond the premise of social acceptance, I have learnt to be patient and grateful when the need be. I conducted a SWOT analysis to identify my strengths and weaknesses in response to a new culture and society.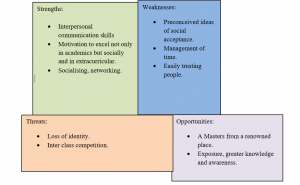 Application of Belbin Rules
Dr. Meredith Belbin, in her research highlights nine roles that are prevalent in any team or a group: Chairman (extrovert, leader); Shaper (extrovert dominant); Plant (High IQ, Introvert); Monitor Evaluator (High IQ; Company worker (Controlled); Resource investigator (Stable, dominant); Team worker (less dominant, extrovert); Finisher (introvert) and Specialist (introvert, subjective) (Lowe and Cook, 2003).
Applying the Belbin rules to my personal experiences, I tend to usually fall in the role of a Chairman, not only leading the group but also directing the discussion. However, I have also on various occasions worked as a part of a team, with input in the form of ideas and tangible work. On the downside, where my communication skills have developed, my presentation skills which presents the dichotomy of me being confident in putting forth my ideas, and being nervous when put in a less authoritative position thereby proving that every individual assumes a different role in different varying conditions.
Professional Skills.
My Masters degree has not helped in evolving but also polishing my personal skills but has further enhanced and developed various professional skills pertinent to my career development. The following figure taken from Prescott and Simpson, 2004 highlights the Maslow's hierarchy of needs coupled with the needs of the students.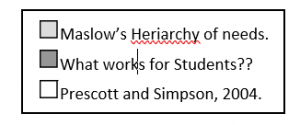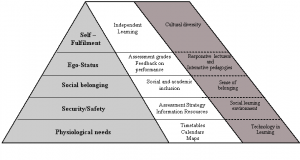 The above figure separates and draws a distinction between various needs of students and their ways of achieving them. Calendars or timetables that fulfil the physiological needs of the students, technology is the best option. Given a proper social learning environment for students will provide them with safety and security which comes after the fulfilment of physiological needs. Given the culturally diverse society, self fulfilment of the student is easily achieved with the help of individual learning.
My Masters degree and the learning process have equipped me with various attributes that are inherent to being successful in the professional career path. Applying the Belbin rules stated above, I find myself most comfortable in moulding to the role of a chairman where I can guide the team to follow through with procedures and limitations for achieving the objectives of any given Project. However, being a part of a team has also grown in on me, and a particular example of work on a project under the supervision of another class mate made me realise the importance of staying in the backseat trying to motivate the team members to work for given objectives.
During the course of my study, I have learnt to manage time, be punctual and be able to address important issues and agendas within the prescribed time frame which is a pre requisite to any interview meetings or career meetings that I may undertake. Furthermore, my negotiation skills have also undergone change whereby on one particular instance of working as a part of a group, I put forth a different methodology for collection of data which initially was seen as a hindrance to the procedure by many, however, I pointed out the various positive angles of the chosen methodology and in the end we all agreed on implementation of my suggestion. This skill is inherent to my career development as it will help me to not only negotiate but effectively communicate and follow through with a suggestion that may seem inappropriate at the first instance. These meetings have also enhanced various techniques that will be used in my professional career growth, such as making sure that these meetings run smoothly and within the allotted time frame while using the majority rule priority so that none of the team members are given undue preference.
Furthermore, in meetings, it is inevitable that there will be deviation from the topic and a reasonable leader or a team member will ensure that if there is such a deviation within the allotted time frame, then they can wind the discussion back to the topic at hand (Cohen, 2001). Another important skill that I have acquired is keeping updated personal notes or minutes of a meeting. These should be kept by all individuals working within a team so as to not only prevent any confusion but also to highlight any points that may have been missed in a meeting to be discussed next time.
As a part of the learning process I also took up career counselling and found that potential employers are not only looking for motivated employees but also self sufficient, independent and easy to get along in a team individuals. Upon observation during my own project I realised that I tend to get easily distracted for which I began keeping a note and every time I opened up a website not related to my assignment I would shut it down till my work was done. I further applied to reward punishment mechanism (Tajfel and Turner, 1986), whereby I would give myself forty minutes to complete any work after which I would allow myself to take a ten minute break to listen to music or browse the web or anything that I wanted to do so that I could come back and pay complete attention to my work.
Skills Development Plan.
Name

 

Student Number

 

Update Date

 

Long Term Goals

Priority

Goal

Resources needed

Evidence

1.

Acculturation

Socializing.

Friends with diverse ethnicities.

2

Best representation of my country.

People. Notions.

In progress, however those close to me have dispelled the preconceived notions.

3

A first distinction degree

Classes, books.

In progress

4

Development of career.

Internships (paid or otherwise)

In progress

5

Holding important positions in clubs.

Leadership and innovation.

In progress, intend to lead a group on the sustainability of the environment.
Short Term Goals

Priority

Goal

Resources needed

Evidence

1.

Management of time.

Working with deadlines.

Punctual and prompt now in most instances.

2

Better skills of presentation.

Topics of presentation.

Boost in the level of confidence.

3

Extracurricular activities.

Games. Social work.

In progress, member of the basketball and cricket team.  

4

Regularly read.

Cambridge and Harvard Journals.

In progress, has helped gain insight into the political economy around the globe.

5

 

 

 
 My action plan in order to fulfil the objectives of my personal development plan is pretty straightforward. For my convenience, I have drawn a distinction between my short and long term goals and if I ensure access to relevant resources my short term goals will not pose a problem. Experience and time both play a crucial role in the fulfilment of my long term goals, however I believe that if I continuously motivate myself than I should be able to achieve my long term goals without much hurdles.
Conclusion.
My degree which constitutes of an array of modules, including this one has helped me gain and enhance various skills that I have highlighted above. Most of all, I have observed an improvement in my writing and drafting skills while strengthening my communication on paper and orally. I have managed to highlight my strengths as well as weakness so that I am able to convert the latter into my strengths through awareness and experience.
References.
1.Berry, J. W. (2005). Acculturation: Living Successfully in two cultures. International Journal of Intercultural Relations. P. 697-712, 29 (2005).
2.Cohen, B. (2001). What makes team work: Group effectiveness research from the shop floor to the executive suite 239-290. Journal of Management 1997, Volume 3.
3.Lowe H.; Cook A. (2003) "Mind the Gap: are students prepared for higher education?", Journal of Further and Higher Education, Volume 27, Number 1, 1 January 2003 , pp. 53-76(24)
4.Prescott, A. and Simpson, E. (2004) Effective student motivation commences with resolving dissatisfiers. Journal of Further and Higher Education. 28 (3) pp 247-259.
5.Tajfel & Turner (1986). The social identity theory of inter-group behavior. In S. Worchel and L. W. Austin (eds.), Psychology of Intergroup Relations. Chigago: Nelson-Hall