Introduction
This report analyzes different aspects of Sainsbury's corporate strategy, determined by the external factors in the grocery retailing industry, and assesses the effectiveness of the Sainsbury's - ASDA merging strategy. 
The first section of the report provides an insight into the external business environment in the grocery retailing industry, including opportunities and threats that the companies may face. In addition to this, the first section also discusses Porter's five forces analysis conducted to determine the factors affecting the industry. The second section comprises the internal analysis conducted on Sainsbury's and the competencies found based on the analysis. This section also provides details about the company's competitive advantage over its rivals, Tesco and Asda. The third section of this report is based on the evaluation of the strategy used for the Sainsbury's-Asda merger using SAFe tests. Lastly, conclusive remarks are provided based on the assessment of the conducted analysis.
External Analysis
The supermarket industry in the UK comprises the retailers of food products and general merchandise. The industry performance has been influenced by the change in customers' shopping habits and by the increase in the market share of discount supermarkets (IBISWorld, 2019).
Opportunities
The changes in the external environment that provide new possibilities for the prosperity of the grocery retail industry can be termed opportunities. Online marketing can be considered one of the opportunities for the UK grocery retail market. The industry has started expanding its operational area using an online marketing strategy which is the fastest and easiest way to market the products in a limited period.  Online marketing can also help the business develop an understanding of shopping behavior, which could help the industry meet the multiple needs of the customers (Sashi, 2012). Other factors that may be considered an opportunity for the retail industry can be its expansion in new markets, and its alliance with other brands.
Moreover, spending on food products is considered steady and the increase of the UK population is expanding, which is considered an opportunity for the industry (IBISWorld, 2019).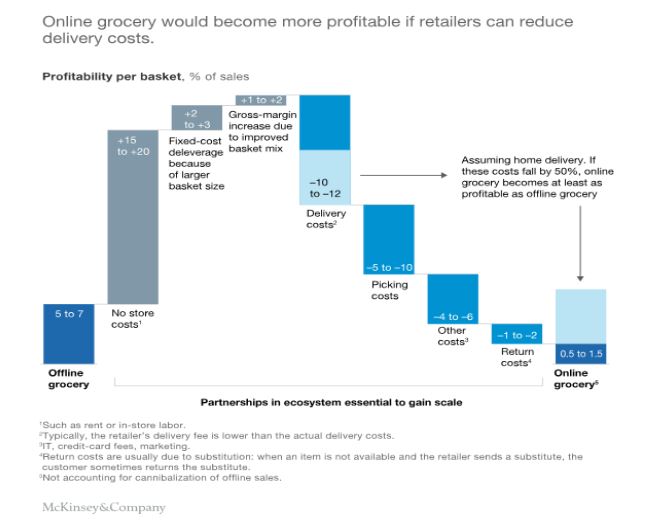 Figure 1. Online marketing in the grocery retail industry UK | Source: McKinsey (2020)
The markets where the prices of the products have decreased drastically can be a massive opportunity for the supermarket industry in the UK (Wetherly,2014). Capturing such markets can provide a chance for growth for the UK grocery retail market.  Apart from this, due to the fall of products in such markets, the large companies in the UK retail market also have the opportunity to acquire small businesses which do not have a competitive advantage like them. 
Threats
A threat can be described as a change in the external environment of any business, which produces difficulties for that company (Saebi, Lien, and Foss, 2017). There have been several changes that are being faced by the UK supermarket industry. The UK's economical decline worked as a barrier to the growth of this industry, which resulted in a reduced number of customers and negatively affected the revenues of the industry.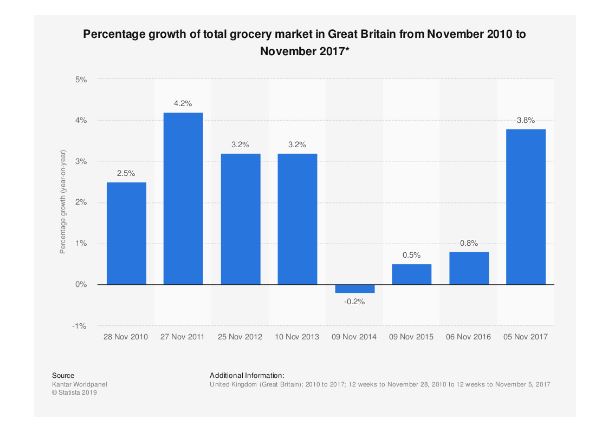 Figure 2: The growth rate of the grocery market in the UK | Source: Statista (2020)
The interest rates in the UK have increased in August 2018 from 0.5 percent to 0.75 percent and the companies in this industry have been working to keep up with this raise Guershon (2020). 
There is increased competition within the industry, due to the identical nature of the products and the companies selling relatively similar products of different quality. This increased competition has enabled businesses to take customers away from each other by supplying higher quality products than other businesses (Verbeke 2013). 
The instability in the UK currency has proven to be a threat to investments in the supermarket industry due to the ever-changing cost and revenue in the UK.
Another rising threat to the UK supermarket industry is the increased use of technology. To get an edge over the competitors the companies in the industry need to spend a hefty sum on introducing customer-friendly technologies to provide a better shopping experience (Connor and Lande 2012).
Porter's Five Forces Analysis
The threat of New Entrance
The unstable UK economy has made it hard for new businesses to enter the UK supermarket industry. As the costs and revenues have been rising and falling randomly, there is also a limited range of products the industry works with and the nature of the product is similar for the companies which make it difficult for new entrants to make a place in the already existing market. The regulations in the UK also make it hard for a new business to enter the industry and compete with the established business with a gigantic chain of loyal customers. However, the new businesses try to use the low price strategy to gain access to the industry (Markides, 2013). The new entrances have low force on this market as the businesses working prior have already established their place. Hence, the retail industry is moderately attractive to business investors as it is as risky as it is profitable. 
The Power of Suppliers
The identical nature of the products in the grocery retail market plays an important role in the power of the supplier.  Providing the best quality products to the customer is possible by keeping a healthy business relationship with the supplier. In the grocery retailing industry, the retailers have to have a good relationship with the suppliers to maintain the quality of the products. According to Rothaermel (2015), due to the number of suppliers in the grocery retail industry being high there is no shortage of capable suppliers and that is why the suppliers also have to agree to the terms of the retailing companies. Therefore, there is a moderate force of the suppliers in this industry which makes it highly attractive to the supplier as there is a reasonable profit margin in this industry. 
Bargaining Power of Customers
Due to high competition in the supermarket industry in the UK, the customers always have the upper hand. The opportunities for gaining profits from this vast industry, new businesses are always entering the industry which puts the companies functioning in the industry under immense pressure to maintain the loyalty of the customers. This industry has proved to be the foundation of customer satisfaction and loyalty which highlights the high force of customers that drives this industry. 
The Threat of Substitute Products
The similarity in the products in the UK grocery retail industry has always been high which has always been the driving force behind the competition within the industry. The customers are usually loyal to a certain brand but can easily get substitute existing products at lower prices if needed. These substitute products cannot completely replace the sale of existing products however they can minimize it enough to cause harm to the company selling the product which gives rise to a price war within the industry. Substitute products hold high force within the industry and can be considered the foundation of gaining a competitive edge over competitors. However, this affects the appeal of the industry for the established companies as they have to usually work on this issue regularly.
Existing Rivalry between Competitors
The tight market share gap in the industry has been the reason for the competitive streak and the business rivalry amongst the companies in the industry. The competitive nature of this industry can be further highlighted by the strategy of the leading companies to acquire as many shares as possible, to maintain their position in the marketplace.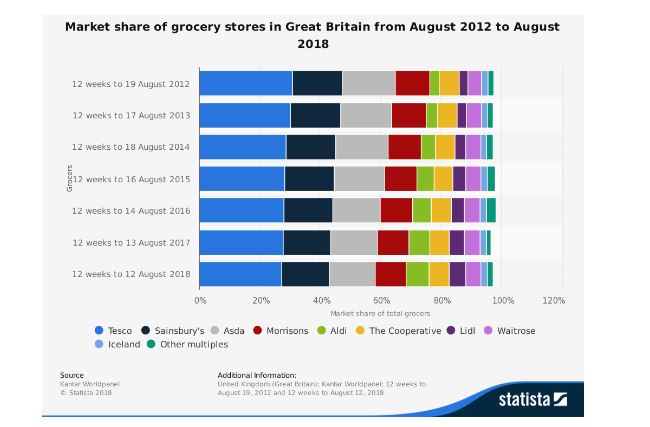 Figure 3. The market shares acquired by grocery retail companies | Source: Statista (2020)
According to Sadgrove (2015), the companies have also been trying to get ahead of each other by using their pricing policy as a tool to attract customers. However, this price has drastically affected small businesses. This determines the high force of rivalry that exists between multiple companies working in the industry. Yet, where this attracts the leading companies, it also creates a reluctance amongst the new businesses.
Internal Analysis
Identification of Key Resources and VRIO framework
Sainsbury's is the third-largest UK food retailer and amongst one of the leading companies in the UK grocery retail industry. Being established in 1869 by JJ Sainsbury, the company now has around 800 stores that include supermarkets and convenience stores. Sainsbury's was a market leader in the supermarket industry until the 1990's when it faced its first downfall. Now it holds up to 16.5% market share in the industry and has a keen interest in the real estate and banking sector. 
One of the major resources identified for Sainsbury's is its positive market and public reputation. Karim Huda and Khan (2012) state that Sainsbury's is the oldest retailer in the UK, which has ensured a sense of loyalty and positive perception of the organization. Furthermore, the image of a family business has become a key resource for Sainsbury, as a positive image has been crucial in attracting customers (Aluko and Knight, 2017). The study further adds that Sainsbury's has held programs to engage and integrate with local communities, which has further amplified its optimistic view amongst the general population. 
Another unique capability of Sainsbury's due to its positive public perception, based on its family value, is its brand awareness and customer rating. Sainsbury's has strategically used celebrities and public figures to improve brand image and create awareness about its business ventures. Although, Sainsbury's business is limited even with a positive brand image, as it has failed to appeal to the younger demographic. Direction, (2011) has further illustrated the point that Sainsbury only caters to the middle-aged demographic, but by using celebrity chef Jamie Oliver in its marketing strategy, Sainsbury has tried to include younger customers.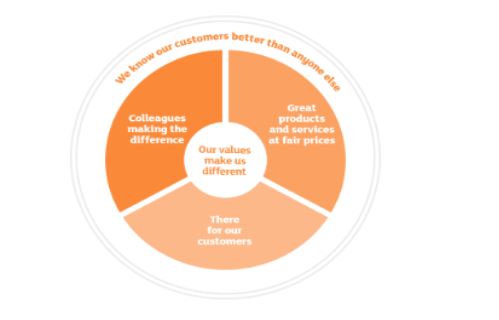 Figure 4. Our strategy. Source: Sainsbury's (2020)
Sainsbury's functions on three business strategies, one of which is 'Services at Fair Prices' (Sainsbury's, 2020). The retail strategy used by Sainsbury is one of its crucial and unique capabilities. Akter, (2012) states that Sainsbury has managed to provide fresh products at relatively low prices, which helps the organization in maintaining a competitive advantage over other retailers.
The lower pricing is explained by Aluko and Knight (2017) as another key resource employed by founding members of Sainsbury's to grow and farm their products, which removes suppliers and allows Sainsbury to offer products at low pricing values. However, McCarthy (2019) believes that Sainsbury's lower pricing is middle to the price range of products, as they are too expensive for value shoppers and too low quality for premium shoppers.  
Another resource and capability identified for Sainsbury's is the use of advanced technology throughout the retail stores. Sainsbury developed a 'Nectar Card', which is a customer loyalty program to ensure a solid customer base (Hassan and Parves, 2013). Advanced technology has been used in the program, as self-checkout counters and applications for mobile phones have also been added (Renaud-Komiya, 2019). This has led to a rise in younger customers for Sainsbury both in-store and online retail. Furthermore, Karim, Huda, and Khan (2012) state that Sainsbury's has established an HR Shared Service Centre, which includes all the information and data for managers. The use of this technology has led to smooth processes without any obstruction, as administrative, occupational safety, and HR information is all available on a single platform.
VRIO and Competitive Advantage
| | | | | | |
| --- | --- | --- | --- | --- | --- |
| Resource | Valuable | Rare | Imitable | Organized | Advantage  |
| Reputation | Yes  | Yes  | Yes  | Yes  | Long-term competitive advantage  |
| Brand Awareness | Yes  | Yes  | Yes  | Yes  | Long-term competitive advantage  |
| Low Pricing | Yes  | No  | Yes  | Yes  | Competitive Parity  |
| Technological Advancement | Yes  | Yes  | Yes  | No  | Unused Competitive Advantage |
| Customer Loyalty | Yes  | Yes  | Yes  | Yes  | Long-term competitive advantage  |
| Incorporation of IT into business | Yes  | Yes  | Yes  | Yes  | Long-term competitive advantage  |
Table 1 VRIO Analysis | Source: (author)
VRIO is a framework to analyze the internal environment of a company and it is based on four basic domains; valuable, rarity, imitability, and organization (Cardeal and Antonio, 2012). Based on the presence or absence of these four variables a company can have a competitive advantage. For Sainsbury's resources, "positive image and public awareness" were discussed. Positive public perception is vital for a company to have, as it attracts new business and increases growth (Andrews and Van de Walle, 2013). Therefore, awareness and perception are valuable for Sainsbury's efficiency and effectiveness in the market. Positive perception is also a rare capability for a grocery retailer, as usually companies are engulfed in supplier or pricing controversies that deplete their brand image. Therefore, Sainsbury's family-oriented business model provides it with a crucial competitive edge when it comes to retaining customers. For the imitability domain of VRIO, it is very easy for retailers to imitate a positive brand image like Sainsbury's (Ruddick, 2016). For the last domain of organization, the company has been exploiting its positive brand image to garner a loyal customer base and increase community interaction (Aluko and Knight, 2017). By comparing these results to the VRIO model explained by Cardeal and Antonio (2012), it is believed that Sainsbury's has a competitive advantage due to its positive brand image. 
Pricing and growing its food are highly valuable resources for the company. Low prices are crucial in attracting new customers in the competitive retail market while ensuring safe-grown organic food is another strategy that increases sales (Bryła, 2015). Moreover, in terms of rarity, a similar strategy could not be found among Sainsbury's market competitors. The Imitability of these resources is not impossible, as this strategy can be adopted by other retailers as well. Tesco is a major competitor of Sainsbury's and it provides freshly grown products. However, it does not grow its food (Tesco, 2020). The organization of farming and pricing is done efficiently by Sainsbury's to fully exploit this resource. Sainsbury holds various youth programs and conferences to spread awareness and attract suppliers (Sainsbury's, 2019). Therefore, based on the model provided by Cardeal and Antonio (2012), Sainsbury has a competitive edge over other market retailers due to the policy of farming and becoming less reliant on suppliers for fresh products.
Belavina, et al. (2017) believe that technological advances like self-service, flask checkout, and online access are major factors in increasing sales. Therefore, providing self-checkout and online access to customers is a valuable resource for Sainsbury's. Although these technological advances are not rare and are easily imitable. Similarly, the Nectar Card Scheme and its mobile application are not unique and available in the market by other retailers with other names (Tesco Clubcard, 2020). However, the HR Shared Service Centre is unique to Sainsbury's stores and efficiently manages staff members. Lastly, in terms of organization, Sainsbury's can put in more effort and make retail stores and online access more user-friendly and advanced (Lewis, Whysall, and Foster, 2014). Therefore, the technological capability of Sainsbury for its customers is not unique to the retail grocery market in the UK and does not provide a considerable competitive advantage to Sainsbury's (Cardeal and Antonio, 2012). However, it can ensure a policy shift to focus on technological advancement and gain a competitive advantage over other retailers.  
Strategy Evaluation of Asda-Sainsbury's merger by SAF Test
Sainsbury's and Asda used the dual-brand strategy for their merger. In this merger, Sainsbury's would be getting the profits from Asda where Asda would be considered the owner of the 29.90% combined shares of the two companies. By doing this, Sainsbury's and Asda aim to become the leading force in the grocery retailing industry. After the merger, these two brands surpassed its competitor Tesco, which was the biggest retailer in the UK food industry with 28% shares. However, the merger will be scrutinized using the SAF test. 
Suitability
This merger allows the two companies to reduce the cost of many of their products by 10 percent. This has helped the two companies with an additional chance of sustainability in the unstable UK economy. Moreover, the merger is suitable for both companies, as online retailers provide added value in the already competitive UK retail sector. It has been identified that Amazon is a driving force behind the merger, as together Sainsbury's and Asda can reposition and combat online competition effectively (Butler, 2018). This is suitable for both the companies involved, as it combines their strengths against other market competitors. 
Acceptability
In terms of acceptability, the merger is acceptable for market competition. As it is predicted to increase market competition more than the existing trend, this will be beneficial for the UK economy (Sainsbury, 2018). However, the merger is unacceptable according to the study carried out by the Competition and Market Authority (CMA). These findings concluded a decline in the quality of the products available online and in-stores. Furthermore, contrary to the claim made by companies, the merger would lead to an increase in prices rather than a decrease (CMA, 2019). Therefore, the merger is unacceptable for both customers and stakeholders due to its impact on the market. Moreover, the findings of the CMA also concluded that the merger will bring 30% of the control of the market to a single entity, which will affect the grocery market with power in a single corporation. This can prove unstable and therefore unacceptable. For the stakeholders, another issue in the acceptability of the merger is the CMA's demand to dismantle 463 retail stores, which can considerably decrease sales and affect the process of the Asda-Sainsbury merger (Butler, 2018). A contingency plan needs to be made with all the stakeholders involved and also the CMA, to reach a conclusion that does not result in economic losses to both the companies.
Feasibility
In an initial assessment, Sainsbury projected investment of 500m pounds to carry out the merger (Sainsbury, 2018). This is feasible for both the companies to achieve and the merger could be carried out successfully. However, based on the findings made by the CMA of a projected decline in the quality of products and a rise in prices can make the merger unfeasible. Furthermore, the cost of closing 463 retail stores and long-term losses due to the increase in pricing may make this merger unfeasible for both companies. To make this merger feasible, it is important to carry out a contingency plan that ensures decreased economic losses and for the CMA both the companies should ensure non-interference in-market monopoly.
Conclusion
To evaluate the industry and business environment for the UK grocery retail sector, this report studied Sainsbury's – Asda merger. The external analysis was conducted, which concluded that technological advancement is the biggest opportunity for Sainsbury, while competitiveness in the UK retail sector is the biggest threat. The internal analysis was also conducted to determine the core competencies and unique capabilities of Sainsbury's. It was found that public perception and brand awareness are rare and non-imitable resources for Sainsbury's and give them a competitive long-term edge over other retailers. By applying the SAF test, it was found that the merger is a suitable, but unacceptable and unfeasible business strategy in the long run. The merger will bring sole power to both Sainsbury's and Asda over the UK retail sector. However, massive losses are also predicted in terms of infrastructure and pricing issues. Therefore, it is suggested to follow a contingency plan that incorporates the UK government authority CMA, in a way that a large number of stores do not have to be closed and the companies avoid massive economic losses.
Reference
Akter, S., 2012. Employee Satisfaction of SAINSBURY'S An Exploratory Study. International Journal of Academic Research in Business and Social Sciences, 2(8), p.316.
Aluko, O. and Knight, H., 2017. From corner store to superstore: a historical analysis of Sainsbury's co-evolution. Journal of Management History.
Andrews, R. and Van de Walle, S., 2013. New public management and citizens' perceptions of local service efficiency, responsiveness, equity and effectiveness. Public Management Review, 15(5), pp.762-783.
Guershon, S. (2020) Bank of England Base Rate. Available at Bankrate:
https://www.bankrate.com/uk/mortgages/bank-of-england-base-rate/
(Accessed: 14.03.2020)
Belavina, E., Girotra, K. and Kabra, A., 2017. Online grocery retail: Revenue models and environmental impact. Management Science, 63(6), pp.1781-1799.
Bryła, P., 2015. The development of organic food market as an element of sustainable development concept implementation. ProblemyEkorozwoju–Problems of Sustainable Development, 10(1), pp.79-88.
Butler, S. 2018. Sainsbury's and Asda may have to offload 460 stores to steal merger. The Guardian. [Online] Viewed 4 March 2020. Available at: https://www.theguardian.com/business/2018/sep/27/sainsburys-and-asda-could-close-400-stores-to-complete-merger
Cardeal, N. and Antonio, N.S., 2012. Valuable, rare, inimitable resources and organization (VRIO) resources or valuable, rare, inimitable resources (VRI) capabilities: What leads to competitive advantage?. Cardeal, N., António, (2012), pp.10159-10170.
Competitions and Market Authority (CMA). 2019. CMA blocks merger between Sainsbury's and Asda. Gov.UK. [Online] Viewed 4 March 2020. Available at: https://www.gov.uk/government/news/cma-blocks-merger-between-sainsburys-and-asda
Direction, S., 2011. Jamie Oliver at Sainsbury's: Analysis of a brand alliance. Strategic Direction, 27, pp.16-17.
Guay, T.R., 2014. The Business Environment of Europe: Firms, Governments, and Institutions. Cambridge University Press.
Hallberg, K., 2006. Improving investment climates: an evaluation of World Bank Group assistance. The World Bank.
Hamilton, L. and Webster, P., 2018. The international business environment. Oxford University Press.
Harrison, A., 2013. Business environment in a global context. Oxford University Press.
Hassan, A. and Parves, M., 2013. A Comparative Case Study Investigating the Adoption of Customer Relationship Management (CRM) The Case of Tesco and Sainsbury's. International Journal of Managing Value and Supply Chains, 4(1), p.1.
(Accessed: 12.03.2020)
Karim, M.R., Huda, K.N. and Khan, R.S., 2012. Significance of training and post training evaluation for employee effectiveness: An empirical study on Sainsbury's Supermarket Ltd, UK. International Journal of Business and Management, 7(18), p.141.
Lewis, J., Whysall, P. and Foster, C., 2014. Drivers and technology-related obstacles in moving to multichannel retailing. International Journal of Electronic Commerce, 18(4), pp.43-68.
Markides, C.C., 2013. Game-changing strategies: How to create new market space in established industries by breaking the rules. John Wiley & Sons.
McCarthy, S. 2019. What's wrong at Sainsbury's? Three problems the supermarket must address. City A.M. [Online] Viewed 3 March 2020. Available at : https://www.cityam.com/whats-gone-wrong-at-sainsburys-three-problems-the-supermarket-must-address/
McKinsey. 2020. Partnerships, scale, and speed: The hallmarks of a successful IoT strategy. McKinsey & Company. [Online] Viewed 9 March 2020. Available at: https://www.mckinsey.com/industries/financial-services/our-insights/partnerships-scale-and-speed
Mirror. 2020. What the £12billion Sainsbury's, Asda and Argos merger means for you including 10% price drops. Mirror.co.uk. [Online] Viewed 4 March 2020. Available at: https://www.mirror.co.uk/news/uk-news/what-12billion-sainsburys-asda-argos-12452882
Muskett, D., 2017. Learning with Sainsbury's during the 1990s. In Reflective Learning in Practice (pp. 51-58). Routledge.
ONS (2020) Labour market overview, UK: February 2020. Available at: 
https://www.ons.gov.uk/employmentandlabourmarket/peopleinwork/employmentandemployeetypes/bulletins/uklabourmarket/february2020
(Accessed: 13.03.2020)
Renaud-Komiya, N. 2019. Saincbury's launches revamped nectar loyalty scheme. Money Saving Expert. [Online] Viewed 3 March 2020. Available at: https://www.moneysavingexpert.com/news/2019/10/news-sainsburys-nectar/
Rothaermel, F.T., 2015. Incumbents' Advantage. Wiley Encyclopedia of Management, pp.1-2.
Ruddick, G. 2016. The Tesco brand was badly dented, but it will recover, says boss. Guardian. [Online] Viewed 3 March 2020. Available at: https://www.theguardian.com/business/2016/may/14/tesco-dave-lewis-interview-recovery
Sadgrove, K., 2016. The complete guide to business risk management. Routledge.
Saebi, T., Lien, L. and Foss, N.J., 2017. What drives business model adaptation? The impact of opportunities, threats and strategic orientation. Long range planning, 50(5), pp.567-581.
Sainsbury. 2018. Proposed Sainsbury's and Asda Merger. Sainsbury's | Asda. [Online] Viewed 4 March 2020. Available at: https://www.about.sainsburys.co.uk/~/media/Files/S/Sainsburys/Sainsburys_Asda_rationale_FINAL.p
Sainsbury's. 2019. The Future of Farming. Sainsbury's.co.uk. [Online] Viewed 3 March 2020. Available at: https://www.about.sainsburys.co.uk/making-a-difference/our-values/our-stories/2019/06032019future-farming
Sainsbury's. 2020. Our business strategy. Sainsbury's.com. [Online] Viewed 3 March 2020. Available at: https://www.about.sainsburys.co.uk/about-us/our-business-strategy
Sashi, C.M., 2012. Customer engagement, buyer‐seller relationships, and social media. Management decision.
Statista. 2020. Market share of grocery stores in Great Britain from August 2012 to August 2019. Statista. [Online] Viewed 9 March 2020. Available at: https://www.statista.com/statistics/300656/grocery-market-share-in-great-britain-year-on-year-comparison/
Statista. 2020. Percentage growth of total grocery market in Great Britain from November 2010 to November 2017*. Statista. [Online] Viewed 9 March 2020. Available at: https://www.statista.com/statistics/375318/grocery-market-percentage-growth-great-britain-uk/
Tesco Clubcard. 2020. Tesco Clubcard Plus. Secure Tesco. [Online] Viewed 3 March 3, 2020. Available at: https://secure.tesco.com/clubcard
Tesco. 2012. Tesco announces £25million investment in British farming. Tesco PLC. [Online] Viewed 3 March 2020. Available at: https://www.tescoplc.com/news/2012/tesco-announces-25million-investment-in-british-farming/
Wagner, S.M., 2017. The Business Environment of Europe: Firms, Governments, and Institutions.
Wetherly, P., 2014. The business environment: themes and issues in a globalizing world. Oxford University Press.