Benefits of Business Model Innovation
The most significant advantage of innovation in the business model is that it will contribute to making TerraCycle sustainable and can cope with the shifts in market conditions. Most organisations close their business doors because they cannot manage their financial situation. Therefore, a business model innovation will be beneficial for TerraCycle to make a profit each month.
The investors are well informed of the fact of business failures. Investors want to have explicit knowledge of TerraCycle's plans for profitability. A proper business model and profit statement will greatly benefit TerraCycle over the competitors in the market, and the investors will provide profitable investment (Ingram, 2020).
An innovative business model will provide benefits and profit to TerraCycle consistently. A solid business model will help build cash reserves in TerraCycle to invest in equipment, development efforts, and property (Ingram, 2020). Moreover, business model innovations yield higher revenues than process and product innovations. According to Geissdoerfer, Vladimirova, and Evans (2018), sustainable business models provide the benefit of mitigating higher risk and resilience. The innovation management model for modifying business models is essential as it focuses on stakeholder value and benefits rather than customer benefit (Geissdoerfer, Vladimirova, and Evans, 2018).
Limitations of Business Model Innovation
TerraCycle should know that in business model innovation, the business model canvas has limitations that make the canvas less dynamic. The business model canvas has multiple theoretical views that are not linked. The business model canvas does not consist of theoretical features of dynamic capabilities that declare their static foundations (Rodrigues and Lopes, 2018). The business model canvas monitors and evaluates its results, and it consists of a rudimentary indicator for measuring the value that revenue generated minus cost structure (Rodrigues and Lopes, 2018). Moreover, the business model canvas does not comprise two main elements of a business model the customer need and the product or service. The business model canvas does not represent two-sided markets and networks.
Application of the Open Innovation Theory in the Historical Development Context
Company Background
Leading consumer product companies, cities, facilities, and retailers are partnered with TerraCycle to reprocess packages and products, from cigarette butts to dirty diapers that would end up burnt or landfilled otherwise. TerraCycle is working with top product companies to integrate products that are difficult to recycle, such as ocean plastic. It is one of the fastest-developing companies and is the world's leading company in using and collecting non-recyclable waste (Li, 2015). With the help of innovation management models, TerraCycle has implemented a business model canvas to advance its business in the market, as shown in the table.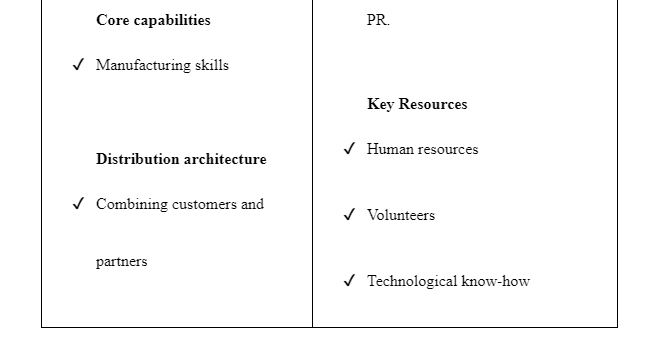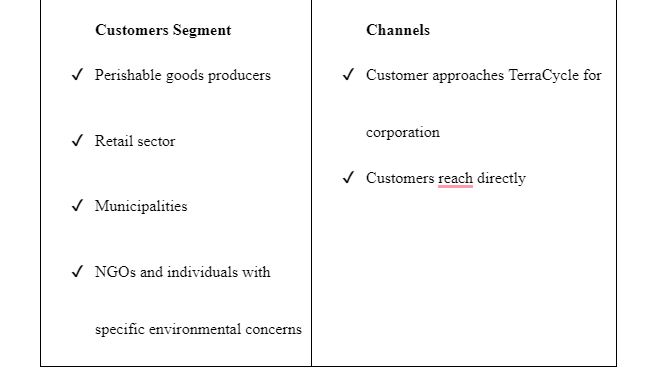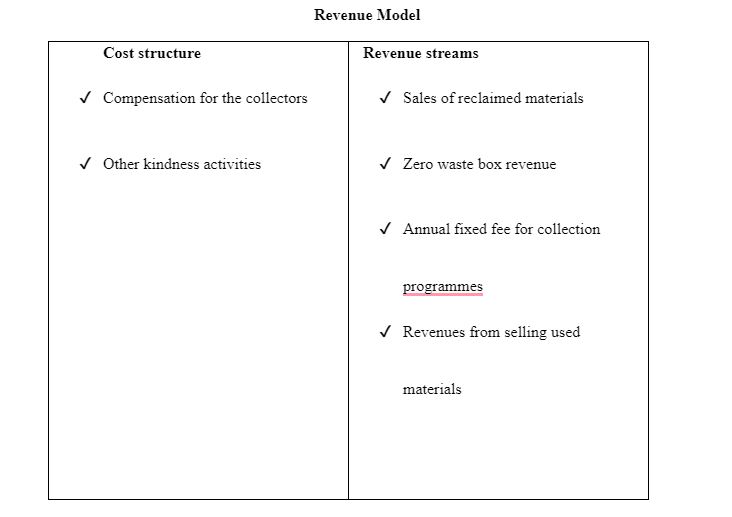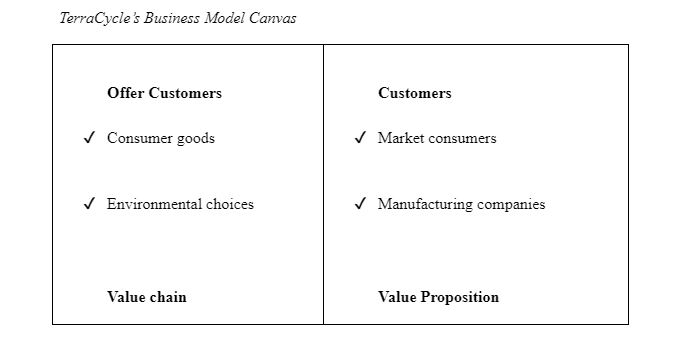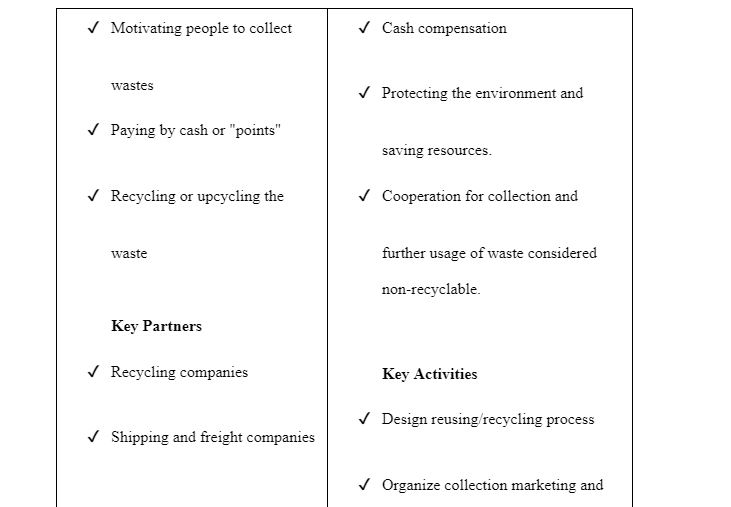 TerraCycle started with eco-friendly fertilizer, which is produced from waste and worms. It is directed towards eliminating waste and saving resources, impacting worldwide environmental concerns. In twelve years, it aimed at making waste into new use again. Reusing cigarette butts and many other recycles incredibly far beyond one imagination. These are further recycled into plastic pellets to produce industrial goods. Due to low subsidies and donations from the government, TerraCycle has started social entrepreneurship to instrument the social mission of telling the world about the value of environmental protection. Collectors are paid in cash, and the financing problem is solved. In the meantime, the company's value and social impact are improved through its products in the market (Li, 2014). Over twelve years, TerraCycle has developed over 200 products, and these products are licensed to the manufacturers.
TerraCycle has involved in the manufacture of fertilizers that Vermicompost makes. Vermicompost is formed when organic waste is fed to worms. The worms are liquefied into compost tea, and this is done by mixing the compost tea with warm water and air in vats. In 2007, TerraCycle expanded its production into upcycling and started to develop its products from waste materials. TerraCycle was unable to upcycle the plastic packaging waste. These wastes were then recycled into raw materials used in plastic products. TerraCycle is a recycling company that introduced different recycling programs that enabled individuals to collect waste items. In 2019, TerraCycle revealed a loop that provides a packaging platform for companies having consumer packaged goods. This system offers shipping facilities through UPS and ships personal care products, food materials, and cleaning products in reusable containers. These products are distributed from these reusable containers.
Open Innovation Model and Business Model Innovation
The application of the open innovation model in TerraCycle depends on external sources, as it is the principle of the open innovation model to gain knowledge and expertise from external sources/individuals. This is critical to the process of innovation in any organization. The open innovation model will aim to improve the abilities of TerraCycle to provide new ideas for solutions and products through external ideas given by partners and consumers to accomplish success in the market. TerraCycle applies the open innovation model to build external strength through recycling or upcycling programs. The company aims to collaborate with leading consumer product companies and retailers to find various solutions. These programs will provide product support for entrepreneurs, which will help the entrepreneurs to build new services and products. According to Mortara et al. (2009), TerraCycle will have to focus on building independent open innovation teams that will work within the company. This will be the best choice to implement open innovation.
Moreover, TerraCycle will need the skills to implement open innovation because a lack of appropriate skills will be an obstacle to the implementation of open innovation (Mortara et al., 2009). TerraCycle may adopt this model on stages between entrepreneurs and teams or maybe on stages between the company and consumers. The open innovation model will involve the consumers in the production process, and TerraCycle will use the suggestions given by external ideas/partners, and these ideas can be processed to develop new products. According to Lee, Park, Yoon, and Park (2010), it is suggested that more focus should be given to the latter part of the traditional open innovation model so that the model is applied within TerraCycle. The open innovation model is used for companies that are working with other firms which are specialized in marketing, which had an active collaboration and contribution in the innovation process, as is the case with TerraCycle, which is partnered with leading consumer product companies and retailers.
According to Cosyns and Cornfield (2018), waste has no value, and if left untreated, it offers negative value to society and the environment. TerraCycle will be applying the business model innovation for waste upcycling and recycling. There are three mechanisms for achieving sustainable business model innovation to create value from waste that involves the reduction of waste, for example, reverting the waste to the production stream for recycling and creating value from waste in the form of upcycling (Cosyns and Cornfield, 2018). The waste reduction will improve based on the current business model, but TerraCycle must apply business model innovation to create value from the waste.
Application of the Given Theories in Future Development Context
TerraCycle offers recycling programs which various brand retailers and manufacturers fund to the world and other organizations to help them collect and recycle the hard to recycle waste in terms of future perspective. Start the collection in-home or anywhere and send the waste to be recycled by TerraCycle. Rewards can be earned by our favourite non-profit. After thorough planning and rigorous testing, TerraCycle has revealed Loop, which they believe would be revolutionary in packaging and provide pathways for more development in the packaging industry. The new shopping system should provide various products in refillable and reusable packaging. Moreover, many products viewed as unproductive to processes, such as pens, razor blades, and diapers, will be recycled (TerraCycle, 2020).
Every operation of TerraCycle provided the idea of the circular economy. The recycling course would be highly sustainable and efficient. Otherwise, it will affect TerraCycle's brand and reputation. The company majorly works on its collection programs to help other manufacturing companies. The program extension's goal would be to reassure that the products made from recycled materials are recyclable and the tack back for the system exists. It will not take substantial resources to create a system like this because it could use the already existing and functioning point collection (Bukowski and Rok, 2019). The open innovation model will play a significant role in developed economies in the next decade. Emerging technological trends will fuel innovation, and sustainable development goals will join them.
Rapid growth in the economy of China poses challenges and opportunities in implementing the open innovation model. Consumers of middle income will increase, and that will cause a tremendous increase in growth all over the world. The innovation will evolve itself. Therefore, there must be a policy prepared to adjust. The rise of crowdfunding will create financial support for start-up projects. Consistent increases in the innovation ecosystem will have vital implications for antitrust regulation. According to Bogers, Chesbrough, and Moedas (2018), consumers will need anti-trust protection, but corporations among the competitors will be pro-social in some contexts of open innovation.
Conclusion
An innovative business model and operation method are provided by TerraCycle, which is a typical social enterprise and a source of inspiration for many others. The social entrepreneurship model will be an example for people to cope with the urgent challenges of social pressure. To maintain a balance between social morals and economic profits, proper operations are necessary for a social enterprise to achieve its social mission. Consequently, social enterprises will make paths to create new business models (Li,2014). Identifying and addressing the innovatory abilities according to the context of open innovation is crucial as shifting from closed to open innovation poses challenges. According to Lee et al. (2010), small and medium-sized organizations are good at innovation but lack potential resources. That's why it is suggested that they collaborate with other firms at the commercialisation stage to boost open innovation.
Review the following: