Introduction
Supportive communication helps an individual to better communicate with others. Supportive communication takes place with the interpersonal communications. Moreover, in organizations it takes place with the customers' interaction. Either it is negative feedback of a person or positive it strengthens supportive communication among organization and customers of the organizations. For the customers of social care a term is generally used that is service users. Service users are the customers who are helpful in planning and development of an organization with the help of feedback (Ntoumanis et al, 2017).
Supportive communication builds a relationship between service provider and service users. The supportive communication is a kind of communicating information from one person to other person. Walther et al (2018) stated, in order to maintain a relationship with the stakeholders, it is necessary to undermine the issues and resolve complaints as per their issues). Hence, this report is going to discuss a case study that will analyze the communication barriers of an organization in facilitating service users. This report will also identify techniques and skills that can be used to facilitate users and provide them with better services.
Case study
A service user can be a person to whom services are being served. When a company serves its services to the customers then people give their feedback either it is positive or negative. The service users provide their feedbacks with which company develop its services (Baldwin, 2016).There are different users of a service who can facedifferent kind of issues. For example, in a healthcare organization, patients may face trouble with the appropriate diagnosis of the disease or inappropriate treatment. In this situation, it is serviceuser who informs healthcare management about the difficulties. Similarly, in a hotel or resort, people may find trouble of the inappropriate room facilities or lower quality of food.When hotel management takes feedback about the hotel management and its services, it is service user who informs about issues he has faced during a stay in the hotel or resort.
In the context of social care services, it is a healthcare sector that deals directly with the service users. A patient is dealt as the service user in the healthcare. Healthcare has to be maintained all the needs of a service users. For this purpose, healthcare is required to differently help its patients, such as adopting a supportive communication. Between service provider and patients, supportive communication is different from traditional communication. Supportive communication belongs to interpersonal skills; therefore it is more explorative rather than explanative. As it requires providers to maintain interpersonal skills to deal with the service users hence, it has to be collaborative in order to gain more and more information from the service providers. Nonetheless, it is supportive communication that elicits positive behavioral change and with the efforts of service providers a positive attitude of the service user is developed (Vijayalakshmi, 2016). Following are some interpersonal techniques and skills to support the service providers when dealing with patients.
Barriers in communication with service users
The role of service users is significant in our healthcare organization. They give suggestions and feedback so that organization can improve its services. When the patients arrive in the healthcare, following services should be improved as the supportive communication:
Listening
The kind of language used by service user may be hurdle in effective communication. When the service provider is not able to understand the language of service user then it becomes difficult to clearly understand the patients' issue (Ratten and Hodge, 2016). Usually, customer representatives are trained for different kind of languages. However, if a person speaks a very different language for which we are not well trained then our company is not able to understand issue of the service user hence, resolving problem is also not possible. Nonetheless, service provider should listen and manage the issues of the patients in order to facilitate them more effectively. It is their job to listen and reduce hurdles of the patient in receiving services.
Psychological barriers
It is necessary for the service organizations that its customers give feedback. The feedback, either positive or negative is an important element of the businesses because when customers give their positive feedbacks then it is gratitude for the business as well as for its employees making effort for providing best services. Furthermore, when service users give negative feedback about our services, it gives us opportunities to improve it. The appreciation and complaints both are thus helpful for our services. In the case of negative feedback, service users may have different perception. As it is identified by (Vijayalakshmi, 2016) that psychological state of the customers may get affected with the tone of message delivered by sender and with the way of perception of receiverinterpret it. Hence, when a service user calls with the anger to our service centre, healthcare organization representative handle it effectively however, the perception of service user influences greatly with the way in which he receives message of our customer representative. If service users get angry on a matter it also frustrates our customer representatives which creates a conflict among customer representative and service user (Baldwin, 2016). Hence, it is a big threat for organization that it may lose its various customers if such conflicts will not be covered.
Lack of interaction
Being a customer representative, I have found that there are some distractions at the workplace with which our minds are attentive. It may be discouragement at the workplace with which we lack our interests. Any personal problem also distracts attention of the person at the workplace and employees of service providers cannot perform well. Hence, in this situation, employee may not show attention to patients. When they not show attention and do not understand the problem of service appropriately then it creates chaotic situation. Hence, when patients visit to the healthcare, organization cannot retrieve appropriate information. In the viewpoint of Brett et al, (2014) service providers should collect maximum information from the patients. It helps in the development of better relationship. Moreover, it also represent that service provider is much concerned about the problems of patients. Hence, patients feel appreciation and feel free to inform about their problems whenever they face about their service provider.
Techniques and skills to support the service users
In current situation, organization is facing communication issues with the service users. The service users are facing issues due to inappropriate behavior of employees of the healthcare organization. In this situation, organization has to make efforts to develop effective communication skills with the patients. For this purpose, it needs to develop intrapersonal and interpersonal skills so that organization will develop supportive communication with the patients. Following are the features of intrapersonal and interpersonal skills:
Intrapersonal skills
Intrapersonal skills refer to the skills of a person that belongs to the self-management of a person. It makes a person learn about how well he can manage his own self (Nafukho et al, 2016). In the recent situation of organization, firstly employees need to develop intrapersonal skills. It is so because they have to realize that customers are the key elements and employees have to make efforts to deal with the customers appropriately without distracting by their personal problems. At the workplace, they should only think about patients and increase interaction with the patients. Employees should not combine their personal and professional life. It will distract their mind and thus they will not be able to concentrate at their workplace effectively.
Interpersonal skills
Interpersonal skills are also known as social skills because one has to maintain relationship with others using interpersonal skills (Renner et al, 2016). An appropriate communication system cannot be operated without incorporating interpersonal skills (Vijayalakshmi, 2016). The major elements of interpersonal skills are leadership, teamwork and networking (Figure 1).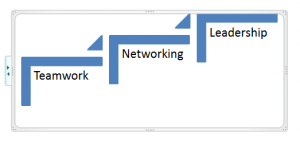 The interpersonal skills focus on networking, team working and leadership (Vijayalakshmi, 2016). Employees of the healthcare organization have to work in collaboration with their team so that they can get help from them. If any employee would not feel good he will take leave rather than making a bad experience for the service users at the workplace. Furthermore, employees have to focus on their work and observe their behavior with patients on the daily basis so that they can be among good performer who provides best assistance to the patients. They have to also maintain a network of communication so that they can share problems with their close friend or family member. Hence, it will not frustrate the employees and employees will be able to deal pleasantly with patients.
Improved methods of communication to support the service user
Healthcare organizations may have the threat of losing visits of the patients if they will not communicate well. It is due to lack of communication skills. For overcoming and supporting service users they have to understand communication of the customer with a service. According to Booth-Butterfield et al, (2014) from the sender to receiver and from the receiver to the receiver in the form of feedback message delivery involves noise. Noise can be in the form of emotional, psychological, physiological or sometimes semantic. The noise barriers affect the message severely. Hence, message may change due to the influence of the noise among it (Figure 3). It is our organizations' responsibility that the communication process should be smooth in order to avoid any kind of noise barriers.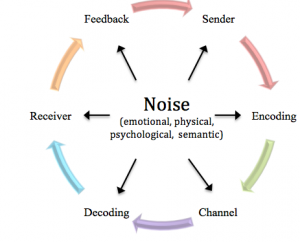 Figure 3 Barriers in communication
Source: (Communication in libraries, 2018)
Apart from improved communication process, the improved intrapersonal and interpersonal skills will benefit the organization in many ways. Employees will be able to incorporate intrapersonal skills at the workplace with the change in intrapersonal skills. Hence, with the help of ths change employees will be able to manage their emotions and they will be able to control of authorities. With the development of interpersonal skills, employees will be able to interact in the better way with customers (Vijayalakshmi, 2016). They will be more attentive towards patients' issues. Furthermore, teamwork and networking will give benefit them psychologically, hence, they will be able to deal pleasantly with customers and our organization will be able to resolve issues of the service users. Hence, customers will also find a good experience when they will visit healthcare organization.
Conclusion
From the above report, it has concluded thatcommunication with the service users should be improved with the passage of time. There is an important role of intrapersonal and interpersonal skills in communication. This report has discussed a case study involving communication barriers in a healthcare organization. It has found from the case study that there are some communication barriers in order to communicate with the service users. Hence, it has identified that being a service provider, healthcare organization have to make efforts to improve their intrapersonal and interpersonal communication skills. These improvements in the supportive communication will improve performance of the organization.
References
Baldwin, M., 2016. Critical reflection: Opportunities and threats to professional learning and service development in social work organizations. In Social work, critical reflection and the learning organization (pp. 51-66).Routledge.
Booth-Butterfield, M., Wanzer, M.B., Weil, N. and Krezmien, E., 2014. Communication of humor during bereavement: Intrapersonal and interpersonal emotion management strategies. Communication Quarterly, 62(4), pp.436-454.
Brett, J., Staniszewska, S., Mockford, C., Herron-Marx, S., Hughes, J., Tysall, C. and Suleman, R., 2014. A systematic review of the impact of patient and public involvement on service users, researchers and communities. The Patient-Patient-Centered Outcomes Research, 7(4), pp.387-395.
Communication in libraries, 2018. Retrieved from Teresa and Gaby's Communication Theory: <https://communicationinlibraries.wordpress.com/2013/12/04/teresa-and-gabys-communication-theory/> [Accessed on December 3, 2018]
Mencl, J., Wefald, A.J. and van Ittersum, K.W., 2016. Transformational leader attributes: interpersonal skills, engagement, and well-being. Leadership & Organization Development Journal, 37(5), pp.635-657.
Nafukho, F.M., Muyia, M.H., Farnia, F., Kacirek, K. and Lynham, S.A., 2016. Developing emotional intelligence skills among practicing leaders: reality or Myth?. Performance Improvement Quarterly, 29(1), pp.71-87.
Ntoumanis, N., Quested, E., Reeve, J. and Cheon, S.H., 2017. Need supportive communication: implications for motivation in sport, exercise, and physical activity. Persuasion and communication in sport, exercise, and physical activity. Abingdon, UK: Routledge.
Ratten, V. and Hodge, J., 2016. So much theory, so little practice: a literature review of workplace improvisation training. Industrial and Commercial Training, 48(3), pp.149-155.
Renner, P., O'Dea, B., Sheehan, J., Tebbutt, J. and Davis, K., 2016. The importance of cognitive, intrapersonal, and interpersonal attributes to student success: An exploration of university students' and staff views. JANZSSA-Journal of the Australian and New Zealand Student Services Association, 24(2), p.1088.
Vickery, A.J., Keaton, S.A. and Bodie, G.D., 2015. Intrapersonal communication and listening goals: An examination of attributes and functions of imagined interactions and active-empathic listening behaviors. Southern Communication Journal, 80(1), pp.20-38.
Vijayalakshmi, V., 2016. Soft Skills-The Need of the Hour for Professional Competence: A Review on Interpersonal Skills and Intrapersonal Skills Theories. International Journal of Applied Engineering Research, 11(4), pp.2859-2864.
Walther, J.B., Kashian, N., Jang, J.W., Shin, S.Y., Dai, Y. and Koutamanis, M., 2018.The Effect of Message Persistence and Disclosure on Liking in Computer-Mediated Communication.Media Psychology, 21(2), pp.308-327.