Introduction
In the present report, site manger's analysis about various construction operations is described. A site manager is the person who is responsible for the completion of a building or structural project.  His major responsibilities include commercial understanding of the project, reasonable cost estimates, time saving and dealing with the stakeholders.  In the preceding section, some aspects of construction operation are described.
Material & Activity Schedule
Usually selection as well as procurement of the materials is based on the previous experience of the company. It is worthy to note that availability of the material is linked with the duration of that activity for which it is being purchased. Therefore material anticipation in accordance with the activity planning is very important task and it is essential to ensure availability of the material besides activity execution.
Following is a simple schedule for material that would help to avoid delays in the project.
Building

Material and activity

Product -Name

Manufacturing body

Acquiescence with Applicable Building Guidelines & Codes of Practice

Details of Test or Assessment Report

Remarks/ Observations

Accreditation body name

Report no.

Date of assessment report

Validity date

 

Activity (A): cement, slabs etc  

 

 

 

 

 

 

 

 

 

Activity (B): steel for structure

 

 

 

 

 

 

 

 

 
 
 
 
 
 
 
 
 
 
This will be extracted and integrated with the primary site activity schedule as given below;  
Intended tasks

Week

1-2

Week

3-6

Week

7-8

Activity (A): Foundation works

 

 

 

 

Related tasks breakdown of activity (A)

 

 

 

 

Activity (B) Structural works

 

 

 

 

Related tasks breakdown of activity (B)

 

 

 

 
Use of building material
Besides preparing schedule for building materials against activities, another important concern is usage of building material (Cooke, 2011). It has been estimated that construction consumes 30-50% of raw materials so it is significantly important to make effective use of building material that is environment friendly.   Normally, there are three Phases of Building Materials usage, which are illustrated through following   diagram: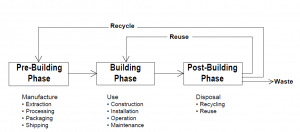 Figure 1: Phases of Building material
Following are some criteria which will strategies the use building material in this project. All of these contribute to the sustainability of the environment so all of them could be accommodated in this project.
Pollution Prevention
Waste Reduction
Recycled materials
Reducing energy utilization
Utilizations of natural-materials
Construction-Waste reductions
Treating waste and Conserve
Avoiding use of toxic-materials
Renewable-Energy utilization and Reusability
Recyclability enhancements
Biodegradability factor consideration
Daily report sheets
It is an imperative job responsibility of site manager to keep and update daily reports that could be rotated among on-site and offsite persons who are actively involved in the construction process, as these reports are helpful to make a construction processes successful.  Following are some reports that could be created and maintained.
·      Daily Record Keeping
It would be mandatory to keep documented evidence for daily work to ensure quality of construction and   this is helpful in removing any activity having negative impact on construction.
·      Daily Construction Report
Detailing containing a brief of daily construction activities along with supporting inspection data sheets will be produced.
·      Inspection and Testing Report Forms
Report forms related to inspections and tests will reports will be produced against each activity completion and materials imports.  The layout for these forms is based on the test or inspection type.
·      Record Drawings
Draft of record drawings that are required to submit to construction manager will be timely prepared for approvals, and effort will be made to use state of the art systems such as BIM to integrate the record drawings with other project data
·      Control of Quality Records
Quality assurance record accuracy and maintenance of copies of all quality-related documentation will be maintained electronically as well as on papers.
Quality standards
Quality is the major concern of all stakeholders. The quality assurance (QA) is a process of activities to ensure that all entities fulfil the quality requirements. QA activities inspire stakeholders that everything is going fine and according to the quality requirements.  Basically, quality control deals with examination of a product, service, or process for specific levels of quality.  Major objective is to eliminate those tools or services, which does not satisfy quality control standards. If something goes wrong with quality control process then production could be ceased partially (Moufaddal, 2005)
Following are major concerns for controlling quality which will be much emphasis in this project
Human resource management and training
Materials and activity management
Management of construction machinery and equipment
Control of construction methods
Environmental control
Needs of site occupiers
Site occupiers are those people who are affected by the construction process.  Obviously, they have some imperative concerns when a site is used for construction. Following are some basic needs of site occupiers (Niemi, 2010) which will be accommodated in this project
Noise
Air Quality
Contaminated Land
Waste, Materials Handling, and Storage
Water
Sustainability and Preservation
Light Pollution
Identify and obtain plant
In the construction, getting suitable plant with appropriate size is a challenging task so it is duty of site manager to be familiar with types and plant size. The construction plant will be obtained as per the design of the project, and in accordance with the procurement / finance contract or method
Monitor plant and tool use
Routine inspection
It is very important that employers should recognize all identifiable hazards arising from plant, including the transport, installation, production, hiring, use, repair, maintenance, storage or disposal of plant. Risk assessment of plant and other tool is also required before starting work.
Following actions (Vázquez and Carpena-Ruiz, 2005) will be incorporated in this project;
Identify suitable rollover protective structures
Undertaking testing, repair and maintenance, along with periodic servicing
Relevant legislation implications
Moreover, the following additional checks will also enhance the quality standard during this project;
Daily checks: general condition of the plant and tools
Regular checks: inspection of plant and tools by competent person
Work within a short-term program
Short term planning provides a way to understand those critical aspect of the site management which are crucial for the process of production. Short tern planning accelerates management to do following tasks (Cooke, 2011), hence the following will be undertaken in this project;
·       Making decisions about processes and prioritize the task that are imperative for the progress with respect to contract
·       Regulate the position with respect to labor, plant material and project information including drawing specification and instruction
·       Assessing the performance standards which are workmanship and quality given that have influence on the project execution
Identify health and safety hazards
Safety hazards
·       Plant security
Security of construction plan has always been a challenge for the company because it is one of the most complicated aspect in construction projects. Therefore, a well-planned security schemes are extremely needed.
·       General Site Security & Fire Safety
It is essential to execute fire safety standards such that there is minimum possibility of neglecting any standards.
·       Malicious damage
There are plenty of chances that there could be the incendiary's deliberate intention that could cause fire.  Therefore, it is worthy to review the security arrangement because circumstances change often.  Fire risk assessment will be added with risk assessment plan.
Health hazards
·       Working at Height
In mobility construction, there are more chances to work on height. Safety awareness training will be provided for employers who are intended   to work on high locations.
·       Moving Objects
Construction sites are equipped with moving objects that includes lifting equipment, shifting heavy loads and supply vehicles, which are always threat to human life. Risk analyses will be undertaken for all such objects, and risk mitigation measures will be taken
·       Slips, Trips, & Falls
 Extreme care of holes, uneven lands, and working at height will be as per the required safety standards
·       Noise
 Extreme noise can cause permanent hearing problems that can lead to serious accidents. Noise risk assessment plan will be implemented to mitigate impacts of noise on construction site.
·       Hand Arm Vibration Syndrome
 It is a well-known disease in those workers who have been working in poor safety conditions. In order to avoid this, specific mitigation measures will be undertaken in response to the risk analyses.
·       Collapse
 Probably of its occurs due to malfunctioning of the building components or any other reason will be mitigated through standard operational practices
·        Respiratory Diseases
Construction sites can produce dust and toxic hazardous materials, which cause lungs problem. (Alcumus Group, 2014). Proper control measures will be undertaken to avoid any such hazard
Organize attendance
It is significantly important that attendance management should be part of the contract document. Attendance of contractor/subcontractors will be managed through smart cards which be provided through human resource responsible (or site foreman) of the project
Implementation of cost control systems
From the literature reviewed, it was observed that success of construction project muck depends on the controlling cost for input components which includes human resources, materials, machinery and money (Hendrickson 1998). It is imperative to ensure that following four input components are well managed in this project, so that cost is controlled as per the requirements (Mohamed, 2015)
·       Plant
·       Labor
·       Time-Cost Relationship
  Following are the cost Control Techniques to be utilized in this
·       Work planning and the materials import as per the plan
·       Periodic inspection of work, and inspection of completed activities
·       Project budget analyses after every activity
·       Periodic Site meetings
·       Record keeping Reports drafting
·       Periodic evaluation of overall project
Conclusion
As the Site manager, it is extremely important to analyse construction operation and highlight any of mal mal-functioning, and optimize all the construction processes. This report describes operational work that is essential in construction of buildings. Overall, the present report   provided the fundamental aspects of constructions projects and how these will be managed.
References
Alcumus Group, (2014). Health & Safety Risks In Construction - | Alcumus Group. [online] Available at: http://www.alcumusgroup.com/top-10-health-safety-risks-in-construction/ [Accessed 5 Feb. 2016].
Adedeji, Y. and Taiwo, A. (2012). Sustainable Building Finishes: Use of Renewable Standardized Wood-Based Material in Nigeria. AMR, 587, pp.134-138.
Cooke, B. (2011). Construction practice. Chichester, West Sussex: Wiley-Blackwell.
Designingbuildings.co.uk, (2016). Attendance for construction - Designing Buildings Wiki. [online] Available at: http://www.designingbuildings.co.uk/wiki/Attendance_for_construction [Accessed 5 Feb. 2016].
Iso.org, (2016). ISO - International Organization for Standardization. [online] Available at: http://www.iso.org [Accessed 5 Feb. 2016].
Moufaddal, W. (2005). Use of Satellite Imagery as Environmental Impact Assessment Tool: A case Study from the Nw Egyptian Red Sea Coastal Zone. Environmental Monitoring and Assessment, 107(1-3), pp.427-452.
Mohamed Hafez, S. (2015). Optimal Techniques for Cost Reduction and Control in Construction Sites. JHRM, 3(3), p.17.
Misronet.com, (2016). Construction Plant Acquisition & Finance. [online] Available at: http://www.misronet.com/construction-plant.htm#Hire_Purchase [Accessed 5 Feb. 2016].
Niemi, J. and Lindholm, A. (2010). Methods for evaluating office occupiers' needs and preferences. Journal of Corporate Real Estate, 12(1), pp.33-46.
Vázquez, S. and Carpena-Ruiz, R. (2005). Use of perlite in cadmium plant studies: an approach to polluted soil conditions. J. Environ. Monit., 7(12), p.1355.