Proposal
Many previous studies into the improvement of rocket fuel have looked at ways to eliminate the production of Cl, HCL, AL2O3, and CO2.  By proposing alternative propellants there is a greater chance that ozone depletion is reduced to a significant or completely. But there is also a chance that the same effects can come about but through the use of bio-mass to make bio-fuel for rockets. Researchers at Georgie Institute of Technology and Joint BioEnergy Institute were able to genetically engineer a specific version of E. Coli that is capable of producing pinene (Sarria, Wong, Martín, Keasling, & Peralta-Yahya, 2014). Keeping to this theme of bio-mass the following is proposed.     
Introduction
Biomass is a comparatively inexpensive material even to plastic as it is derived from living or decomposed organisms. Biomass can be converted into biofuel which is achieved through various methods. Historically speaking, humans have cultivated and harnessed biomass energy since the time that Neanderthals discovered wood can make fire. Today's economy is demanding a clean, original, sustainable, and renewable resource that minimizes damage to health and the surrounding ecosystem. Thus, many countries are shifting to a more renewable energy-based economy as it is having the potential for long term sustainable fuel that can meet the demands of a growing economy without depleting natural resources. Hydrocarbons are advantageous since they can be used as fuels, lubricants, and solvents without the impact of environmental risks such as ozone depletion, air pollution, and global warming. 
The purpose is the production of hydrocarbons which can be further exploited depending on needs. Catalytic depolymerization of plastics and biomass is a method that has been widely used for extracting hydrocarbons which can be used as industrial feedstock. Currently, wastes are being used to produce many other resources, such as renewable and clean fuel.
Extracting hydrocarbons from waste products is beneficial on an economic basis as it is cheaper to find the startup material to begin the process. Furthermore, from the extraction process, there will be an accumulation of smaller molecules that can be used in the production of new petrochemical and plastics.
The process of Thermal Depolymerization (TDP) using catalytic-fast pyrolysis is used for the reduction of complex organic materials, specifically for this study; plastics and biomass. The process is known to produce products such as aromatic compounds and hydrocarbons. The energy from the pressure and heat of the process decomposes long chains of hydrogen, oxygen and carbon into shorter chains of hydrocarbons that are currently known to have a maximum length of an estimated eighteen carbons.  Therefore, there is great potential to further the extraction process to produce petrochemicals
Current Literature
Catalytic Pyrolysis is known to be an emerging technology for converting biomass like lignocellulosic into liquid products such as benzene, xylene, and toluene which are known to be imperative feedstock for various industries as well as high octane liquid fuel. The specific process of catalytic fast pyrolysis involves the use of fast heating biomass feedstock in the presence of a zeolite catalyst at a temperature that is between 400°C to 700°C. This process has been extensively used for the production of aromatic from glucose through the process of catalytic fast pyrolysis (Li et al., 2013). 
Catalytic pyrolysis is a developing technology being used to study biomass conversion technologies to hydrocarbon fuels. It is essential to incorporate the barriers and target research toward reducing the conversion costs of using such a technology.  Many studies have analyzed process designs and preliminary economic estimates for the several pathways that are found in the process reaction. Upon further analysis from a study (Biddy et al., 2013) it was found that woody biomass using ex-situ catalytic fast pyrolysis was upgraded to using hydrocarbon blendstocks of gasoline-, diesel-, and jet- range hydrocarbons.  Taken into consideration is a process block that may be used to conduct the research as it has been beneficial to many researchers before.

This process diagram is an outline that can be improved in terms of the development of catalysts with improved yields, stability, lifetimes, maximizing overall conversion to the desired hydrocarbon product, and developing biofuels that can contribute to the current economy.  The model is based on the circulating fluidized bed that consists of a pyrolysis reactor, cyclones, and combustor (Biddy et al., 2013).
There are various advantages of using catalytic fast pyrolysis for the conversion of biomass to gasoline range aromatics as it is able to directly convert solid biomass into liquid fuel. Other routes that are known to convert solid biomass to liquid fuel in multiple steps at longer residence times result in a drastic increase in the cost of biomass processing (Carlson, 2010).   
Proposed Study
In order to produce the end products of biofuel the process of Catalytic Pyrolysis will be used on biomass, plastics, and then in combination (biomass + plastics). Initial testing will be performed followed by investigations which are as follows:
Analyze the operation of Catalytic Pyrolysis using various techniques.
Identify a biomass
Identify a plastic
Identify catalyst being used
The process beings with catalytic pyrolysis of chosen biomass, then plastic, and a combination of plastics + biomass
Identification of products from each of the pyrolysis
Observe the feasibility and success of the process
Identify issues, problems in experimentation and areas in which improvement can be made.

The conversion efficiency of biomass into products
Affect on & Activity of catalyst
Production Yield
Formation & Yield of coke in processIdentification of parameters:
Feasibility
Recourse Summary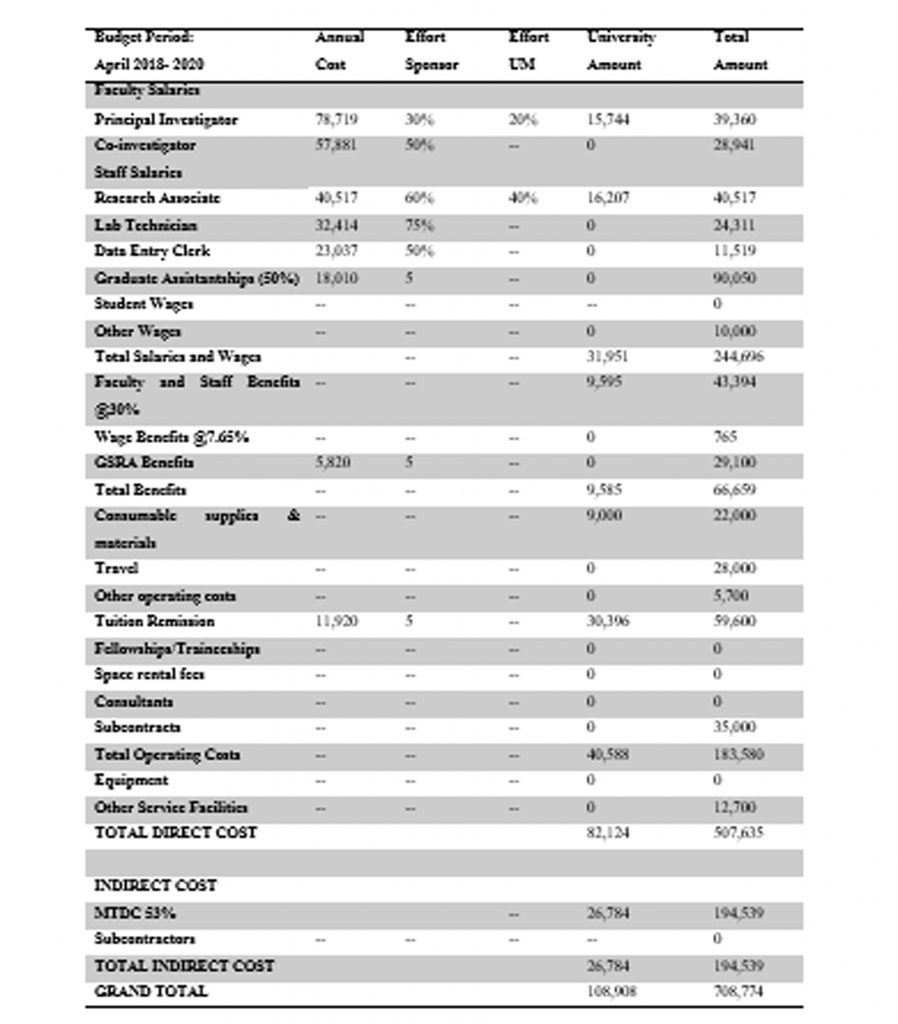 Impact Statement
Impact Summary
The continuation of the research on improving rocket fuel for limiting its adverse impact on the ozone large is a potential issue that affects people from academia to corporations to private citizens worldwide. By further researching the issue with better technology and vigour the research will first and fore mostly benefit the space launch industry in both the private and public sectors. Public sector space launch organizations are already examining the adverse impacts that launch emissions have on the ozone stratosphere.
Further research into the field as proposed will allow for applicable solutions, especially for solid rocket motors in terms of limiting their ability to emit Cl and other harmful substances from their launches. The entire research is based on the aim of ensuring that the academic findings are available for public sector launches in order to cut costs of governments funding space programmes. The private sector is also another imperative sector that needs to be targeted for the proposed research. In recent endeavours by private companies, especially that of Space X, it is essential that for-profit companies understand the environmental ramifications of launches. Therefore, the aim of the proposed research makes it necessary to provide the research to private companies for consideration. Both the public and private sector needs to regulate rocket vehicle launches in order to ensure that there are no adverse effects on the environment.    
Academic Beneficiaries
The proposed research is also of benefit to other academics that are researching or looking to research the impact of rocket fuels on ozone depletion. The subject is of great interest especially due to the known effects of climate change and immediate effects seen significant holes were developed in the ozone due to anthropogenic activities. Academics understand that it is highly likely that rocket launches in the future will be a potential danger to the ozone from the increasing interest by private and public sectors. This is imperative for the academic community to propose solutions before the frequency of rocket launches exceed. Hence, the proposed research is a stepping stone when it comes to understanding the impact of rocket fuel on ozone depletion.   
References
Bennett, R. R., Hinshaw, J. C., & Barnes, M. W. (1992). The effects of chemical propulsion on the environment. Acta Astronautica, 26(7), 531–541. https://doi.org/10.1016/0094-5765(92)90124-2
Bloss, W. J., Scott L. Nickolaisen, †, Ross J. Salawitch, Randall R. Friedl,  and, & Sander*, S. P. (2001, November 28). Kinetics of the ClO Self-Reaction and 210 nm Absorption Cross Section of the ClO Dimer [research-article]. https://doi.org/10.1021/jp012429y.
Brady, B. B., Fournier, E. W., Martin, L. R., and Cohen, R. B. (1994). Stratospheric ozone reactive chemicals are generated by space launches worldwide. Aerospace Report No. TR-94-(4231).
Brady, B. B., Martin, L. R., Lang, V. I. (1997) Effects of launch vehicle emissions in the stratosphere. Journal of Spacecraft and Rockets, 34, 774-779.
Danilin, M. Y. (1993). Local stratospheric effects of solid-fueled rocket emissions. Annual Geophysicae, 11, 828-836.
Denison, M. R., Lamb, J. L., Bjorndahl, W. D., Wong, E. Y., & Lohn, P. D. (1994). Solid rocket exhaust in the stratosphere: Plume diffusion and chemical reactions. Journal of Spacecraft & Rockets, 31, 435-442.
FEAFSLP. (1999). Final Environmental Assessment for the SEA LAUNCH project. [report] U. S. Department of Transportation Federal Aviation Administration Office of the Associate Administrator for Commercial Space Transportation, Washington, D. C.  
Jackman, C. H., Douglass, A. R., and Smeske, K. F. (1991). A simulation of the effects of the National Aerospace Place testing on the stratosphere using the two-dimensional model. [Report] Code 916, NASAJGSFC, MD.
Jackman, C. H., Considine, D. B., & Fleming, E. L. (1996). The Space Shuttle's impact on the stratosphere: An Update. Journal of Geophysics Research, 101, 12523-12529.
Jackman, C. H., Considine, D. B. & Fleming, E. L. (1998). A Global modelling study of solid rocket aluminium oxide emission effects on stratospheric ozone. Geophysics Research Letter, 35, 907-910.  
Ko, M. K., Shia, R. L., Weisenstein, D., Rodriguez, J., & Sze, N. D. (1999). Global stratospheric impact of solid rocket motor launches. [report] submitted to TRW, California.
Lohn, P. D., Wong, E. Y., Spencer, D. D., Meads, R., & Molina, L. T. (1996). The Effects of Rocket Exhaust on Stratospheric Ozone: Chemistry and Diffusion.
Martin Ross, Darin Toohey, Manfred Peinemann, & Patrick Ross. (2009). Limits on the Space Launch Market Related to Stratospheric Ozone Depletion. Astropolitics, 7(1), 50–82.
Molina, M. J., Spencer, D. D., Molina, L. T.,  & Meads, R. F. (1996). Chlorine activation on alumna and glass surfaces. The Impacts of Rockets on the Stratosphere Symposium, Redondo Beach California.
Molina, M. J. (1999). Stratospheric effects of rocket exhaust: Heterogeneous processes. [Report] to TRW, California.
Potter, A. (1977). Proceedings of the Space Shuttle Environmental Assessment Workshop on Stratospheric Effects.
Potter, A. E. (1978). Environmental effects of the Space Shuttle. Journal of Environmental Sciences. Retrieved from https://ntrs.nasa.gov/search.jsp?R=19780044943
Prather, M. J. (1990). The space shuttle's impact on the stratosphere. Journal of Geophysical Research: Atmospheres, 95(D11), 18583–18590. https://doi.org/10.1029/JD095iD11p18583
Ross, M., Ballenthin, J., B. Gosselin, R., F. Meads, R., F. Zittel, P., R. Benbrook, J., & R. Sheldon, W. (1997). In-situ measurement of Cl2 and O3 in a stratospheric solid rocket motor exhaust plume. Geophysical Research Letters - GEOPHYS RES LETT, 24, 1755–1758. https://doi.org/10.1029/97GL01592
Ross, M. N., Danilin, M. Y., Weisentein, D. K., & Ko, M. K. W. (2004). Ozone depletion caused by NO and H2O emissions from hydrazine-fueled rockets. Journal of Geophysical Research, 109, 1–7.
Ross M. N., Toohey D. W., Rawlins W. T., Richard E. C., Kelly K. K., Tuck A. F., … Sheldon W. R. (2000). Observation of stratospheric ozone depletion associated with Delta II rocket emissions. Geophysical Research Letters, 27(15), 2209–2212. https://doi.org/10.1029/1999GL011159
Ross Martin N., & Sheaffer Patti M. (2014). Radiative forcing is caused by rocket engine emissions. Earth's Future, 2(4), 177–196. https://doi.org/10.1002/2013EF000160
Sarria, S., Wong, B., Martín, H. G., Keasling, J. D., & Peralta-Yahya, P. (2014). Microbial Synthesis of Pinene. ACS Synthetic Biology, 3(7), 466–475. https://doi.org/10.1021/sb4001382
Smith, T. W., Edwards, J. R., and Pilson, D. (1999). Summary of the impact of launch vehicle exhaust and deorbiting space and meteorite debris on stratospheric ozone. [Report] U. S. Air Force Space and Missile Systems Center, Environmental Management Branch. 
Takenaka S., & Yamagokoro Y. (2004). Study on three-dimensional modelling of interference problem with ozone layer by solid rocket discharge. Journal of the Japan Society for Aeronautical and Space Sciences, 3, 1–10. https://doi.org/10.2322/stj.3.1
Terry, B. C., Sippel, T. R., Pfeil, M. A., Gunduz, I. E., & Son, S. F. (2016). Removing hydrochloric acid exhaust products from high-performance solid rocket propellant using aluminium-lithium alloy. Journal of Hazardous Materials, 317, 259–266. https://doi.org/10.1016/j.jhazmat.2016.05.067
Toohey, D. (2003). Real-Time Measurements of Reactive Chlorine and Carbon Dioxide in Rocket Plumes, 27.
Voigt, C., Schumann, U., Grafi, K., & Gottschaldt, K. D. (2013). IMPACT OF ROCKET EXHAUST PLUMES ON ATMOSPHERIC COMPOSITION AND CLIMATE - AN OVERVIEW. Progression in Propulsion Physics, 4, 657–670.
Zittel, P. F. (1994). Computer Model Predictions of the Local Effects of Large, Solid-Fuel Rocket Motors on Stratospheric Ozone, 23.