LO-2
RFP process and relevant types of documentation
Every organisation in every sector has different needs. An organisation cannot work in isolation with the industry. However, to sustain in the market these companies interact and negotiates with each other on certain terms. In this way, wherever the interaction and negotiation take place, one company offers value to another company. On acceptance, the negotiating parties "requests for proposal" (RFP) document. An RFP document outlines the desired value to be negotiated that could be in terms of price quotation and product/services. The RFP document enables both negotiating parties to identify and accomplish the strategic goals (COUNTY, 2014). By developing an RFP, a negotiation process begins (Sabin, 2016). At this stage, preparation and planning begin where a company signals all the potential bidders to propose their best negotiable value with the company.
By definition, a "Request for Proposal" (RFP) is a highly formal document used by organisations while buying a value, and good/services. This document identifies and outline the company's requirement and used it to solicit bids to identify the best partner.
Standard RFP Process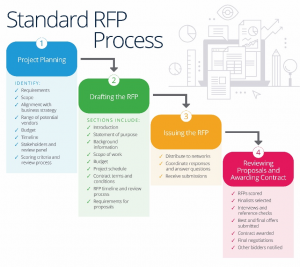 Figure 2: RFP Process
The RFP process begins with the planning about what a company wants and how it will help it to grow. At this stage, a company looks into the requirements, scope, alignment, budget and timeline of a project. On the second stage, a company prepares a draft proposal including the introduction, background, purpose of the project. Thirdly, organisation issue the finalised draft and makes it open to bidders. From the time of issuance of proposal, a company receives bids on which it contracts and negotiates with the potential partner.
The relevance of other documents
Other than RFP, there are two other formal documents needed at the time of pitching and negotiation. First, "Request for Information" (RFI) is a business document/process that is issued before RFP in order to survey the market for potential partners. RFI helps a business in gathering all the relevant information about the potential bidders. Whereas, "Statement of Work" (SOW) is a document that is used after issuing RFP. In SOW, the company finds a detailed description of requirements of the potential client. SOW identifies and discusses the roles and responsibilities of each party. SOW is a legal binding contract between the two parties (Dunning, 2018).
The relevance of the contractual process
A contractual process binds two parties in a written contract, agreement and any legal obligation upon signing, by the authority from each party. A sound contract plays a crucial part in the negotiation and contracting process. An effective and detailed contract enables the parties to manage a particular project more efficiently (Antras, 2015). The contract has significant importance in business as a proper contract as it outlines the assigned roles and responsibilities of each party, it offers a company a sense of security that neither of the partners can back out the contract, and it provides the insight on how a problem will be sorted by both parties.
Without a legally binding contract, a company cannot rely on the other party to carry out tasks for them. In managing a business in partnership, a contractual process is extremely important. A contract is developed against the legal binding to highlights the major roles and obligations of the parties (Van Den Hurk and Verhoest, 2016). If either partner fails to perform its assigned obligation must be penalised.
RFP process in the organisational context
In the contemporary business market, organisations are highly reliant on each other in terms of product/services and ideas. Therefore, the business tends to build associations with each other on the ground of mutual benefits through a negotiation process. On a successful negotiation meeting, the companies sign a legal binding to perform contracted obligations.
Taking an example of a software company, the presence of regular negotiations and pitching are evident. The software industry is exposed to regular purchasing and negotiation. For such organisations, RFP and a contractual process is a critical step towards better negotiation and performance. For such businesses, an RFP is considered as a cornerstone. It enables them to compare the functionality, features and price quotations across many potential vendors. In such organisations, the key stakeholders also participate in selecting and decision making, ensuring whether or not the interests and needs are met. In addition, a clear contractual process and formal binding provide a clear focus on the criteria for building a partnership.
Recommendation for successful tendering
A contractual agreement empowers a company to minimise the risk of cheating, and frauds. Thus, a company requires to pay special attention to tendering. For organisations to set the deal successfully, there are certain recommendations and tips to be followed. These tips can enable them to conduct an efficient negotiation, leading to successful tendering.
For successful tendering, it is advised to a start-up business to must-read terms and conditions of a term carefully, submit the tender on time, quote and negotiate the price competitively, confirm whether the recipient of tender received it on time, and make sure to keep a copy of all the records and documents safely. By doing so, organisations can optimise the risks of failure and contractual frauds. However, it results in effective negotiation and contractual outcomes.