Introduction
This report has been completed to analyse facility management and maintenance in high-rise residential buildings, which has become a living standard these days. The present report is categorised into two main sections.  First is the main body, which includes various, sub sections such as facility management, building maintenance and facility manager. Second main section is conclusion and recommendations.
In the present report, the client company, the Ardmore Group and their associates, is a large construction company that deals with high rise residential, commercial and educational buildings. This company is established forty years ago, and it has a long list of buildings in its portfolio, in both residential and mixed-use. This company has built number of buildings and still have many ongoing projects. Most of its projects are successful and consumers are always found to be curious for its upcoming projects.  In the present report, high-rise residential buildings are selected which has been built since last two decades. Company owns number of high-rise residential buildings around the country but for this report only one location is selected to identify the issues in the current approach of facility management.
The researcher was intended to investigate fundamental concepts of facility management and building maintenance to develop basic understandings. Therefore, two large multi-story storey residential building blocks were investigated in this research; this research also included meetings with the representatives of Client Company as well as the residents of the buildings. These meeting helped the researcher to develop understanding of the current practices being followed by the practitioners, which has been briefly presented in the later section of this report.
Facility Management
Facility management (FM) is a combination of various disciples that deals with space management, people/residents, organisation and infrastructure of buildings of various types, including residential, health, educational, professional and commercial. The International Facility Management Association defines facility management such that" FM as profession includes many disciplines to confirm that environment is built properly with the participation of the people, place, process, and technology" (Good practice guide on facilities management, 1998)
Facilities Management (FM) as, "an integrated practice to work, maintain, improve, adjusting the infrastructure and buildings for a company so that primary goals of that company could be achieved by this built environment (Atkin & Brooks, 2000). Therefore FM is treated as hybrid management discipline which is combination of people, property and Process management proficiency such that support could be provided for the company (Then, 1999). There are many definitions of facility management but all address the same point that is managing collaboration between humans and physical environment to make sure that company is working effectively (Gagendran, 2000).
An illustration for FM is given below: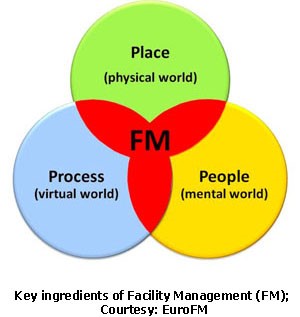 Core Competencies of Facility Management
A global job task analysis (GJTA) formulated 11 core competencies for FM in 2009. The responses were collected form 62 countries to define these competencies and until now these are the most valuable findings. These 11 competencies are described below: (IFMA)
Communication
Emergency Preparation and Business Stability
Environmental Stewardship and Sustainability
Investment and Business
Human Factors
Leadership and Strategy
Operations and Maintenance
Project Management
Property management and real state
Technology
Quality
FM deals with many activities including workstation, capability, support services, assets, commercial real estate and organisations (Ancarani and Capaldo, 2005). Literature revealed many classifications of FM services but based on the latest findings following table in constructed for FM services (Alexander, 1992)
Table 1: FM services overview
Hard FM

·       Mechanical and  Electrical maintenance (M&E)

·       changes in  infrastructure

·        security  and fire

·       plant  cultivation

·       Landscape preservation

·       Building fabric refurbishment

Soft FM

·       Cleaning services

·       Help desk

·       Telecommunication

·       Transpiration

·       Warehouse management

Business support services

·       Property management

·       Information and Communication Technologies (ICT)

·       FM management  and contracts

·       Human resource management
With the increase in the population, it is hard to manage residential areas effectively (Waheed, 2009). Moreover, people are inspired to live in a high profile area or buildings where all advanced facilities are available. Living in high-rise buildings has become a trend for people of all countries. All those people who can afford a house prefer to live in   high rise building where they are accommodated with many services.  A high rise building can be multi-unit that means having same buildings within same area. It is   observed that people choose high-rise buildings as their residence because they pay enough fees for the locations and services, which are offered by company who own that building.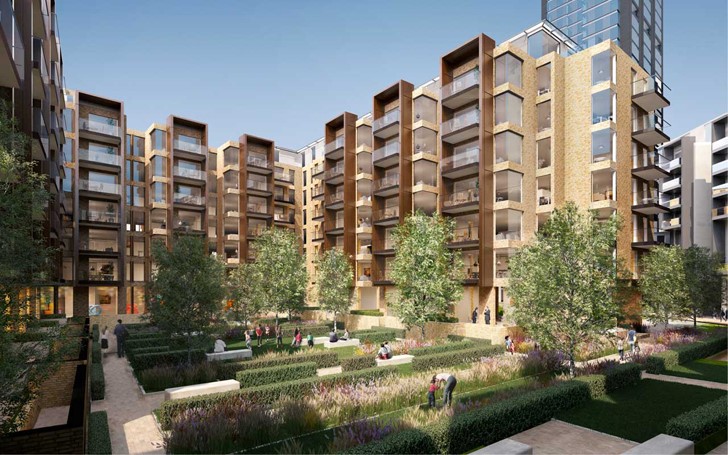 Figure 2: high-rise residential buildings
Case Study Analyses: Current Facility
Management Strategy
Facility management for different types of buildings is defined in different ways. Residential buildings have different requirements so the framework used for facility management is very dissimilar to other buildings. There are various factors which differentiate a high rise residential building from a commercial office buildings. For example, a high-rise building has different variety of associations, sentiments, relations and it is living place for someone (Atkin and Bjork, 2007). Therefore, facility management components for high-rise residential building are different from other building.
Facility management (FM) strategy development varies from company to company. The current company which is the Ardmore group and their associated partners have been involved in many high rise residential buildings in different cities all over UK.  It has been identified in literature that for effective facility management organizational support is imperative. The case study selected for this research included brief review of Limehouse Basin (London) owned by Bellway Homes and another scheme (50 affordable homes) in the vicinity of London, charterhouse square, which is under the ownership of Thornsett Group and lies under the local authority Islington.

Figure 3: Research Focus; Limehouse Basin & Charterhouse Square
Company has developed following strategy of facility management for high rise residential buildings on the basis of their business nature and experiences;
Table 2: Brief Review of Buildings
Building types

 

Components

Performance characteristics

Hard FM components

Fabric maintenance implications

 

 

 

 

 

Residential

 And Commercial

 

Foundation                   

Walls

Floor

Ceilings

Doors

Windows

Stirs

Elevators

Sanitary

Electrical supply

Parking areas

Shared spaces

Continuous monitoring

Energy efficiency Indoor thermal behavior

thermal-energy performance

thermal-energy assessment

 

Mechanical and  Electrical maintenance (M&E)

changes in  infrastructure

 security  and fire

plant  cultivation

Landscape preservation

Building fabric refurbishment

Main fabric(walls, floor, roof, windows)

internal finishes(celling and wall finishes)

special design features(decorative elements)

cleaning and house keeping
Literature revealed that high rise residential buildings emit increased amount of greenhouse gasses in comparison with other types of buildings. Building height is directly proportional to the energy consumption due to shared spaces in high rise residential buildings. The primary sources of the energy consumption for these buildings were observed as per the following;
Table 3: Sources for electricity consumption high-rise residential buildings
Shared  space

Individual space

·       Lifts

·       exterior lighting

·       Lighting shared spaces

·       Hot water supply and circulation pumps

·       Carpark ventilation

·       HVAC drain fans

·       Water pool and  water filtration and  pumps

·       Security systems

·       Cooling tower pumps

·       Cold / hot water supply

·       Interior lighting

·       Heating and cooling for individual apartment

·       Home appliances
During this research, it was observed that the client operates different buildings, some of which were constructed more than 10 years ago. Therefore, it was also important to analyse the primary difference between the new and old buildings;
Table 4: Comparison of old and new buildings in Client organization's portfolio
Building type

Old

New

 

 

 

Residential &

Commercial

 

 

 

Use of hazardous material for constructing

Reduced safety problems

Maintenance of old building is expensive

efficient in terms of heating and air conditioning

Special rules to perform maintenance

affordability, transport links, play

Consume more energy

more energy efficient

Complex structure

Easy going structure
The key points / aspects regarding the facilities management observed in this case study has been outlined / summarized in a tabulated form as per below;
Table 5: Current FM strategy of the client company
Component

Description

 

 

 

 

 

 

Energy

 

It was difficult to analyze the current energy efficiency of the building being investigated; however, it was observed that various alterations can optimize the energy performance of such buildings.   The actual high rise residential buildings requires more consumption of energy than other housing schemes.  This is due to the fact these buildings share many areas. Therefore, such buildings require integrated approach to enhance the energy performance, which was lacking in this particular case and service and managing energy consumption is an important concern of for high-rise residential buildings.

 

 

Water

 

Water ingestion and effectiveness are considered as key pointers of building performance. It is observed that water efficient buildings are in demand of public and government for their operations. In the current practices of the company water resources are not that much efficient because of adhoc management techniques.

 

       Waste

 

Waste reduction is taken as very important factor for healthy and sustainable environment. In case of high-rise residential buildings, waste reduction is challenging the company is striving to maintain the cleanliness and prevent outflow of harmful materials.

 

Maintenance

 

Enhancing building performance is an important for sustainable environment, however company does not implement any strategy that evaluates the performance of the maintenance teams

 

Safety

 

Facility Managers ensures that safety for residents, visitors and contractors are ensue in these buildings. Although some signs have been installed in the buildings investigated, further active fire protections systems as well as safety signs must be installed for this high-rise residential buildings of the company.

Dangerous Possessions

 

Harmful materials which are often used for cleaning and other purposes are need to be managed in an effective way so that these could not generate any negative impact on environment. No such checks were observed during the analyses of the current FM

 

Hazardous Materials

 

All those material, which are harmful for human health, may be found in high-rise residential buildings and all these need a safe storage. For now, company has maintained a store but it did not put policy for their use

Health & Convenience

 

For the residents of high-rise buildings it is vital to provide a healthy and adoptable living standard. Company needs to introduce latest standards to inspire more clients

Vital Services

 

Fire and safety shield items are required for the residents of high rise buildings.

Emergency Management

 

Emergency Management Plan, identification of high-risk areas and safe areas, maintenance schedule as well as an emergency training program is essential for high-rise buildings. For now, company has a rough planning, which needs to be refined efficiently.

 

Security

 

Protection of physical infrastructure and assets is also a significant concern. The company has obtained services of external security services for the protection of their assets. Permission was not granted to gain information regarding the security plan
 Suggested FM Strategy and the SWOT Analysis
 Evaluations and Implications
Energy management process is considered to be one of the most important factor in facility management plan (Noor and Pitt, 2009). An effective process for energy saving along with management practices can provide substantial cost benefits for the organizations. Following are some major steps which should be part of the energy management process.
1.      A review of current energy performance given an idea for measurement and future plan for energy management.
2.      Knowing about energy needs of the building in different time slots by communication through residents
3.      Energy audit is an imperative part of energy management process. It makes sure that nothing is ignored.
4.      Identify available resources, energy baseline and opportunities with addition of expectations of residents and budget limitations
5.      Maintain a system which keeps energy consumption records and reports
A SWOT analysis is a planning tool which demonstrates Strengths, Weaknesses, Opportunities, and Threats that a business could face. Mostly it is used for strategic planning. It identifies business objectives as well as internal and external factors which are supportive for achieving objectives. SWOT is the first tool to know more about the situation (Helms and Nixon, 2010).  The summary of the SWOT analyses completed for the client has been detailed as below;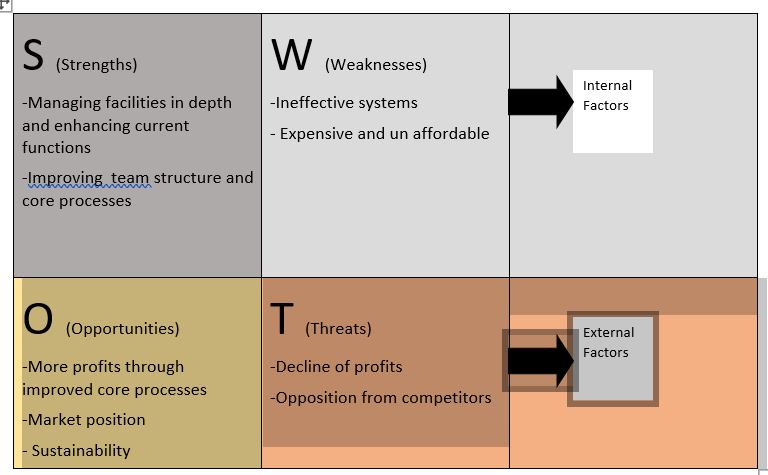 In the results of these analysed, following are the suggested improvement which client company can make regarding its facility management strategy.
Table 6: Suggested FM strategy in response to SWOT
Component

implications

 

 

 

 

 

 

Energy

 

·       Identify and monitor meters and circuit supply and develop report on periodic bases. Assess the data obtained to engineer more sustainable and effective method of energy management. This includes

-          Investigate levels of light in different locations and  make comparison  with approved best standards of practices

-          Maintain Inventory for energy consuming equipment

-          Analyse  poor performance areas

-          Find out control systems and analyse power factor

 

 

 

Water

 

·       Improve a water baseline and available water profile

·       Collaborate with inhabitants

·       Define objectives

·       Deploy plans

·       Look into usage and identify leakage sources

·       Analyse performance and results

 

 

Waste

 

·       Develop a waste management plan

·       Find out onsite waste dispose of  methods

·       Make effective garbage  collection policies

·       Make sure recycling waste reduction  is lower

·       Make sure  recycling space  is available

·       Organize  a space for hard waste and charity materials

·       Try to reduce mess and noise during waste collection and disposal

 

 

Maintenance

 

·       Identify  goals and objective

·       Recognise strategies

·       Define resources

·       Prepare requirement documentation

·       Measure progress

 

 

Safety

 

·       Define  major goals

·       Identify critical areas

·       Communicate with residents

·       Prepare safety plan

 

 

 

 

Dangerous Possessions

 

·       Identify  type and volume of the material and manage their reduction

·       make sure enough space is available for s their storage and  discrimination

·       availability of spill kits for cleaning oil and diesel and Material Safety Data Sheets (MSDS)

·        chemicals  storage without ant odour

·       availability of locked metal fireproof cabinet

·       add usage of dangerous goods into contract of residents which they use

Harmful Materials

 

·       Make sure harmful materials are stored in safe place

 

Health & Convenience

 

·       Improved inside environment and lighting

·        heat  and space management

·       noise avoidance

·       ecological  transport availability

 

 

Vital Services

 

·       Air conditioning systems

·       Emergency lifts , lighting and power supply

·       Mark exit doors

·       Develop fire control centres and  alarm systems

·       Separate stairs and windows  during fire

·       Smoke  alarms and smoke control system

 

Emergency Management

 

·       Make sure evacuation plan is  demonstrated

·       complete site plan is displayed

·        presentation of existing fire safety statement

·       organise fire response training

 

Evacuations

 

·       Emergency Management Plan is investigated  before implementation

·       Make sure evacuation time is  less as much possible

 

 

Security

 

·       Advanced security cameras

·       improved lighting facility and traffic management

·       investigation and reduction of   simple accessible

·       training for residents
Sustainability is another essential consideration for high-rise residential building. A building is considered sustainable if it has a design, infrastructure and working strategies, which have minimum negative impact on the environment as well as its residence. This type of building ensures healthy life for its residents and make use of resources in an effective way. The concept of sustainable buildings has been improved form last few decades. All those standards which were considered optional or additional in past have become norm of these days due to client's expectations and awareness. It has been investigated that stakeholders give high priority to a sustainable environment. Some major principles for sustainable design of buildings are listed below: (Mallen and Chard, 2012)
Efficient use of energy and water
Waste reduction
Environmental preservation
Preservation of building materials
Improvements in indoor environment
Enhanced landscaping
Improved public life
Client Company has long list of high-rise buildings in its portfolio. However, formulating a plan for sustainability is a nasality for these structure. For high-rise residential buildings, there are some influencing factors, which has strong impact on decisions for sustainability. All these factors could be adopted for the client company to build more sustainable buildings. These factors are described below:
Livability: Literature reveled that indoor air quality is directly related to the efficient design of the buildings. Improved air quality, productivity and goodness is also associated with building design.
Economics: Sustainable designed buildings have significant lower cost for operations and offers cost saving on long term basis.
Government Regulation: Government laws imply building performance standards which are applicable for sustainable buildings as well.
Market Pressure: It has been become a trend to incorporate sustainability in the newly designed buildings and stakeholders are enforced to implement this trend.
Awareness: It has been investigated that the consumers are well aware of sustainable environment, which put an obligation on investors to build sustainable buildings such that less negative impact is posed on environment and healthy living environment is provided.
Corporate social responsibility (CSR)
CSR can be defined as the analyses economic, legal, moral, social and physical aspects of environment. Corporate Social Responsibility is well known concept in business reporting. Every organization has its own customized CSR policy, which is revised and reported annually. The more advanced definition of corporate social responsibility is described as an association between international companies and Governments. In simple words, CSR is considered as an association between a company and society in which that company works.  CSR also defines relationship between stakeholders and company. So there are multiple views about definition of CSR.
According to the EU Commission (2002);
"CSR is a practice which is followed by companies to assimilate social and environmental concepts into their business operations and in their interaction with their stakeholders on a voluntary basis."
Principles of CSR
As it is hard very uncertain to define CSR in an appropriate way therefore there is need to follow concepts, which are supportive for CSR. These principles are described below: (Zawawi et al., 2011)
Sustainability: It stands for possibility of actions taken in present could be available in future. When resources are limited and have been used in the present then these are not available for future use. Therefore it got significant place in FM strategy development.  For example, steel, concrete and timber are available in limited quantity and not available for future use.  It may possible that some alternatives are added to these sources depending upon the needs. Therefore, in actual if some resources are exhausted then cost of attaining other resources increases, which ultimately cause a rise in the cost of operations of the organization.
Therefore, it is essential for Client Company to maintain sustainability such that resources should not be use more. In other words, this is tendency of ecosystem demonstrated in terms of input and output models of reserve depletion.  For example, in case of paper industry, trees and plants are planted again, which has been harvested for paper production. This is done to save cast and efforts. Sustainability could be measured with the rate of resource consumption to the production rate of consumption. There are also some unsustainable operations, which are managed by either introducing sustainable operations or making plan for future. Normally companies including Client Company can increase efficiency of the utilization of resources.
Accountability: It is related to the realization of organization towards effects on external environment in the result of some actions. In other words, accountability is concerned to know about affected groups (stakeholders). In broader terms, accountability states that an organization is not limited to only its owners but it is a part of social   network which could be affected by actions of that organization. Moreover stakeholders should also take parts in decisions of organization while making plan about action. They should also know that either these actions are valuable for organization or stakeholders. Therefore, accountability implies to formulate strategies and reports to measure environmental presentation and informing organization about those actions. Following features of reporting are investigated for accountability.
All concerned parties have understanding
Significance to the users of the given evidence
Consistency in the form of accuracy and freedom
Comparability which demonstrates consistency for both time and diverse companies
These types of reports include qualitative evidences, decisions and quantifications as well.
Transparency: Transparency is also an important concern of CSR. It states that reporting of an organization determines influence of its actions on external environment including all open facts. Therefore all parties can know about all actions of the companies for whom reporting is available. External users are more dependent on transparency because they don't have much information like internal users.
Implementation of CSR and sustainability in Client Company
Client Company implements both CSR and sustainability somehow for its operations.  Both of these practices are essential to enhance and improve overall performance of the concerned company. Although there are still some loop holes which require improvements.  As developing FM strategy is continuous process which evolve over time depending   upon the business needs. following are some factors which supports to adopt above mentioned principals of  CSR and sustainability as well as some factors which  does not support for sustainability and CSR.
Encouraging factors;
Competitive edge: An improved, well defined and organized CSR and sustainability provides a significant place in the market. As both of these practices, facilitate organization to compete with its competitors.
Consumer satisfaction: Consumers are always looking for better opportunities and in case of living; they seek for the best place as their residence. A high profile high rise building with all facilities inspire consumers to choose it as their residence.
Increased revenue: Improved strategies and high performance buildings cause an increased profit for client organization which is great benefit for achieving organizational objectives.
Discouraging factors
Increased cost: It is obvious that adding more services increase expenses that cause high cost which may not be affordable for many consumers.
Market pressure: There are also chances of increased market pressure over client organization, which introduces new services.
Consumer expectations: When client organization offers new services it many happen in its next project consumers expect more than past.
Building Maintenance
Maintenance is described as an amalgamation of technical and related administrative tasks that are needed to maintain an asset so that it can achieve its intended goals. Maintenance has two major task. First is retaining that is done to avoid failure known as preventive maintenance, and second is restoring that is needed after failure has occurred known as corrective maintenance. It is recommended that intention should be diverted towards preventive maintenance. To make sure that building is sustainable with respect to the environment, performance of the building should be optimized as well (Zawawi et al., 2011)
Building Maintenance Methodology
Every organization needs to develop a maintenance strategy depending about its business objectives, goals and available resources and aligned it with corporate business strategy which is followed by the organization. Therefore it is necessary for facility manager to be involved in the structure of the organization so that he could be able to understand organization goals, business drives and can incorporate a maintenance strategy in facility management plan. (Lee and Scott, 2009). Following is a demonstration of corporate strategy for all businesses that integrated FM strategy and maintenance strategy (RICS Practice Standards, UK, 2009)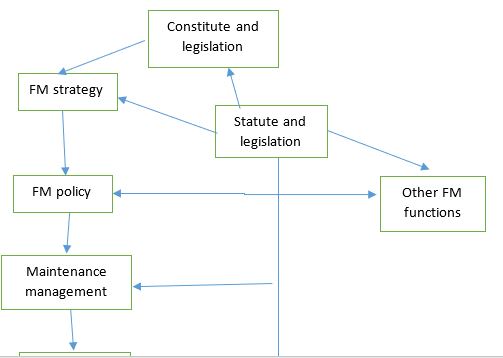 Figure 3: Building maintenance
Every organization tends to adopt maintenance strategy based on short, medium or long terms concerns. If organization owns a stable business then long terms concerns span over more than five years. In contrast, if an organization have volatile business for example telecommunication industry where things evolve frequently. In that case organization should be very adoptive within short notice and make a quick move towards new trends. (Horner, El‐Haram and Munns, 1997)
For current organization, long term maintenance strategy is suitable as it owns very stable business that will last long over years.  Following are some main points for developing a maintenance strategy for the concerned organization.
Maintenance planning: Maintenance activities are categorized into two forms. First is planned that is routine maintenance and second is unplanned that is related to breakdowns which may happen. All details about planned and unplanned maintenance should be added to manuals and specification documents (Huang and Cai, 2005)
Establish Policies and Objectives: It is essential to make sure that all objectives and goals should be based on concerns of residents.
Develop Maintenance Strategies: Maintenance strategy and supporting plan should be according to the contractors.
Allocate Resources: It is an important concern that budget and experienced professionals are available for maintenance work.
Document Requirements: Key documentation should be available and building user guide should be circulated among stakeholders to let them know that maintenance objectives are clear.
Monitor Progress: Looking into daily updates and measure progress of the maintenance work is important
Energy and overall efficiency retrofits
An energy efficiency retrofit is a very complicated and   dynamic process. It includes many steps with a continuous effort to maintain retrofit benefits. As every building is different from the other so there is no shared standard for retrofits. For high rise residential buildings following considerations are important.
Renewable Energy Installations: Renewable energy stuffs for example photovoltaic panels are not much costly as they need very small space for installation.
HVAC Management Strategies: Heating, ventilation and air conditioning (HVAC) is an important consumption of energy in high rise residential buildings as it use one third of total electricity. Some major step to save energy for HVAV are:
Assessment of HVAC settings  and tune it
Select accurate working hours
Select realistic space conditions.
Finest start/stop routines.
Mount Variable Speed Drives on pumps and fans
Mount CO monitoring to manage intake of fresh air
Building System Tuning: As a building gets older, its different systems tend to show less efficiency (Noor and Pitt, 2009).  Therefore   tuning of building is required to maintain HVAC and electrical system for performance optimization.  In order to maintain long-term energy efficiency performance, following facts are important.
Adjusting controls of thermostats and sensors
Adjusting working schedules
make sure all equipment is working
Following up maintenance schedules
Power Factor Correction: It ensures that a specific equipment is using electricity in an effective way. Some equipment use more power than others, which cause some extra bills that is not mentioned in tariff. This fact is represented as the ratio of power consumed to the required current flow. 1.0   power factor is the most accepted and error free (Noor and Pitt, 2009).
Controls Strategy: It deals with monitoring of thermal comfort, temperature set points so that energy consumption of the building could be controlled.
Peak Demand Management: Peak demand management is concerned by reducing electricity consumption in peak times and exploiting consumption during off-peak. This is an efficient way to know about the load reduction that helps facility manger to make cost savings   decisions.
Thermal Mass: High rise residential buildings have heavy structure which incorporates in managing cooling and heating. For example attaching motion sensor to stairs can help in cooling when stairs are not in use.
Lighting: It is reasonably cost saving practice to provide light in the common areas, which ultimately reduce cost for HVAC. It is known, that energy consumption in high-rise building is very high.  Studies showed that it is entirely responsibility of facility management to look over energy consumption and make sensible decisions. As energy management has always been a part of facility management strategy of any organization so this practice is well managed in facility management plan.
Facilities Manager
Facilities Manager is the key person who manage, monitors and synchronizes intentional and working strategies of the facilities and buildings. The manager makes sure that all functions related to physical features are going well as well as develops sustainable environment for the residents. A facility manger could be a single person or a team that is working in a shared location.  These can be outsourced or in house either as single person or a team. Major responsibility of the facility manager is to fulfil expectations of the consumers by providing information, support, resolving issues, understanding needs to make sure an excellent living environment for the inhabitants. A facility manager also deals with third parties for various operations related to building maintenance. In case of high-rise residential buildings, facility manager is also supposed to manage a group of people who works under his supervision for multiple operations so he must have managerial skills.  According to latest trends, Skills for facility managers are divided into two type as given below: (Tucker, 2007)
 Hard Skills
Electrical cabling
power supply
Woodwork
Sanitation
managing HVAC (heat water air conditioners)
Longitudinal Planning
Civil and structural engineering principals
Soft Skills
Client Relations
management and support for contractors
Team-building
Technical analysis
Time Management
Business Steadiness
Economic Responsiveness
There are some significant responsibilities assigned to members of facility management team which could help out organization to achieve its major goals. Some of them are described in the following section: (Tucker, 2007)
Cleaning: Cleaning   also comes under supervision of facility team. They can make it according to their pre-defined schedule.
Operational: These include daily operations continued within the building including help desk activities.
Health and safety: Facility management team is responsible to monitor and control safety of the people and buildings. If they face any failure in their work, it leads to dissatisfaction and public related issues.
Fire safety: Facility management department is supposed to face more risks and dangers to lives of inhabitants. FM team has to take care of all fire safety equipment and keep their records up to date.
Security: FM team is also responsible to provide security for its own organization specifically for hardware maintenance.
Maintenance, testing and inspections: FM team is required to maintain a schedule for its various tasks so that risk could be minimized and major objectives could be achieved.
Contracts: The facilities management team is also responsible to revise their contract they have done with third party service providers.
Commercial property management: FM team also manage property ownership and contracts.
Business continuity planning: The facilities management team also looks after the organization in case of   moving the business to retrieval site.
Conclusion and Recommendations
Facility management is an emerging and demanding business area, which has major objective to facilitate core business of an organization. It is significantly important for an organization to provide enough information to its clients about facilities. Basically an organization can get extensive benefits by implementing an effective facility management strategy. The client organization considered in this report has a facility management strategy which seems to work on an abstract level. A detailed FM strategy is suggested according to the needs of the client organization. This strategy needs support of the facility management team.  Moreover, building maintenance and energy management   plays a significant role within a FM plan. A successful outcome could be achieved by collaboration of both FM strategy and FM team. Following are some recommendations derived from the FM investigation and client organization could adopt it to bring improvement in their core business.
Client organization should follow a well organised and extended FM strategy
Current FM strategy of client organization is not very detailed so it needs to  be more comprehensive integration of best practices
Facility manager is an imperative part of FM process. Client organization has very large business so they need to develop a team for FM because single person cannot handle a long list of FM tasks.
Client organization needs to plan about building maintenance strategy. In current situation they have very abstract planning for maintenance.
Energy consumption is very important issue in high-rise residential buildings.  A well-defined energy management plan could add great cost benefits for the client organization.
References
Al-Tamimi, N. and Fadzil, S. (2012). Energy-efficient envelope design for high-rise residential buildings in Malaysia. Architectural Science Review, 55(2), pp.119-127.
Good practice guide on facilities management (1998). Property Management, 16(1).
Alexander, K (2003) A strategy for facilities management, Facilities, Vol. 21, No. 11/12, pp. 269-274
Alexander, K. (1996) (Eds) Facilities Management: Theory and Practice, E & FN Spon, London
Atkin, B & Brooks, A (2009) Total facilities management, 3rd Edition, Blackwell Publishing Ltd, Oxford
Barrett, P.S & Baldry, D (2003) Facilities management: towards best practice, 2nd edition, Blackwell Publishing Ltd, Oxford.
Barret, P. and Finch, E. Facilities Management: The Dynamics of Excellence, 3rd Edition, Blackwell Publishing Ltd, Oxford
British Standards Institution (2010). BS 11000-1:2010 Collaborative Business Relationships - Part 1: A Framework Specification. London, British Standards Instuitute
Ellram, L. M. (1995). "A Managerial Guideline For The Development And Implementation Of Purchasing Partnerships." Journal Of Supply Chain Management, 31(2), 9-16.
Horner, R., El‐Haram, M. and Munns, A. (1997). Building maintenance strategy: a new management approach. Journal of Quality in Maintenance Engineering, 3(4), pp.273-280.
Huang, Z. and Cai, S. (2005). Developing Medium and Small Technological Enterprises in China. International Journal of Enterprise Information Systems, 1(4), pp.20-38.
Johnson, J. L. (1999). "Strategic Integration In Industrial Distribution Channels: Managing The Interfirm Relationship As A Strategic Asset." Journal Of The Academy Of Marketing Science, 27(1), 4.
Kadefors, A., And Bröchner, J. (2004). "Building Users, Owners And Service Providers: New Relations And Their Effects." Facilities, 22(11/12), 278-283.
Kaya, S, Heywood, C.A, Arge, K, Brawn, G, Alexander, K (2004) Raising facilities management's profile in organisations: developing a world-class framework, Journal of Facilities Management, Vol. 3, No. 1, pp. 65-82
Lambert, D. M., And Knemeyer, A. M. (2004). "We're In This Together." Harvard Business Review, 82(12), 114-124.
Lee, H. and Scott, D. (2009). Overview of maintenance strategy, acceptable maintenance standard and resources from a building maintenance operation perspective. J Build Apprais, 4(4), pp.269-278.
Loosemore, M., And Hsin, Y. (2001). "Customer-Focused Benchmarking For Facilities Management." Facilities, 19(13/14), 464-476.
Mallen, C. and Chard, C. (2012). "What could be" in Canadian sport facility environmental sustainability. Sport Management Review, 15(2), pp.230-243.
Macbeth, D. K. (1994). "The Role Of Purchasing In A Partnering Relationship." Journal Of Purchasing And Supply Management, 1(1), 19-25.
McLennan, P (2004) Service operations management as a conceptual framework for facility management, Facilities, Vol. 22, No. 13/14, pp. 344-348
Noor, M., And Pitt, M. (2009). "A Critical Review On Innovation In Facilities Management Service Delivery." Facilities, 27(5/6), 211-228.
Pitt, M & Hinks, J.(2001) Operating and managing the FM:PM interface, Facilities, Vol. 19, No. 7/8, pp. 304-308
Price, I (2004) Business critical FM, Facilities, Vol. 22, No.13/14, pp. 343-358
Shah, S (2007) Sustainable practice for the facilities manager, Blackwell Publishing Ltd, Oxford
Tay, L & Ooi, J.T.L (2001) Facilities management: a "Jack of all trades"?, Facilities, Vol. 19, No. 10, pp. 357-362
The Social Responsibility Research Network. (2012). Social Responsibility Journal, 8(1).
Tucker, M and Pitt, M (2008) Performance measurement in facilities management: driving innovation?, Property Management, Vol. 26, No. 4, pp. 241-254
Tucker, M and Pitt, M (2009) Customer performance measurement in facilities management: a strategic approach, International Journal of Productivity and Performance Management, Vol. 58, No. 5/6, pp. 407-422
Wiggins J.M (2014) Facilities Manager's Desk Reference, Wiley Blackwell, Oxford
Wood, B. (2009) Building Maintenance, Wiley Blackwell, Oxford
Wordsworth, P. (2000) Lee's Building Maintenance Management, Blackwell Publishing Ltd, Oxford
Waheed, Z and Fernie, S (2009) Knowledge based facilities management, Facilities, Vol. 27, No. 7/8, pp. 258-266
Yiu, C.Y (2008) A conceptual link among facilities management, strategic management and project management, Facilities, Vol. 26, No. 13/14, pp. 501-511
Zawawi, E., Kamaruzzaman, S., Ithnin, Z. and Zulkarnain, S. (2011). A Conceptual Framework for Describing CSF of Building Maintenance Management. Procedia Engineering, 20, pp.110-117.