INTRODUCTION
Digital technology has opened opportunities for diverse and creative strategies to solve instructional challenges and provide solutions for growing learning infrastructure requirements. In the last decade, the rise of social media sites and the emergence of electronic tools have been observed to connect the global social environment. The researchers have also studied the possible effect on the learning process that has not been investigated earlier. The comparison between Facebook App and Edmodo App has been selected in this assignment. 
This literature will concentrate on the different ways Facebook App and Edmodo App will improve the learning process. It demonstrates the integration of the Facebook App and Edmodo into a framework of learning, which is the subject of this study. It is a critical precondition in a modern setting to use social media for learning. It is aimed to understand how Facebook and Edmodo can strengthen the learning process, it's necessary to start with a simple understanding of what Facebook and Edmodo serve.
Facebook can be described as an online forum where users create accounts, produce and exchange information and material, and connect with other people who are known and unknown to them. (Boyd and Ellison, 2007). In the last few years, Facebook has undergone massive growth, leading to mainstream adoption by people of all classes. Facebook currently has over 700 million subscribers and recorded a 45.2 percent average growth (Inside Facebook platinum, June 2011). 
Edmodo is a free, encrypted version of a virtual learning environment that is designed to help students and teachers communicate and interact outside of the classroom time. The app is like Facebook in several respects because it enables teachers to create closed groups and sub-groups to work on various issues at the same time according to the skills of the students, to exchange connections, and to discuss. Besides, surveys, warnings, quizzes, and homework can be set, files with grammar sheets or reading materials can be added to the students' library for access at any time, while posts can be sorted by various parameters, all of which make Edmodo an excellent resource to explore and implement in EFL. E-portfolios of writing, speaking, and listening inputs, which the instructor would otherwise have very trouble assessing in real-time, can be submitted to the website and lead to a better, more objective assessment process.
However, Edmodo has been developed a bit differently from Facebook has a stable, private learning atmosphere. This has created an easy method for lecturers to build and sustain an online classroom environment and allow students to communicate with their peers collaboratively anywhere and at any time. Edmodo also offers lecturers the ability to create small groups in the virtual class. Students may connect with others around the world from their mobile phones or laptop using Edmodo. Students can also exchange material, send homework, assignments, and quizzes, receive reviews, notes, and warnings from their teachers, and vote in the polls (Jarc, 2010). Hence, Edmodo can be seen as a Learning Management System (LMS) that allows teachers to easily develop and manage their online classes (Witherspoon, 2011).
Edmodo makes the educational experience available from anywhere at any time to both lecturers and learners, and even to parents. The cycle starts with the instructor opening a course about the program. When learners enter their course code, it is then made available. Learners can perform the tasks assigned to them and communicate with their lecturer in several ways, using the basic features of the application. Edmodo can be used in education in two ways: (a) implementing the entire course online through Edmodo, and (b) promoting a face-to-face course through Edmodo (Durak et al., 2014). One may say that Edmodo provides LMS and SNS with an alternative educational environment. In other words, if Edmodo is preferred to run a course, then LMS and SNS will not be required.
Facebook App
Purpose and Target Audience
The Facebook app provides a wealth of knowledge, information, and feedback on services that influence the attitude of the users. The Facebook App is used as a tool for strengthening the education sector and improving the teaching and learning experience of lecturers and students respectively. The Facebook App offers the ability to discover information nationally and shows valuable academic knowledge for the students. Mostly used to facilitate teaching and learning, it enables organizations to integrate their pages with other applications to extend their functionality and evaluate the user presence and help the news stream which implicitly invites their page fan mates. Through a mobile application, students can browse information at any location and receive information/warnings within seconds. The Facebook App can be downloaded from any smartphone and android Google.
Functionality
Notification of Information
An app for sensitive learning can watch your operations and remind you that you must complete a course or that you have not opened an app for a day or two. This makes it easier for users to get inspired by revealing how lazy they have recently been.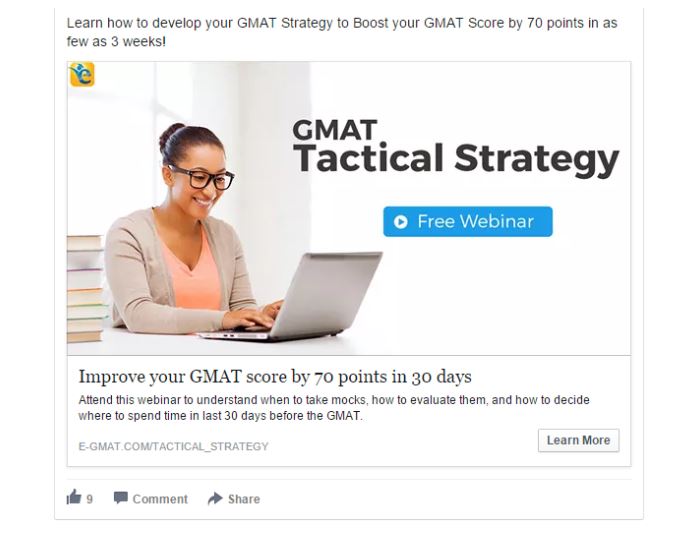 User Experience
The simple and interactive UI design of the Facebook mobile app allows users to access the application easily. Facebook mobile has a user-friendly user interface that allows people to access the app easily without any prior knowledge or training. Moreover, Facebook offers connectivity options with different social media platforms as well (Arthur, 2014). Users can connect their messenger with Facebook and share the post privately with each other in messages. Facebook has organized all its features and elements in a structured manner that helps the user to easily find the desired function and use it without going into depth which makes the usability of the app easier for people that are less technology savvy (Sullivan, 2012). The easily accessible and structured design of Facebook can help students to easily use the app for educational purposes without any prior timing because all content on the app is in simple and Basic English language. 
Added value for User
The Facebook application itself is the complete package that offers different options and features that have changed the way people carry out their tasks. Facebook has different groups made by a user that serves a different purpose such as job placement group, cooking, education, discussion forums, and entertainment groups (Sullivan, 2012). Students can join the educational groups on Facebook that can help them to learn new things and keep them updated. Moreover, teachers can create their classroom group on Facebook and add all students in that group where all students and teachers can interact with each other beside the classroom.
Problems with Facebook App
Facebook is a globally and extensively used social media app having 2.5 billion active users worldwide and the number of users keeps increasing with time (Statista, 2020). On Facebook, not all accounts are genuine and authentic. There are millions of fake accounts on Facebook having fake ids and profiles. In 2019 Facebook deleted 1700 fake million accounts (Statista, 2019). This is the major problem on Facebook that people have to beware of fake profiles and scammers because they can threaten the user's privacy such as their pictures and personal information. Moreover, students and children are less familiarise with these scams therefore they can easily be targeted by fake accounts.
EDMODO APP
Purpose and Target Audience
The Edmodo App provides useful information and reviews on the education environment, it is designed to support face-to-face learning and teaching. The Edmodo app displays information and helps students to access relevant materials. Lecturers and students can share content, and submit coursework, quizzes, and assignments through the Edmodo platform.
This platform was designed to enhance the performance of students and connect them to their lecturers and peers outside the lecture hall. These features support learning and communication between lecturers and students even when they are away from campus. As for the lecturers, the students can get the statistics of the assessment immediately reducing the time taken if they had to calculate it manually.
This mobile app aims to help users in teaching, learning, and accessing relevant information related to their courses. This mobile application enables students and lecturers to retrieve and receive information at any location within a short time. The Edmodo App is purposely designed for teachers and students (educational purposes).
Functionality
The Edmodo program enables teachers and learners to access their learning and teaching materials, anyway anywhere. Lecturers and students can communicate in a safe atmosphere of social learning. Instructors can set up groups within the course to represent each course and smaller groups for team activities and task completion. Edmodo App is also designed to notify its users of new updates and information which can be used in the coursework. 

Online learning sites are tools for the teaching, assessment, and communication of students. Virtual and hybrid courses are available on numerous platforms. The most commonly used systems among these are Blackboard and Moodle while other systems are used in education (Machado & Tao, 2007).
Learning materials provide valuable opportunities for learners to plan an educational trip ahead of the event and to improve learning after the event. Gennaro noted that pre-visiting educational materials could increase the impact of a field of an educational trip. Therefore, successful education practice should have enough learning opportunities. Also, learning resources are very important for research-based learning, discussion, and extended reading after the field trip.  The implementation of these activities can greatly enhance learning in the field of an educational trip. Edmodo's learning resources include eBooks, images, and videos. Edmodo enhances lectures-students engagement off-campus.