Facebook App
Purpose and Target Audience
The Facebook app provides a wealth of knowledge, information, and feedback on services that influence the attitude of the users. The Facebook App is used as a tool for strengthening the education sector and improving the teaching and learning experience of lecturers and students respectively. The Facebook App offers the ability to discover information nationally and shows valuable academic knowledge for the students. Mostly used to facilitate teaching and learning, it enables organizations to integrate their pages with other applications to extend their functionality and evaluate the user presence and help the news stream which implicitly invites their page fan mates. Through a mobile application, students can browse information at any location and receive information/warnings within seconds. The Facebook App can be downloaded from any smartphone and android Google.
Functionality
Notification of Information
An app for sensitive learning can watch your operations and remind you that you must complete a course or that you have not opened an app for a day or two. This makes it easier for users to get inspired by revealing how lazy they have recently been.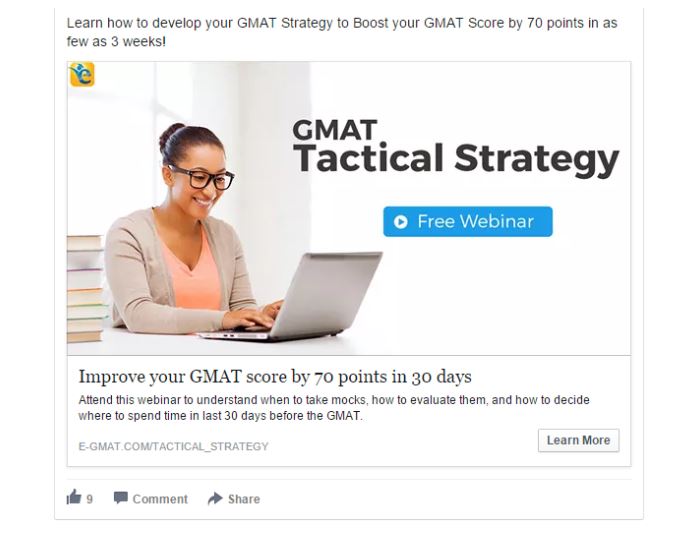 Design Principles
Facebook app has a highly simple and well-structured user interface that makes the design of Facebook aesthetically pleasing and attractive (Bedjaoui et al, 2018). Facebook mobile app and web app both consist of a blue and white color theme front end design that makes the design of Facebook simple (Dredge, 2014). The home screen of the Facebook mobile app consists of different features such as a search bar at the top of the screen, a messenger icon, a hamburger-style navigation bar, a notification icon, a watch video, a status bar, a live chat option, and stories. Facebook keeps updating its front-end design after every certain period to make them more useful (Cnet, 2019). The navigation bar in the right corner further offers different menu options such as saved posts, settings, events pages, user support, and logout. The simple design of the Facebook mobile app can help students to easily search for the relevant educational content using the search bar on the top as shown in the figure below and students can share their thoughts, educational content, and ideas with fellow students by uploading them on status. Every post on Facebook is designed with three buttons below it there is like, comment, and share which allows users to interact with each other under the post.
User Experience
The simple and interactive UI design of the Facebook mobile app allows users to access the application easily. Facebook mobile has a user-friendly user interface that allows people to access the app easily without any prior knowledge or training. Moreover, Facebook offers connectivity options with different social media platforms as well (Arthur, 2014). Users can connect their messenger with Facebook and share the post privately with each other in messages. Facebook has organized all its features and elements in a structured manner that helps the user to easily find the desired function and use it without going into depth which makes the usability of the app easier for people that are less technology savvy (Sullivan, 2012). The easily accessible and structured design of Facebook can help students to easily use the app for educational purposes without any prior timing because all content on the app is in simple and Basic English language. 
Added value for User
The Facebook application itself is the complete package that offers different options and features that have changed the way people carry out their tasks. Facebook has different groups made by a user that serves a different purpose such as job placement group, cooking, education, discussion forums, and entertainment groups (Sullivan, 2012). Students can join the educational groups on Facebook that can help them to learn new things and keep them updated. Moreover, teachers can create their classroom group on Facebook and add all students in that group where all students and teachers can interact with each other beside the classroom.
Problems with Facebook App
Facebook is a globally and extensively used social media app having 2.5 billion active users worldwide and the number of users keeps increasing with time (Statista, 2020). On Facebook, not all accounts are genuine and authentic. There are millions of fake accounts on Facebook having fake ids and profiles. In 2019 Facebook deleted 1700 fake million accounts (Statista, 2019). This is the major problem on Facebook that people have to beware of fake profiles and scammers because they can threaten the user's privacy such as their pictures and personal information. Moreover, students and children are less familiarise with these scams therefore they can easily be targeted by fake accounts.
EDMODO APP
Purpose and Target Audience
The Edmodo App provides useful information and reviews on the education environment, it is designed to support face-to-face learning and teaching. The Edmodo app displays information and helps students to access relevant materials. Lecturers and students can share content, and submit coursework, quizzes, and assignments through the Edmodo platform.
This platform was designed to enhance the performance of students and connect them to their lecturers and peers outside the lecture hall. These features support learning and communication between lecturers and students even when they are away from campus. As for the lecturers, the students can get the statistics of the assessment immediately reducing the time taken if they had to calculate it manually.
This mobile app aims to help users in teaching, learning, and accessing relevant information related to their courses. This mobile application enables students and lecturers to retrieve and receive information at any location within a short time. The Edmodo App is purposely designed for teachers and students (educational purposes).
Functionality
The Edmodo program enables teachers and learners to access their learning and teaching materials, anyway anywhere. Lecturers and students can communicate in a safe atmosphere of social learning. Instructors can set up groups within the course to represent each course and smaller groups for team activities and task completion. Edmodo App is also designed to notify its users of new updates and information which can be used in the coursework. 

Online learning sites are tools for the teaching, assessment, and communication of students. Virtual and hybrid courses are available on numerous platforms. The most commonly used systems among these are Blackboard and Moodle while other systems are used in education (Machado & Tao, 2007).
Learning materials provide valuable opportunities for learners to plan an educational trip ahead of the event and to improve learning after the event. Gennaro noted that pre-visiting educational materials could increase the impact of a field of an educational trip. Therefore, successful education practice should have enough learning opportunities. Also, learning resources are very important for research-based learning, discussion, and extended reading after the field trip.  The implementation of these activities can greatly enhance learning in the field of an educational trip. Edmodo's learning resources include eBooks, images, and videos. Edmodo enhances lectures-students engagement off-campus.