Chapter 6; Sustainable Tectonic Design
Once done with this first initial part, the next focus was design exploration. The design exploration is precede the making. They have their own complexities and subdivisions but the design is demonstrated in an animations which has a principle of branching and complex layer systems
6.1 Fractal Geometry, Lindenmayer System and DLA System
The use of L-system (Aristid Lindenmayer, 1925-1989) repetition allows the definition of complex shapes. These uses of mathematical language is checked against the rules of the first string and are evaluated on several occasions, and are used to generate the geometry of the results. The results of each evaluation gives the illusion of growth, which will be the basis for the next iteration of the geometry.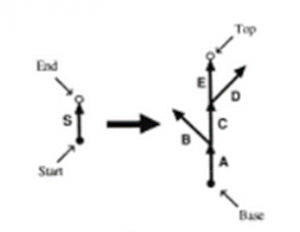 Figure 36Diagram depicting the general principle of L-system (source: Oliver Tessmann, 2008)
L-system rules (Figure 38) which imitate the branching pattern of self-similarity and the natural world order, are recursive in nature, leading to a fractal quality. They grow and form gradually, increasing in recursion to greater levels of complexity. Similar to these rules, in organisms DNA determines the underlying structure of biological growth. This growth, to provide a very compact description of the complex surface, is based on the principle of self-similarity. (Rohini Devasher, 2011)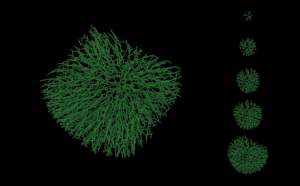 Figure 37 Coral linearity system, Liu Chang, 2015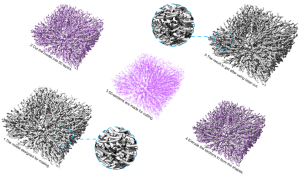 Figure 38 Digital cluster aggregation modelling of moss growth on tree bark, (Micheal Yang, 2015)

Figure 39 Simulation sequences of moss using Houdini's L-System from Youtube, 2011
Moss has no compass; simply thriving where moisture is available. Any circumstance where adequate water is provided to its bas will foster moss growth, whether it's a trunk or a lean tree branch. 
Mathematicians and scientists are trying to incorporate mathematical functions and formulae to achieve or at least imitate the most important mechanical and structural features of trees. Concepts involved in the process are still under development and revision.

Figure 40 Digital cluster aggregation modeling of moss growth on tree bark, (Micheal Yang, 2015)
"Diffusion-limited aggregation" is a model first proposed by Witten and Sander (Witten, 1981). This model is an ideal of the process in which matter randomly combines to form structures, such as crystal formation, bacteria growth and plant growth.
When particles in a diffusion-limited aggregation reach a certain distance from a fixed point, they cause movement to stop through the mechanism of a random walk. These connections feature many natural growth patterns with great connection density, the anchor points resemble the branches of an organization. This version includes the possibility of establishing a series of curved contour entry forms, like in Figure 41.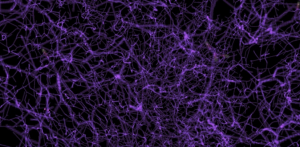 Figure 41 This fascinating pattern is an example of Diffusion-limited Aggregation in 3D created by Chang Liu, 2015.
The DLA algorithm itself is very simple; the primary computational challenge is the number of particles. As the number of particles increases, the proximity of the particles to one another decreases to fixed points, slowing the execution of the algorithm. Dealing with this problem, by limiting the positions of the particle at the connection points on the same grid dimension, is critical. At the same time, the DLA algorithm is added to the list of anchoring particles, is stored in a two dimensional matrix at the point on the grid position. This only means that position 8 is required to be tested, but the algorithm requires great flexibility (Klaus, 1996).
Structural optimization serves to create an authorization structure for access through the internal voids, tree bark for spores of moss arranged around the surface. It is this interstitial space where spores spread in order to strengthen the interaction. The vital point in moss's growth separation is the living cycle. In other words, parts of the moss structure are dead due to unfavorable environmental factors interrupting growth during the creep, and then they are in order to grow steadily along to the little valley on surface again. However, not all of these disparate colonies are connected, as the spores that moss generates are dispersed and attach to random, water-rich surfaces. Based on this theory, designs capable of sustaining the vitality of moss require higher humidity.
6.2 How Scaffold Drives to Sustainable Growth of Moss by new biomaterial
Not only the pH, but other parameters that play a role in simulation of material such as permeability and surface roughness have to be controlled and modified to create a perfect biological concrete. A layered element is created that considers the structural, functional as well as aesthetic requirements. The three layers of biological concrete are the structural, waterproof and ecosystem layer. These layers have their own specific purposes i.e. providing structural support, preventing seepage of water and foster an environment for the mosses to grow.
The Biological Layer: This layer fortifies the growth and colonization of microorganisms by trapping moisture inside. It acts as a complex intermediate microstructure that preserves and expels moisture from environment. The water is main source of life for the microorganisms.  A disjoined coating layer which serves as a converse waterproof layer is needed to retain moisture within. This layer allows the water to enter but does not allow it to leave; consequently, the flow of water is unidirectional which is utilized for the biological growth.
Keeping in view the environmental needs, biological layer has the capacity to trap solar radiations in order to regulate the thermal conditions inside the building. This, of course, is made possible depending on the difference between inside and outside temperature variability. Biological concrete has a number of benefits; it acts as an insulator for the building from extreme environment, it serves as a thermal regulator that not only saves energy but also helps in maintenance, it also increases the aesthetic beauty of the building. The overall exterior look is greatly enhanced by the 'living' painting drawn on it. The surface does not need painting and color to be covered with. It can further be used in gardens and commercial as well as public buildings where the structure is to be blended with landscape or simply for decorative purposes.
6.2.1 Experiment with an Organic Bio cement, Hyper tufa
Tufa rock is layered with biological cement by hand to preserve its perfect surface details. The rock covered with rich green moss gives a very pleasant view to rock environment. Tufa now serves a great deal to increase the fertility, productivity and erosion-prevention of soil. The most important characteristic of Tufa is its ability to soak up water and hold it just like a sponge. This ability comes in great use when the rock is placed near a water source or a place where water seeps in slowly and gradually. Its porous structure claims excellent drainage and airing which means the important minerals can also be trapped well inside and deposited around the pores. High porosity is deemed a good quality for this cement (English Tufa Rock, 2013).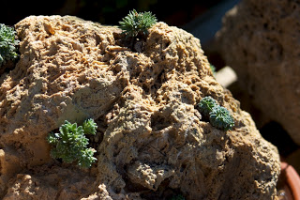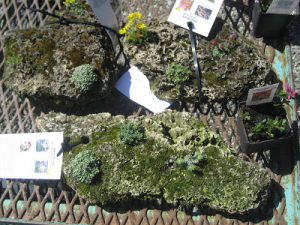 Figure 42 Tufa rock from Kew Garden in Richmond, Ahn Chae Ah, 2015
Structurally, Tufa rocks are up to 60% porous which gives them the property of light weightiness. This characteristic of Tufa rocks helps immensely in creating structures and arrangements. This also ensures a healthy amount of moisture retaining property even after a dry spell. This property is beneficial for plans residing inside the Tufa rocks whose roots can easily penetrate and tangle in the porous structure, absorbing calcium for healthy growth.
Plants are uniformly cooled down and kept moist by gradual evaporation. Plants continue to grow healthy even in hot and dry weather because of the moisture in Tufa rocks. Roots are not distressed because surface of rock is always on an optimum temperature and hence overall growth of plant is seen to be strong and flourishing.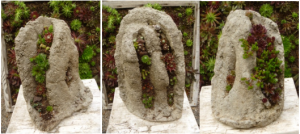 Figure 43 Hypertufa where plants can grow on, 2015
Hypertufa Tufa rock substitute. Hypertufa is different with tufa. It is a cement-based imitation used to create troughs and other lightweight containers; authentic tufa is a calcium carbonate mineral precipitate that occurs around lime rich bodies of water. This rock is made up of sponge cells and most commonly exists in countries abundant in limestone. This means that water is responsible for underground wearing and tearing of rocks, resulting in porous and spongy structures from original material.
Combination of Portland cement with elements such as peat moss, perlite, sand or vermiculite and water results in hyper tufa. This is an advanced and modified form of tufa having additional properties such as waterproof and temperature wearing/ tearing resistant. The end result of hyper tufa depends on the ingredients and their proportions. Hyper Tufa supporting plant lives are meant to be denser and stronger for plants to grow within.
Changing ratios can greatly affect the characteristics of hyper tufa. A common example is the creation of hyper tufa that can absorb and store water and nutrients has a ratio of 3:3:3:2 (peat moss: material: cement: water), here peat moss is increased to get the desired hyper tufa.

Figure 44 Hypertufa creation: base materials are peat moss, Portland cement (pure cement) and water.Mixed with perlite (right), mixed with 80 years old mortar (middle), and mixed with sandstone powder (right)
All the ingredients are combined and mixed well with water and left for 5 to 10 minutes for the mixture to rest. This is because peat moss takes some time to settle and absorb necessary water as compared to Portland cement. Sitting time of mixture is also quite important to get the desire results (Hypertufa Instructions, 2015).
A hypertufa made of slightly different proportions is required for joining two pieces together. By mixing sand stone powder from Perlite and mortar, bonding glue can be prepared for this task. The purpose is to give weight to hypertufa, making it sustainable and long lasting. Also use water with the bonding agent.
The use of mineral salt is recommended for plants in fissures as it works well in droughts and dry spells for the plant's survival. Moisture from the bottom layers of soil is retained in warm weather. We know that the structure must be well hydrated and well as strong. Increasing the quantity of peat moss can be harmful because then the hypertufa becomes structurally weak and will break when wet. Hypertufa fissure planters need to be well hydrated for survival.
Conclude this experiment on one excellent quality of hypertufa; it hardens when in contact with air. This soft voltaic rock can thus play an important role as a building material. It can stay soft during construction and then hard, increasing the resilience and stability of building.
It is also excellent for supply nutrients, when mixed with peat moss and has a high porosity to grow moss on the surface. However, the purpose of research is not to make a new material which gives nutrients to moss. Production of adequate conditions in Bio-cement or Bio-concrete for moss to grow will be need for further study. Hypertufa is different with Bio-cement. Biocement, a material still being developed, is a combination of sand, cement and crushed limestone aggregate or other cement element materials with water.
6.2.2 Production of a New Biomaterial: Tests with a Range of Ingredient of Materials, and its Porosity and pH Level
There is two ways to achieve to produce an ideal bio-concrete's porous by material itself and structural matter. This is a crucial to test with porosity by mixture of material itself. If it is possible to control the porous by material, it is also possible to have some problems with hardness and pH level of new bio-concrete.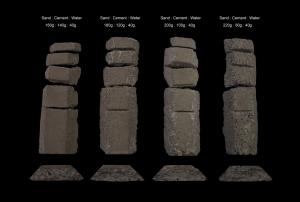 Test 1. Mixture test with pure cement and pure sand with water.
Based on the mixture details, the one with 20g amount of water is the ideal type to have further experiment with moss because the only problem was low porous, high pH level and high strength.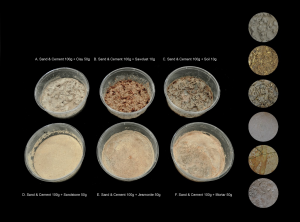 Test 2. Initial bio-cement ingredients tests with a range of materials with replacing premixed sand and cement 
Replacing premixed product of sand and cement from pure cement (Portland Cement) which has pH 10. This product has blended with six different type of materials: clay, sawdust soil, bits of sandstone, jesmonite and mortar.
The powder of sand stones and mortar has after the friction. Premixed sand and cement is the main material to bind other materials, and each of mixture has blended with 40g of water. Finally, these petri-dishes are put on a shaker for 20 minutes to guarantee that it is mixed evenly.
It is expected to have hardness difference among to the different groups
As a result of this, sandstone powder (pH 7) and 80 years old mortar (pH 6) are the ideal to use because it has perfect porous, neutral pH level and hardness.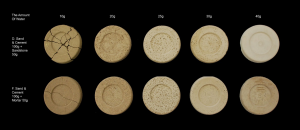 Test 3. Experiments according to the amount of water changes
Group of D and F, which have an enough firmness and low pH level, are taken as the material to have further research. In order to achieve perfect porosity, limited water should utlised in the mixing procedure. These five groups with different water ratio between 10g to 40g are tested and compared.
The 20g amount of water (above Figure). As a result of test with a range of water, it has high porosity visually when the water ratio becomes low.
The porous test should need to rather than only visual conclusion.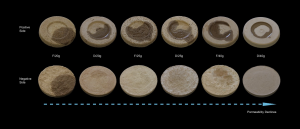 Test 4. Permeability test with sandstone powder based concrete
The moss has been growing on actual sandstones in the site, London Kew Gardens. This is why it has been chosen to experiment with sandstone. Moreover, after doing a series of test with materials, the sandstones have an excellent pervious, porosity, and neutral pH level. Using Portland cement results in a quick and hard hypertufa whereas mortar instead of Portland gives a less strong hypertufa can easily break because it is not rock solid.
There has an issue with the 80 years old mortar. The collection of mortar was from private home garden. It was hard to collect as much as needed and same old mortar was used for further experiment because recent mortar is more alkalized which is around pH10-11.
In this stage of experiment, permeable test must need to maintain water when there is no water in environment; water can drip down through the concrete having microscopic pores. The syringe is used to pour 4ml of water on the surface of each concrete piece. It takes same time and amount of water on each of the piece. Time of 30 seconds was given for water to settle and absorbed by concrete and photographs are taken to compare their permeability. As a result, concrete F/20g has the most reliable permeability, which also indicates that it has the highest porosity. However, these pieces have a problem with pH level. It is too alkali to grow moss (pH 10)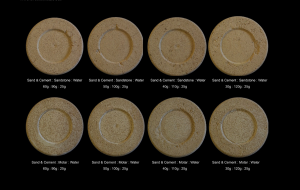 Test 5: Control the proportion of premixed sand and cement.