Research Limitations
Considering the methodology of this research, it can be identified that the main limitation of the current research is that not all the industries in Nigeria could be targeted for this research whereas not all the underdeveloped countries are being targeted. This means that the study is limited to a specific country and industry. The study had other limitations that are based on the scope of conducting research. That is the current studies do not provide broad data that could help in broadening the scope of their research.
Research timeline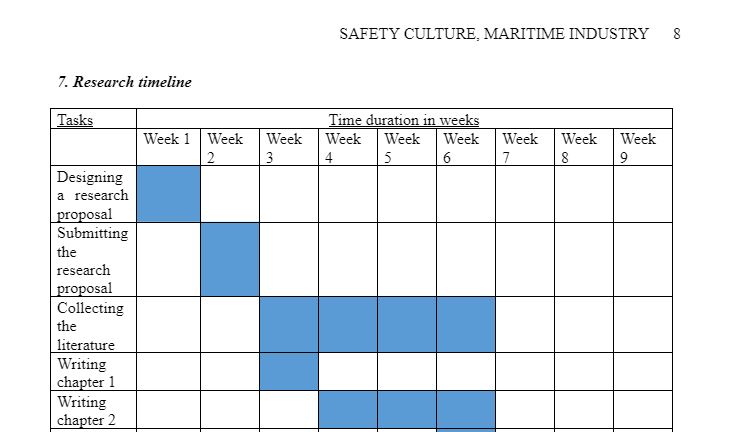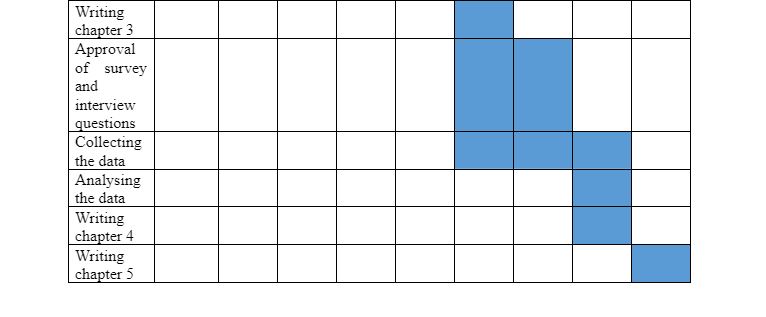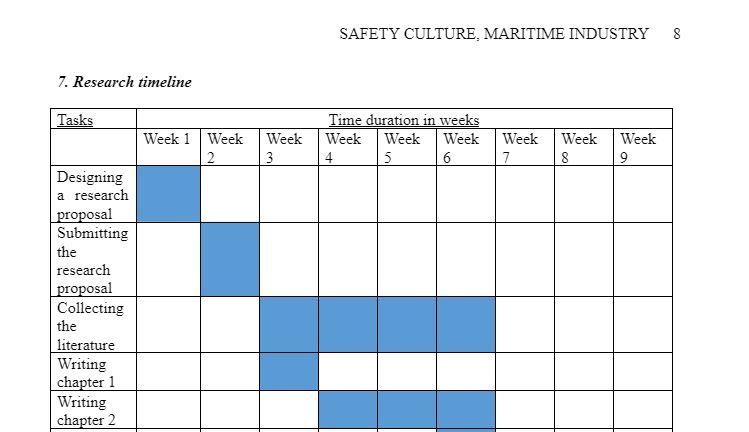 References
Abeysiriwardhane, A., Lützhöft, M., Petersen, E.S. and Enshaei, H., 2016. Human-centred design knowledge into maritime engineering education; theoretical framework. Australasian Journal of Engineering Education, 21(2), pp.49-60.
Alston, M. and Bowles, W., 2018. Research for social workers: An introduction to methods. Aotearoa New Zealand Social Work, 30(3), pp.96-97.
Altinpinar, I. and Basar, E., 2018. Comparison of the safety cultures of Turkish aviation and maritime transportation workers. International journal of occupational safety and ergonomics, pp.1-10.
Bullock, R., Little, M. and Millham, S., 2017. The relationships between quantitative and qualitative approaches in social policy research. In Mixing methods: qualitative and quantitative research (pp. 81-99). Routledge.
Dyson, T., 2019. The military as a learning organisation: establishing the fundamentals of best-practice in lessons-learned. Defence Studies, 19(2), pp.107-129.
Håvold, J.I. and Oltedal, H.A., 2018. Culture and maritime safety. In Managing Maritime Safety (pp. 53-70). Routledge.
Hiekkataipale, M.M. and Lämsä, A.M., 2019. (A) Moral Agents in Organisations? The Significance of Ethical Organisation Culture for Middle Managers' Exercise of Moral Agency in Ethical Problems. Journal of Business Ethics, 155(1), pp.147-161.
Hughes, J.A. and Sharrock, W.W., 2016. The philosophy of social research. Routledge.
Komu, M.D. and Kibe, J., 2019. EFFECTS OF ORGANIZATION CULTURE, ORGANISATION PERFORMANCE IN MANAGEMENT DECISION MAKING: A CASE STUDY OF AIRLINE 'A'IN KENYA. EFFECTS OF ORGANIZATION CULTURE, ORGANISATION PERFORMANCE IN MANAGEMENT DECISION MAKING: A CASE STUDY OF AIRLINE 'A'IN KENYA, 33(2), pp.10-10.
Nazarian, A., Atkinson, P. and Foroudi, P., 2017. Influence of national culture and balanced organizational culture on the hotel industry's performance. International Journal of Hospitality Management, 63, pp.22-32.
Ogbonna, E. and Harris, L.C., 2015. Subcultural tensions in managing organisational culture: a study of an English Premier League football organisation. Human Resource Management Journal, 25(2), pp.217-232.
Quinlan, C., Babin, B., Carr, J. and Griffin, M., 2019. Business research methods. South-Western Cengage.
Relling, T., Lützhöft, M., Ostnes, R. and Hildre, H.P., 2018, July. A human perspective on maritime autonomy. In International Conference on Augmented Cognition (pp. 350-362). Springer, Cham.
Seker, S. and Zavadskas, E., 2017. Application of fuzzy DEMATEL method for analysing occupational risks on construction sites. Sustainability, 9(11), p.2083.