Ethical Considerations
Ethical considerations are crucial to any research study. The researcher exercises ethical considerations while conducting this research. Before collecting responses from the research participants through structured/semi-structured interviews, a consent form will be designed to ensure voluntary participation from the respondents. The research participants and their respective responses are kept confidential at all times to allow their independent opinion to be reflected. The data will remain confidential in this study, and the participant information will be kept anonymous. The research participants have a choice to withdraw from the research at the time of choosing without any prior terms or conditions. Lastly, during the research, participants will be kept aware of these ethical practices and their rights, as granted by the researcher.
Review the Following: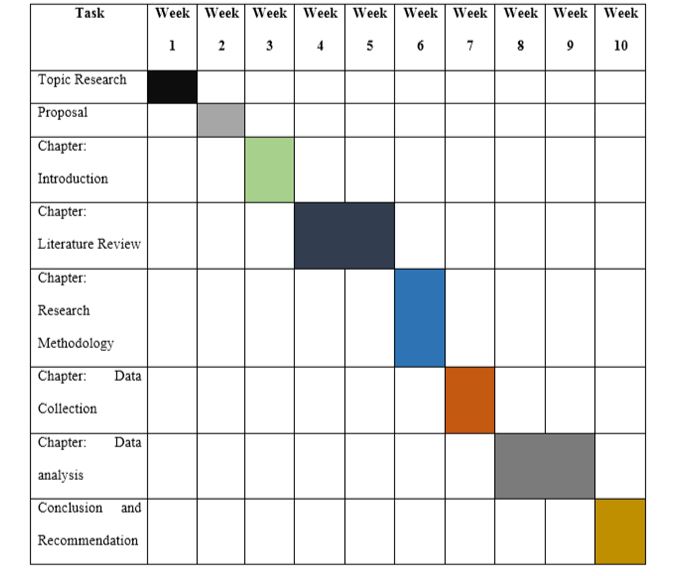 References
Alalwan, A.A., Rana, N.P., Dwivedi, Y.K. and Algharabat, R., 2017. Social media in marketing: A review and analysis of the existing literature. Telematics and Informatics, 34(7), pp.1177-1190.
Andaç, A., Akbiyuk, F. and Karkar, A., 2016. Customer satisfaction factor in digital content marketing: Isparta Province as an example. Int'l J. Soc. Sci. Stud., 4, p.124.
Ashley, C. and Tuten, T., 2015. Creative strategies in social media marketing: An exploratory study of branded social content and consumer engagement. Psychology & Marketing, 32(1), pp.15-27.
Baltes, L.P., 2015. Content marketing-the fundamental tool of digital marketing. Bulletin of the Transilvania University of Brasov. Economic Sciences. Series V, 8(2), p.111.
Chaffey, D. and Ellis-Chadwick, F., 2019. Digital marketing. Pearson UK.
Chaffey, D. and Smith, P.R., 2017. Digital marketing excellence: planning, optimizing and integrating online marketing. Taylor & Francis.
Dahl, S., 2018. Social media marketing: Theories and applications. Sage.
Dasgupta, S. and Grover, P., 2019. Impact of digital strategies on consumer decision journey: special. Academy of Marketing Studies Journal.
De Mooij, M., 2019. Consumer behavior and culture: Consequences for global marketing and advertising. SAGE Publications Limited.
Dwivedi, Y.K., Kapoor, K.K. and Chen, H., 2015. Social media marketing and advertising. The Marketing Review, 15(3), pp.289-309.
Etikan, I. and Bala, K., 2017. 'Sampling and sampling methods', Biometrics and amp; Biostatistics International Journal, 5(6), pp. 149
Felix, R., Rauschnabel, P.A. and Hinsch, C., 2017. Elements of strategic social media marketing: A holistic framework. Journal of Business Research, 70, pp.118-126.
Godey, B., Manthiou, A., Pederzoli, D., Rokka, J., Aiello, G., Donvito, R. and Singh, R., 2016. Social media marketing efforts of luxury brands: Influence on brand equity and consumer behavior. Journal of business research, 69(12), pp.5833-5841.
Gray, D. (2014). Doing research in the real world. 3rd edition. London: SAGE 
Hashemnezhad, H., 2015. Qualitative content analysis research: A review article. Journal of ELT and applied linguistics (JELTAL), 3(1), pp.54-62.
Järvinen, J. and Taiminen, H., 2016. Harnessing marketing automation for B2B content marketing. Industrial Marketing Management, 54, pp.164-175.
Järvinen, J., 2016. The use of digital analytics for measuring and optimizing digital marketing performance. Jyväskylä studies in business and economics, (170).   
Kannan, P.K., 2017. Digital marketing: A framework, review and research agenda. International Journal of Research in Marketing, 34(1), pp.22-45.
Kee, A.W.A. and Yazdanifard, R., 2015. The review of content marketing as a new trend in marketing practices. International Journal of Management, Accounting and Economics, 2(9), pp.1055-1064.
Khamis, S., Ang, L. and Welling, R., 2017. Self-branding,'micro-celebrity'and the rise of Social Media Influencers. Celebrity studies, 8(2), pp.191-208.
Kilgour, M., Sasser, S.L. and Larke, R., 2015. The social media transformation process: curating content into strategy. Corporate Communications: An International Journal, 20(3), pp.326-343.
Lampard, R. and Pole, C., 2015. Practical social investigation: Qualitative and quantitative methods in social research. Routledge
Mahalaxmi, K.R. and Ranjith, P., 2016. A Study on Impact of Digital Marketing in Customer Purchase Decision in Trichy. International Journal for Innovative Research in Science & Technology, 2(10), pp.332-338.
Murphy, M.C. and Dweck, C.S., 2016. Mindsets shape consumer behavior. Journal of Consumer Psychology, 26(1), pp.127-136.
Nizar, N.A. and Janathanan, C., Impact of digital marketing on consumer purchase behaviour.
Ott, R.L. and Longnecker, M.T., 2015. An introduction to statistical methods and data analysis. Nelson Education.
Pappas, N., 2016. Marketing strategies, perceived risks, and consumer trust in online buying behaviour. Journal of Retailing and Consumer Services, 29, pp.92-103.
Pažėraitė, A. and Gedvilaitė, R., 2016. Content marketing elements and their influence on search advertisement effectiveness: theoretical background and practical insights. Organizacijų vadyba: sisteminiai tyrimai. Kaunas: Vytauto Didžiojo universitetas, 2016,[T.] 75.
Pham, L.T.M., 2018. A Review of Key Paradigms: Positivism. Interpretivism & Critical Inquiry, School of Education, The University of Adelaide.
Rahman, M.S., 2017. The Advantages and Disadvantages of Using Qualitative and Quantitative Approaches and Methods in Language" Testing and Assessment" Research: A Literature Review. Journal of Education and Learning, 6(1), pp.102-112.
Rasool, M.G., 2015. Consumer's Behavior and Effectiveness of Social Media. Global Journal of Management and Business Research, 14(8).
Rubin, H.J. and Rubin, I.S., 2011. Qualitative interviewing: The art of hearing data. Sage.
Shaw, A., 2018. Digital marketing trends that are changing the way we market to consumers. Website] Abruf [24.01. 2019] unter: https://www. forbes. com/sites/forbescommunicationscouncil/2018/08/29/digital-marketing-trends-that-are-changing-the-way-we-market-to-consumers.
Stephen, A.T., 2016. The role of digital and social media marketing in consumer behavior. Current Opinion in Psychology, 10, pp.17-21.
Strategic Report. (2019). [online] Marks and Spencer. Available at: https://corporate.marksandspencer.com/documents/msar-2019/strategic-report.pdf [Accessed 18 Feb. 2020].
Stuhr, J.J., 2015. Pragmatism, postmodernism and the future of philosophy. Routledge.
Taufique, K.M.R., Siwar, C., Chamhuri, N. and Sarah, F.H., 2016. Integrating general environmental knowledge and eco-label knowledge in understanding ecologically conscious consumer behavior. Procedia Economics and Finance, 37, pp.39-45.
Zhu, Y.Q. and Chen, H.G., 2015. Social media and human need satisfaction: Implications for social media marketing. Business horizons, 58(3), pp.335-345.
Zohrabi, M., 2013. Mixed Method Research: Instruments, Validity, Reliability and Reporting Findings. Theory & practice in language studies, 3(2).
Interview Questions
In your opinion why do you think that digital marketing is capable of attracting customers?
As a Marketing Manager do you consider content creation and social media marketing as an operative method of communication with the consumers?
As a consumer do you get influenced by the quality of content used for marketing by the brands?
How is M&S preparing to innovate its marketing strategies to attract consumers with its social media content?
What is the specific thing that attracts you or catches your attention as a consumer which influences your buying behavior? 
What are the particular strategies which you as a Marketing Manager think are important in Digital Marketing?
Do you prefer shopping online or in physical stores?
How much influence do content marketing and social media marketing have on consumer buying behavior?
Do you prefer buying products from brands that are active on social media and produce engaging content?
Is social media marketing considered as a key factor in improving product sales and reaching consumers?