Section 2: The Narrative 
According to Capel et al. (2016) 'Assessment covers all those activities that are undertaken by teachers and others to measure the effectiveness of their teaching and the extent to which pupils have learned what they were trying to teach.' Different types of assessment are used in secondary schools, but formative and summative assessments are the two most commonly used. Every school, and the government bodies including Ofsted, place significant importance on monitoring and assessment. Accurately recording and reporting of the results is also an integral part of the assessment process and is one of the main responsibilities of a teacher. Assessment is required for three main reasons (Capel et al., 2016): 
Accountability: To make pupils and teachers accountable for their work. 
Certification: To issue statements about pupil attainment which can be used by employers and to meet the criteria of higher education institutions. 
Promoting pupil learning: The main purpose of this assessment is to promote pupils' learning. This is also known as 'assessment for learning. 
Main aim: The main aim of this assignment is how I used formative assessment and its strategies to inform my teaching and plan my lessons.
According to Black (2003) 'AFL has been defined as any assessment for which the priority is to serve the purpose of promoting students' learning'. AFL is important because the results obtained can help both the teacher and the students to improve. It also helps the teacher to identify and clarify misconceptions. 
Teachers constantly check pupils' progress and learning by gathering data about individual performance. Teachers can then adjust the lesson to suit the learner's needs. Termaine et al. (2017) assert 'assessment is a fundamental tool for uncovering learning or the lack of learning. The assessment is a waste of time if the information obtained during the assessment process is not used effectively.'  This is also supported by Capel et al. (2016) 'It is not a question of how much assessment of pupils' work you do, or even how much feedback you provide but how intelligently you use assessment to inform your future teaching, and your feedback to pupils.' 
According to Black and Wiliam (1998), 'Formative assessment helps low attainers more than the rest, and so reduces the spread of the attainment whilst also raising it overall.' I don't agree with this as during my research study formative assessment proved to be very useful for high attainers. The diagnostic test and the subsequent plenaries done as formative assessment gave me a clear idea about what I need to include in my lessons so that the lesson is suitably challenging to high attainers. 
As stated by Gardner (2012), a central feature of AFL is that students are actively supported by their teachers in taking increased responsibility for their own and one another's learning. Mini whiteboards, RAG cards, and hands up and down can be used as AFL. Black and Wiliam (1998) point out that firm evidence shows that formative assessment is an essential component of classroom work and that its development can rise standards of achievement.
Culture of Error: Lemov (2015), maintains that champion teachers create a classroom culture that embraces errors. Creating this environment was initially difficult as pupils would sometimes laugh at the incorrect answer given by their peers but I would always deal with this type of situation firmly. As a class, we agreed that we would work as a team and learn from our mistakes. I praised pupils for trying hard and learning from mistakes. I also trained the pupils in the class to be helpful to their peers by drawing the attention of everyone when a pupil starts with a mistake and the others contribute to the discussion and get the right answer. I encourage pupils to learn from each other's errors. Creating this culture helped me to effectively apply all my AFL strategies. 
Justification for choosing AFL:
Baseline Test: Before starting the study unit, it was assumed that pupils have some knowledge of fractions in KS2. So, I conducted a baseline test as a formative assessment. This gave me a clear idea of what pupils know and what they need to know. Three pupils in the class had done all the questions correctly in the baseline which made me think about my lessons again and add a challenging activity to all my lessons. The baseline test also gave me a very clear idea about the misconceptions pupils have related to fractions. After reading Lemov (2015), I realized the advantages of planning for specific errors in advance and I have included the plan for errors in my lessons.  For example, in the baseline test, pupils were multiplying mixed numbers without converting them into improper fractions, not making the denominator the same before adding the fractions, or not flipping the fraction before multiplying. I took the picture of pupils' mistakes and included them as spot the mistake activity in my lessons (Section 1, lesson plans). Pupils discussed in pairs and the groups and worked out what is the mistake and why. They then shared the idea in class. 
Example of Spot the Mistake activity:
Targeted questioning: After reading Jones (2005), I decided to use questioning throughout my six lessons in this Year 7, set 2 class as it helps to understand pupils' misconceptions. As stated by Johnston-Wilder et al. (2017), being able to ask effective questioning is a very important strength for teachers using assessment to promote learning. Questions are an important tool for finding out about pupils' prior knowledge, their learning needs, and to what extent they have understood. This kind of formative assessment is also supported by Capel et al. (2017). One of the drawbacks of using questioning is that it doesn't give the teacher the idea of the whole class's understanding. Questioning does help one to find some misconceptions pupils may have. According to Lemov (2015), the demands of reliability and validity require asking a significant number and a wide range of targeted questions to check to understand. As suggested by Johnston-Wilder et al. (2017), if the waiting time is less than a second, then pupils only have time to react, they cannot consider, reason, or think. I always allowed pupils sufficient waiting time. Pupils B and F benefited from this 'waiting' time as they were finding it difficult to construct the sentences. Questioning helped me to identify the misconceptions pupils G and H had about multiplying fractions. Questioning also helped to create a mathematical discussion in the class. 
Mini Whiteboards: Mini whiteboards are one of the effective and potent techniques for assessing students (William, 2011). I used a mini whiteboard as a formative assessment in every lesson during the study unit. The one drawback of using mini-whiteboards is that pupils sometimes copy another pupil's answer. Creating an environment of Culture for error has helped me to avoid this drawback. Also, I re-introduced the rules for mini whiteboards and ensured that pupils only put the whiteboards up on my count. I randomly asked pupils to explain their answers, which helped me to stop pupils from copying the answer. According to Lemov (2015), pupils correcting their work helps to foster an environment of accountability for the correct answer. I wrote the different answers obtained during the mini whiteboard activity on the interactive whiteboard. Pupils then identified the misconceptions by using the think, pair, and share discussion strategy.  I then asked pupils to look at each answer and we concluded which one was the right answer and why. Pupils also discussed two different methods to solve the same questions. This idea is supported by Johnston – Wilder et al., 'Using mini whiteboards can be an important tool in asking pupils to think, discuss, make mistakes and correct them'. This also helped me to see the progress of the whole class at once and adapt my teaching to meet the needs of the learners. This idea is also suggested by William (2011). For example, during the mini whiteboard in lesson 2 activity, I found that pupils A and C are struggling with problem-solving questions as they were not reading the questions, so I did some extra after-school sessions with them to develop a problem-solving approach. It is clear from the lesson evaluations that the mini whiteboard activity helped me to find pupils' misconceptions and informed my teaching (Section1, Lesson Evaluations).
Mini Plenaries:  According to Johnston-Wilder et al. (2017), mini-plenaries throughout the lesson are the only way to find out if students need more input or if they are racing through the work and are about to test their ingenuity in coming up with what to do next. The research conducted by McMillan (2012) has shown that students who are involved in regular tests as a form of formative assessment with immediate constructive feedback perform better than those who wait till the end of the unit test.  The mini plenaries used in the lessons also provided an opportunity to talk about their ideas and to consolidate the ideas for others.  I planned two mini plenaries in each lesson to check pupils' understanding. According to Black et al. (2003) 'A numerical work does not tell a student how to improve their work, so an opportunity to enhance their learning is lost.' I discussed this with my mentor and we agreed that giving feedback to pupils on the test would have a more positive impact on pupils' learning. Johnston-Wilder et al. (2017) assert, 'feedback is not the same as formative assessment and it only becomes assessment for learning when the comments given to pupils' through feedback enhance their learning.' Pupils were doing peer assessment and self-assessment in the class and I was providing the feedback in the form of 'what went well(WWW), 'even better if'(EBI), and learner response questions after the feedback. This helped me to monitor pupils' progress and identify any misconceptions pupils have. Which allowed me to adjust my teaching. For example, pupils struggled with problem-solving questions in lesson 5. I tried to adjust the teaching and applied different approaches to explain but I was not successful. I then discussed this with my mentor and she advised that questions were not scaffolded enough to meet the learner's needs. Also, I should allow more reflection time for the learners and should adjust the pace of my lesson. The AFL used in this assessment has helped me to learn how to teach problem-solving questions. 
The graph below shows pupils A's progress in plenary activities. The percentage marks were used to check the progress only and the marks were not given to pupils.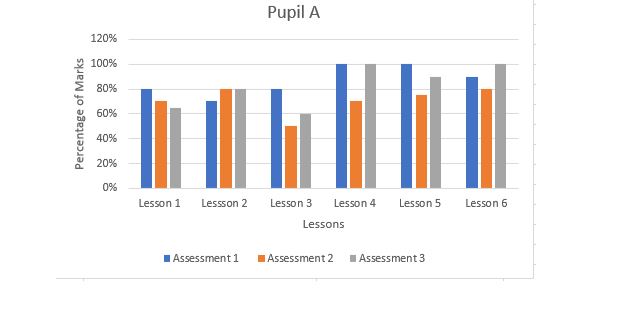 Self and Peer assessment: Pupils in this year 7 set 2 class have improved on self and peer assessment. They have started taking pride in it and put in excellent efforts. According to Johnston-Wilder et al, peer assessment is most successful for a higher set.  Black and Wiliam (1998) suggest that for self-assessment to be productive, pupils should be trained in the self-assessment so that they can understand the main purpose of their learning and thereby grasp what they need to do to achieve. It is also important that the teacher makes it clear what the assessment criteria are. Pupils were allowed to peer assess and self-assess the starter and plenary activities. They then also carried out the peer discussion on improving the quality of work. I was circulating the class and also provided feedback during the bookmarking. Peer marking also created some useful discussion among the pupils and some common misconceptions were discussed in the class. According to Johnston-Wilder et al, 'peer-assessment may help in the learning of new and more efficient strategies to tackle tasks. Within a co-operative environment, peer-assessment can help students to achieve objectivity that they can use in their work as well and, therefore, it helps to develop the essential aspects of self-assessment.' It is also important that the assessment results should be used by the teacher to inform teaching. The examples of pupils' work in the section1 clearly show that pupils in Year7 set2 class have developed this skill which then helped me to focus on the feedback during bookmarking. 
Below is an example of self-assessment, other examples are included in section 1.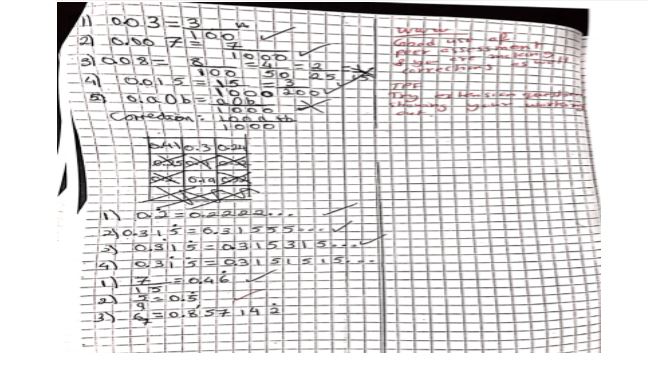 Feedback Through Marking: According to John Gardner, feedback is a central element in formative assessment.  I initially thought that marking pupils' work and giving them marks or grades was an important part of the assessment. But after reading the literature (Black and Wiliam, 1998; Boyle and Charles, 2014; Johnston-Wilder et al 2017), I realized the disadvantages of giving marks or grades to pupils' work. This is beautifully summarised by Johnston-Wilder et al. (2017) as follows, marks and grades have no place in the learning process. Grades or marks cause pupils to lose focus on improving their learning because of their effect on self-esteem. According to the Ofsted report (1996), marking is very important in the assessment process but it doesn't mean giving pupils a grade for their work. On the contrary, marking is defined as guidance to the pupils so that they can act on the feedback. Also, according to Capel et al (2017), one should beware of generalization and orthodoxies here, perhaps some pupils like receiving grades and marks for their work. This is further supported by Hodgen and Wiliams (2006); feedback should tell pupils how to improve. Instead, I now believe that it is much better to give constructive feedback while marking the books. 
I also agree with Johnston-Wilder et al (2017) that feedback is formative only when the information that the learner gains through feedback is used to improve learning. This is also by school G's book-marking policy according to which, while giving feedback, the teacher should focus on what steps pupils can take to progress further. Looking at the feedback examples (Section 1) every feedback I have given to pupils included information on how pupils can progress further. I will pick the most common error pupils are making in their work and explain this in my feedback. In some cases, it was simple as showing the working out to avoid errors. During the research study pupil, A was continuously making the same error of not doing all the steps before adding and subtracting fractions. She was not able to take my written feedback.  I, therefore, gave an extra session to pupil A, did one example, and asked her to do three more questions taking into account my feedback.
Reading from the literature has also given me a clear idea about the positive and negative impact feedback can have on pupils' learning. I have always used praise and extrinsic rewards while giving feedback and I have in the past given achievement points while giving feedback. This is however contradicted by Johnston-Wilder et al (2017), according to which it is difficult to maintain genuine and sincere praise at a sufficient level to maintain praise over time. After reading about it further Boyle and Charles (2014) also state that rewards are typically negative in their effect because they undermine a pupil's responsibility for motivating or regulating themselves. After reading the further arguments from Capel et. al (2016) and William (2011), I have concluded that it is more important to be precise in what needs to be improved and how rather than focusing on rewards or praise. 
According to Hattie and Timperley (2007), feedback is 'most powerful when it addresses faulty interpretations, not a total lack of understanding.' This gave me a clear idea about what I should include in my learner response questions or to progress further questions. 
Further, Dweck (1999), states that if the feedback includes ways in which pupils can achieve then performance rises as all students can build on this knowledge. 
Summative assessment: According to Harlen (2007), a Summative assessment is carried out to report the achievement of individual students at a particular time. The importance of using summative assessment for reporting purposes and keeping accurate records is clearly explained by Headington (2003).  It is also used to check the progress over a period. An end-of-the-unit test was used as a summative assessment. Summative assessments evaluate learning at one point in time (Black and Wiliams 1998). The graphs comparing the results of the formative and summative assessment are shown in the section1. 
According to Martin and Loomis (2013), the end-of-unit test gives a collective impression of students' achievement after the unit has been completed. I conducted the end-of-the-unit test to find out what pupils had learned and what they needed to learn. After reading Black (2003); and the conclusion that there are ways of using summative tests formatively; I planned a revision lesson that involved learner response questions to bridge the knowledge gaps. The learner response questions also involved challenging questions for those who scored 100% on the test. This was done, and, as for any assessment, to be effective it must provide information to the students on how to improve (Boyle and Charles 2014).
Conclusion and Evaluation: 
Monitoring and assessing this Year7 set2 class over six lessons have helped me to learn a range of effective assessment strategies. I have improved on providing feedback to pupils which I was struggling with before as I was not using the correct feedback strategies. The assessment strategies used helped me to identify misconceptions and informed my teaching throughout the unit. Pupils enjoyed using mini whiteboards, everyone participated in this activity and made good progress. Upon reflection, it would be better to make the plenary activities more interesting and challenging. The end-of-unit test should have included more applied questions. Also, it would have been better to separate the calculator and non-calculator questions. 
From the results of the plenary activities, it is clear that all the pupils made significant progress and their attitude to learning has improved. Pupils have gained a sound knowledge of this unit and have started taking responsibility for their learning. The culture of making mistakes and learning from them has helped with pupils' progress. Moving forward, a culture where pupils take full responsibility for their learning and learn from each other would be extremely useful for pupils' learning. The main lesson learned from this study unit is that the most important function of the assessment is to move pupils forward in their learning. 
References:
Baker, T., Evers, G. & Brock, R. (2017) Targeted teaching: Skills & strategies for Secondary Teaching. London:  Learning Matters.
Black, P.J. (2003) Assessment for learning: putting it into practice. Maidenhead: Open University Press.
Black, P. and Wiliam, D. (1998) Inside the black box: Raising standards through classroom assessment. London, GL Assessment. 
Black, P., Harrison, C., Lee, C., Marshall, B. And Wiliam, D. (2002) Working inside the black box: Assessment for learning in the mathematics classroom. London: GL Assessment.
Boyle, W.F. & Charles, M. (2014) Formative assessment for teaching & learning. 
Los Angeles: SAGE.
Capel, S., Leask, M. and Younie, S. (2016) Learning to Teach in the Secondary School: A companion to school experience, 7th edition. New York: Routledge.
Dweck, C.S.(2000) Self-theories: their role in motivation, personality, and development.  Hove: Psychology Press.
Gardner, J. (2012) Assessment and learning, 2nd edn. Los Angeles: SAGE.
Harlen, W. (2007) Assessment of Learning. London: SAGE.
Hattie, J. & Timperley, H. (2007) "The Power of Feedback", Review of Educational Research, vol. 77, no. 1, pp. 81-112.
Headington, R. (2003) Monitoring, assessment, recording, reporting and accountability: meeting the standards, 2nd edn. London: David Fulton Publishers.
Hodgen, J. And Wiliam, D. (2006) Mathematics inside the black box: Assessment for learning in the mathematics classroom. London: GL Assessment
Johnston-Wilder, S., Lee, C.S. & Pimm, D. (2017), Learning to Teach Mathematics in the Secondary School: a companion to school experience, 4th edn, London: Routledge.
Jones, C. A. (2005) Assessment for Learning. London: Learning and Skills Development Agency.
Lemov, D. (2015) Teach Like a Champion 2.0, San Francisco, CA: Jossey-Bias.
Martin, D. J. and Loomis, K. S.  (2013) Building Teachers: A constructivist Approach to Introducing Education. Belmont: Wadsworth Publishing.
McMillan, J. H.  (2012) SAGE Handbook of Research on Classroom Assessment. London: SAGE.
Ofsted, (2008) Assessment for learning: the impact of National Strategy support. Available at:  http://dera.ioe.ac.uk/9309/1/Assessment%20for%20learning%20-%20the%20impact%20of%20National%20Strategy%20support.pdf (Accessed : 9th April, 2018)
Ofsted, (1996) The Annual Report of Her Majesty's Chief Inspector of Schools. Available at: https://assets.publishing.service.gov.uk/government/uploads/system/uploads/attachment_data/file/276670/0453.pdf (Accessed: 9th April, 2018) 
William, D. (2011) Embedded Formative Assessment. Bloomington: Solution Tree Press.