Question 1(a):
 Selecting a subcontractor for a build and design project requires careful deliberation and informed decision making based on several significant factors. These include aspects such as construction cost, project schedule, subcontractor repute and experience, collaboration and communication, construction and design work quality and lastly, customer service. Selection Criteria for choosing an appropriate subcontractor should include these factors primarily to minimize project risks, ensure quality and timely project delivery with productive collaboration between project stakeholders. For this particular sports hall design and build project in Suburban London, one of the primary factors to be considered apart from project cost is the subcontractor's previous experience and recommendations in designing and constructing a similar project within the London suburbs or nearby areas.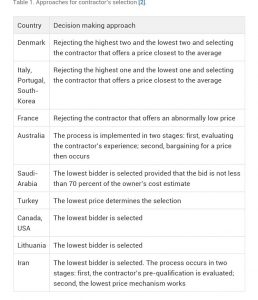 Figure 1: Subcontractor Selection (Science Direct, 2015)
 The project schedule and delivery time is another critical aspect since a positive repute or track record for on time delivery of construction projects would facilitate selection of the subcontractor. In the submitted bid, proposed timelines should be evaluated and previous record of timely delivery should be checked. A subcontractor's reputation and delivery prowess are prime aspects that manifest their reliability, capability and worthiness to take responsibility for a certain built project. Project Communications are an important factor that contribute to project success hence, a subcontractor who is adept at effective project communications with all project parties should be considered. Lastly, Customer Services, procurement method technique to be utilized (such as deign and build, management etc.) along with quality of work need to be evaluated in retrospect of the project guidelines and quality principles to select the best option.
Question 1(b):
 For the factors highlighted above, various methods can be employed to ensure selection of the best subcontractor for the London Sports Hall build and design project. The decision making process can make use of decision support systems and techniques like multi-attribute analysis (MAA),multi-criteria decision making (MCDM), bespoke approaches (BA) and multi-attribute utility theory (MAUT) for pre-qualification of the subcontractor (Science Direct, 2015). For example, the multi-criteria decision making (MCDM) entails evaluating the subcontractor based on their experience with use of technology,  management expertise relative to construction projects, familiarity with the location specifically London Suburbs for this scenario, quality of work and reputation of the subcontractor with regards to timely delivery, quality adherence and knowledge of the particular domain.
The other methods to ensure customer service, procurement approach, quality of work and competitiveness include evaluating the previous work of the subcontractor to ensure it meets the quality and other work related principles. Meeting with customers that the subcontractor has catered to in order to obtain recommendations from them which would facilitate the selection further. Reviewing the subcontractor's work policies and terms or conditions mentioned in the submitted tender also provides an insight into the feasibility of the subcontractor in being selected for the project.
Question 2(a):
 Usually contractors often have to face refused bids due to the errors and mistakes that they make while submitting tenders. The traditional contract for design and build projects, Standard Building Contract, SBC/Q2011 involves terms and conditions for procurement related to a project with defined quantities. Contractors often make errors on such types of contracts when submitting their tenders that include pricing or bidding errors, design related errors or noncompliance errors related to contract requirements. These include pricing errors where either the bid is too low or high based on inaccurate estimation or calculation errors. Design errors include providing solutions that generally do not meet project specifications completely due to lack of careful consideration on design aspects.
Further, delivery time-lines can be overestimated or largely under-estimated which can later result into a schedule delay when the project is executed. Non-Compliance errors occur when the contract requirements for tender submission are not fulfilled. These include incomplete information related to solicited design and construction details of the project and failure to comply with the schedule or any part of the Request for Quotation or RFQ. Often contractors submit tenders with low bids and low schedules in the hopes of winning a project which can later result in quality issues on the construction project, hence, such errors should be avoided.
 Question 2(b):
 The above highlighted errors that are often made by contractors while submitting tenders for the built environment projects need to be rectified. Precautionary measures need to be taken before contracting in order to ensure minimal or zero errors. Methods to ensure no errors occur before contract is placed includes reviewing the project requirements clearly and correctly estimating the pricing and schedule related aspects. The design solution should be thoroughly reviewed by the contractor to present the most optimal solution to ensure bid acceptance. Non-Compliance errors should be avoided and all details solicited by the tender seeking firm should be provided. When accepting tender submission firms should carefully review details to ensure compliance before accepting the bid for review.
Errors that occur after placing the contract need to be rectified through mutual consent and agreement. For example, JCT Tendering Practice Note 2012 states that pricing errors should be rectified through two options, Alternative 1 and 2. In case a tenderer has submitted a bidding error then the tenderer should be notified and provided an opportunity to confirm or revoke the bid making necessary adjustments. The amended amount should be then reflected in the accepted bid. Any discrepancy or amendment to contract terms relative to pricing or non-compliance errors should be mutually signed and acknowledged by both parties. Construction errors can also be avoided by using state of the at tools such as Business Information Modelling and integrating the contactor at the time of designing stage so that information is communicated to the contractor in real time
Question 3(a):
 For Construction projects, there are various modes of payments that are employed to finance the design and construction related to such projects. The end point financing is increasingly becoming a popular mode of payment that requires the contractor to provide all finance related to the project at completion. This includes many benefits for the contractor as he can take on responsibility of the project work and handle it's execution in an effective manner. It also provides the contractor with a platform to control the entire project life-cycle specifically the design and construction phase. Such financing solutions are offered by the contractors who can direct the entire built project development managing it the way they feel suitable.
The control provides the contractors with the flexibility to avoid any design alterations and scope variations that can otherwise lead to problems such as cost overruns and delays. Most construction projects that are build/design, pure build/design systems and construct projects (with guaranteed price or without) tend to use this form of financing (Atkinson Andrew, 2015). However, such payment modes also provide the contractor with the ease to rush the project execution and stem-up the delivery schedule that might create quality issues later on. For example, an end point financing method is selected for the construction of high-rise building, the contractor will be assuming the responsibility to invest on the project, with assurity that the payment will be made in accordance with the produced bills of quantities. In-case the contractor faces any risks during the construction phase of the project, they can use their own expertise/experience/engineering to mitigate the risks and come up with the best possible solutions. Moreover, since the contractor assumes responsibility of initial investments, they can adjust/balance it with giving higher cost estimate at the time of bidding process
Question 3(b):
 Several alternatives to the end point financing include the Payments on Account, staged payments and Advanced Payments. Payments on account is a traditional payment method for build projects that has been conventionally used for financing projects. The payment method is considered secure and flexible as it provides an opportunity to manage and direct construction projects in a productive manner eliminating the contractor control aspects that are associated with the end-point financing. It is also considered a cheaper and reliable payment form that reduces the direct and indirect finance burden on the contractor that enables low-cost and small firms to finance design and build endeavors.
Another alternative to end-point financing is advanced payments where the payments for building work is provided in advanced by the contractor or firm. This form of payment is most appropriate for large scale construction projects and fabrication endeavors where the contractor requires large financing to initiate work on the project. Staged Payments are closely associated with the Payment on account mode of payment that are used with standard contracts like DB2011 and entail making payments at the completion of various stages of the project. It is also considered a more reliable payment method as it ensures work guarantee through stage completion and payment security.
Question 4(a):
Construction Projects entails insurances of various types to protect the interests related to the different project parties such as the employer, contractor, subcontractors, client or tenants and project employees. An example of such an insurance is the contractor's all risk policy or a public liability policy and indemnity policies related to professional services. The section 6 of the building contract, Standard Building Contract, SBC /Q2011 provides details that provide such insurance coverage for construction under three different categories mainly, Option A ‐ new works by Contractor, Option B ‐ new works by Employer and Option C ‐ Existing Structures and Works. Sub categories include insurance for contractor and employer's all risks based on new work and specified perils for existing structure and works.
For this scenario, the insurances related to the construction of a five-story office block in Central London would be based on building insurance covering damages under the new work category that is applicable under the SBC/Q2011 contract under option A. The insurance can be in the joint names of the building contractor and employer. Further optional insurance includes those related to unforeseen circumstances or policies such as non-negligence insurance (Contract Works Insurance, 2016)
Question 4(b):
 Contract Works Insurance is aimed at protecting project interests like building damage due to fire, flood, theft, environmental calamity or intentional damage to the construction site. For the five-storey office block in Central London, the employer can protect his interests through insurance provided by the JCT contract such as employer's all risks policy that ensures all construction work is completed as planned and all damages due to justified reasons are covered. However, the contract works insurance policy can be extended to include protection for unforeseen risks in order to address future problems and reasons that could result in loss or damage.
Such project based insurance would include policy that covers damages to assets or plants used or hired for use in the construction process such as concrete mixer, Crane, tractor and specialized machinery. Further the employer can extend the insurance policy of this building to include damages to particular tools used, engineers tools utilized and supplemental provisions such as procedure for conflict resolution, arbitration, adjudication and reference to mediation. The employer can also extend insurance to include protection for any temporary structures related to this building. Hence, all possible risks and damages can be covered through insurance to account for any negative future occurrences. (Contract Works Insurance, 2016)
Question 5(a):
 Any variations or extra work assessed during construction is covered through a proper procedure as per the JCT building contract. The SBC/Q2011 contract with quantities defined provides legal flexibility to cover additional direct and indirect costs through the Variations section. Typically, when there is a price variation for a construction project, the costs associated with the extra work are credited or added to the main project contract after review of the incurred cost estimations. If the additional cost estimation is not too high then the amount is directly adjusted to the main project cost in the contract after review and mutual consent of the parties. If the extra work expenditure is high then the additional work is treated as a separate account and a new contract is created.
For this particular scenario, the direct expenditure related to the extra work for basement construction would include expenditure related to the brick culvert breaking, void filling and foundations construction. Direct costs related to this extra work include material costs for cement, brick and concrete, Labor costs and plant costs for performing the additional work in the basement. The costs incurred can be added to the main project cost as variation adjustment for the building cost.
 Question 5(b):
 The indirect costs related to the building construction would be less since all primary costs related to machinery, labor and material are already covered as direct costs including those relative to plant maintenance, lighting, power, equipment hiring charges and the fees for designers or architects. However, for this extra work for the office block basement, the indirect costs can be the charges related to the firm's head office and other management expenses. The indirect costs can be added to the main contract along with direct expenses associated with the extra work. The additional work in the office block basement would also affect the timeline or project schedule for the office building construction increasing it further.
Most JCT contracts such as the SBC/Q2011 do provide for extension claims in the project schedule and compensation for additional work. This EOT or extension of time claims are allowed after review of justifiable reasons for the delay and compliance of statuary requirements. In this scenario, the employer can claim for a timeline extension and the compensation for additional expenditure or claim for loss and expense incurred as part of additional work to be done for the basement construction. Since this is not the employer or contractor's fault hence the claim is justified and can be allowed.
Question 6:
The building insurance will provide protection for the interests of the various stakeholders like the landlord, tenants and other lending parties. This ensures that the risks associated with damage and loss are covered through liability insurance and property insurance. In this scenario the concerned parties are the employer or developer, client or insurance company and the Tennant to which the building would be leased. The developer needs to get property insurance, liability insurance and other alternative measures to ensure that all the parties interests are protected as all the highlighted stakeholders have their own particular requirements relative to risk mitigation.
Liability Insurance protects the building owner, tenants and the lending party from legal proceedings like lawsuits and accidental coverage claims for the concerned parties. This type of coverage is known as Commercial General Liability Insurance, or CGL that is associated with the Tennant. It ensures that the landlord requirements are met with regards to accidental coverage occurring in the leased space. Property insurance including special form insurance and flood insurance for this industrial building to be constructed in home-counties will provide coverage for damages and loss to the building while protecting the interests of the landlord and the tenant.
Alternative measures apart from liability insurance and property insurance should also be taken by the developer since insurance certificates are not complete guarantee, these days for all risk coverage related to buildings. To ensure that there is effective risk mitigation additional measures like asking the client and other party's adviser to confirm the insurance policies as applicable by the contract are defined and established. This also entails checking all insurance details regarding insured or loss payee information related to the client and policy clauses that include information such as self-insured retention, payment limits, deduction terms and other conditions.
Another alternative measure is to ask the actual insurance policy to be delivered in case of a bound insurance as in the case of this new building, so that the policy details can be confirmed by the client's adviser and relevant details can be reviewed. In this scenario, the insurance company will buy the building and therefore the developer must ask the expert or adviser from the insurance company to provide and confirm bound policy details for the property. The developer can also formulate insurance coverage in mutual consent with the insurance company or the buyer to protect the interests of the tenant, buyer and other parties once the building is constructed and leased. 
References
5 Factors to Consider in Choosing Your Next Building Contractor. Mod Space Blog, 2015. Available at: <http://blog.modspace.com/2012/05/24/5-factors-to-consider-in-choosing-your-next-building-contractor/>. Accessed [9 January 2016]
Andrew, Atkinson. (2015) JCT Contract Administration Pocket Book. Available at: <https://books.google.com.pk/books?id=zkLLCQAAQBAJ&pg=PA59&lpg=PA59&dq=end+point+financing+of+building+work/>. Accessed [9 January 2016]
CORRECTION OF ERRORS IN PRICED TENDER DOCUMENTS. CAPITAL & INFRASTRUCTURE BUILDING CONTRACT DIRECTIVE, West Sussex County Council, 2014.
Dunn, Micheal. (2015) JCT Standard Building Contract 2011 - SBC/Q. Available at: <https://www.google.com.pk/url?sa=t&source=web&rct=j&url=https://www.architecture.com/Files/RIBAProfessionalServices/Regions/NorthWest/Education/Part%25203/StudyPacks2012/ChesterMarch/SBC2011-MichaelDunn.pdf/>. Accessed [10 January 2016]
Dunn, Micheal. (2015) JCT Contracts Overview. Available at: <https://www.google.com.pk/url?sa=t&source=web&rct=j&url=https://www.architecture.com/Files/RIBAProfessionalServices/Regions/NorthWest/Education/Part%25203/StudyPacks2012/ChesterMarch/JCTContractsOverview-MichaelDunn.pdf/>. Accessed [10 January 2016]
Extension of time EOT in construction contracts. Designing Buildings, (2015). Available at: <http://www.designingbuildings.co.uk/wiki/Extension_of_time_EOT_in_construction_contracts/>. Accessed [10 January 2016]
Factors influencing sub-contractors selection in construction projects. Science Direct, 2015. Available at: <http://www.sciencedirect.com/science/article/pii/S1687404813000254/>. Accessed [9 January 2016]
Heintzmen, Thomas. J. (2012) Can A Contractor Use Its Own Mistakes To Withdraw Its Bid. Construction Law Canada, 2016. Available at: <http://www.constructionlawcanada.com/building-contracts/can-a-contractor-use-its-own-mistakes-to-withdraw-its-bid/>. Accessed [9 January 2016]
Marie, M. and Marilyn, C. Maloney (2010). Liability and property insurance: the basics and hot issues, including the insurance certificate problem. Available at: <https://www.google.com.pk/url?sa=t&source=web&rct=j&url=http://www.americanbar.org/content/dam/aba/events/real_property_trust_estate/symposia/2010/1970.pdf/>. Accessed [10 January 2016]
Marie, M., and Marilyn, C. Maloney (2009). Critical Insurance Tools for Landlords, Tenants, and Lenders (Certificates, Endorsements and More), ICSC 2009 Shopping Center Law Conference, October 21 – 24, 2009.
Marilyn, C. Maloney. (2009) Green Insurance for Green Leases, the ACREL Papers, Fall, 2009 (203).
Puneet, (2015). JCT Contract Administration Pocket Book. Available at: <http://www.yourarticlelibrary.com/accounting/contract-accounts/accounting-procedure-regarding-contract-accounts-11-illustrations/51827/>. Accessed [10 January 2016]
What Is Contract Works Insurance, (2015). Available at:<http://www.what-is-contract-works-insurance.co.uk/what-is-contract-works-insurance.php/>. Accessed [10 January 2016]