Question 1: The purpose and use of risk assessments in the workplace. Identify whether you consider them to be useful or just a 'paper exercise' to satisfy health and safety legislation?
The Workplace Health and Safety (2015) emphasizes the significant impact of risk assessment procedures and practices in any business enterprise terming it as a strategic organized framework to implement control measures in ensuring the successful achievement of business objectives. When adopted by a particular organization, it ensures that any unacceptable change or hindrance to the seamless execution of business operations is successfully mitigated or foiled to encourage productivity and organizational success. In terms of Occupational Health and Safety considerations, risk assessment procedures ensure that the workplace safety is augmented thus providing a safer and non-hazardous working environment to the workers and employees.
The Health and Safety Executive in its Guide, Managing Contractors (2001) clearly states the organizational need to implement a comprehensive framework for Health and Safety at the workplace for which particular emphasis has been placed on the selection and adoption of an effective Risk Assessment Methodology. This ensures that all possible hazards, risks and negative influences associated with a workplace environment can be identified and addressed accordingly. The Canadian Center for Workplace Health and Safety (2015) identifies it as a strategic five step process for the successful implementation of occupational safety measures. These steps include:
Identification and awareness of the potential security threats and hazards relative to the workplace environment, for example, office, site or field etc.
Performing a risk response assessment or evaluation of the severity, probability of occurrence and impact of the threat or risk gaining a clear understanding of how it can affect safety for the employees at work.
Evaluating the existing processes, structures, situations and operational flows at the workplace aiming at unraveling potential safety loopholes.
Identifying control measures to be implemented by assessing the severity of the impact and the probability of the risk occurring including metrics for continuous monitoring and evaluation of the assessment.
Devising risk mitigation and contingency plans with the sole purpose of ensuring how workers and employees can collaborate in a safer and more protected environment.
There are various legislation and legal entities directed at ensuring the organizations adherence to the HSE policies and guidelines in The UK. Similarly, various successfully established and implemented legislations exist in the US, such as the Occupational Health and Safety Act 1970. There are similar workplace safety regulations for nations across the globe to promote worker's safety and health. Organizations must then, conduct a thorough risk assessment of their workplace to ensure that their HSE policies are compliant with the established legislation. The British Standards BS8800 and BSI 2004 provide the technical details and guidelines for the implementation of occupational health and safety for organizations in the UK. As stressed by the Workplace health and safety (2015), the risk assessment process ensures that the organization is aware of the entities at risk such as employees, visitors, cleaning staff, contractors and other stakeholders.
Through a comprehensive assessment procedure, effective corrective strategies can be then devised to reduce and eliminate the impact of these hazards and security threats. The British Standards Organization and the British guide, 'Occupational health and safety management systems' provides guidelines on how to prioritize risks and establish appropriate mitigation strategies in retrospect of the evaluated severity levels and probability of occurrence. It is also recommended to regularly review and monitor the risk assessment to ensure that the occupational health and safety plan is executed as planned.
Risk Assessment procedures are highly productive and useful in ensuring the workplace safety of the employees in practical terms. In the construction Industry, such practical measures are extremely necessary to provide a safer site environment for engineers, contractors and employees working in difficult and risky areas in the field, as such risk can cause serious damages as well as death of the occupants. Legislation further elevates the occupational safety assurance through guidelines on refining an organizations existing OSH plan and policy for a safer workplace environment, and how to actually implement them. HSE also executes sites visit to ensure that these plans are being implement by the management. Therefore, risk assessments in the workplace must implemented practically on the site of interest, and it must not be considered as a mere paper exercise to satisfy health and safety legislation.
Question 2: Read the attached article entitled 'It's good to talk' which is about how engaging workers in health and safety can help cut accidents. Give your views on whether you believe that the proposals set out in the article are valid ones. Identify the merits of using such a system on a construction project and state whether there any drawbacks with the proposals that are put forward in the article?
The particular Article highlights research findings for the effectiveness and impact of worker engagement on a construction site for the promotion of health and safety at the workplace. As the research depicts, safety measures and OHS procedures implementation can significantly benefit from a well trained staff who is equipped with the essential knowledge required to effectively contribute to improvements in occupational safety. A significant role is that of the OHS Manager or site supervisor who has to influence behavioral safety and worker engagement through lucid and conspicuous communication skills. For this purpose, it is mandatory that the manager is trained for successfully imparting workplace health and safety guidelines to the workers.
Communications and face-to-face interaction is the key element in such workplace situations especially with regards to the construction project as it leads to enhanced employee morale and increased level of trust that is a boon to meeting OHS objectives. As the research suggests, daily interaction with the workers on the construction site and discussions relative to the safety queries can prove productive. Further, follow-up on worker's safety feedback and efforts to address such issues highlighted by workers can facilitate the refinement of existing OHS practices and can greatly influence worker participation for further improvements. Such a system can prove beneficial for ensuring effective workplace health and safety policies with the only drawback being a lesser focus on documented procedures. There should be some 'paperwork' to provide a means for monitoring and evaluating existing OHS procedures.
Question 3: Explain why it is important for main contractors to carry out training in health and safety for both employees and subcontractors and what are the consequences for the contracting organisation if there is subsequently a serious accident or fatality on the project.
As suggested by the Health and Safety Executive in its Guide, Managing Contractors (2001), it is beneficial for organizations to provide necessary training to their contractors, workers and employees regarding workplace safety measures. There are guidelines for managing subcontractors that state the importance of communicating the contracting company's health and safety policy clearly including terms that cover behavioural safety aspects for the subcontractor to all relevant stakeholders at the initiation of a project or certain endeavor. This is also important as it is highlighted by established OHS guidelines and organisational policies must conform to such safety measures to avoid legal hassle and unproductivity.
In the construction industry, it is highly important to clarify safety practices and standard set of procedures (SOP) with the subcontractors including provisions of essential training to ensure conformity to legislation and OHS policies. This is also considered to be very important as there is likelihood that the human resource of the sub-contartcor or the contractual employees may not consider safety as priority, or they may have not been trained properly in their previous scope of works. Such practices, if not implemented can result in significant losses for the organization including impacts like:
High risk, which would eventually result in high insurance charges.
Safety threats to uninsured or insured equipment and employees/subcontractors
Project failure, legal issues as well loss of integrity of the company
More production time and operational expenditure, low productivity and morale of key workers and subcontractors. Adverse effects on quality of products and services
Accidents or incidents relative to occupational safety can prove detrimental to the contracting organization with negative impacts on competitive-edge and brand value including the risks of legal action, penalties, reimbursements or compensation to pay and a tarnished company image. As per a recent HSE survey, workers who paid consideration to enhanced OHS practices including safe working with the subcontractors reported higher benefits of doing so and enjoyed a higher workplace security satisfaction level.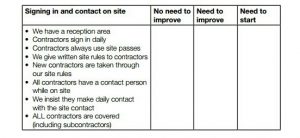 Figure 1: OHS for Contractors (Managing Contractors, 2001)
 Reference List
 Figure 1: OHS for Contractors, The Health and Safety Executive, 2001. Available at: <http://www.hse.gov.uk/pUbns/priced/hsg159.pdf/> Accessed [8 December 2015]
Managing contractors: A guide for employers, The Health and Safety Executive, 2001. Available at: <http://www.hse.gov.uk/pUbns/priced/hsg159.pdf/> Accessed [8 December 2015]
Management of health and safety at work, Management of Health and Safety at
Work Regulations 1999, Approved Code of Practice and guidance L21 (Second edition), HSE Books 2000.
OSH Answers Fact Sheets, Canadian Center for Occupational Health and Safety, 2015. Available at: <http://www.ccohs.ca/oshanswers/hsprograms/risk_assessment.html/> Accessed [8 December 2015]
Personal protective equipment at work. Personal Protective Equipment at Work
Regulations 1992, Guidance on Regulations L25 (Second edition), HSE Books 2005.
Risk assessment in the workplace, Medical Research Council, 2011. Available at: <http://www.mrc.ac.uk/skills-careers/working-for-mrc/safety-security-resilience/policies-and-guidance/risk-assessment-of-the-workplace/> Accessed [8 December 2015]
Safe work in confined spaces Leaflet INDG258, HSE Books 1997. Available at: <http://www.hse.gov.uk/pubns/indg258.pdf/>. Accessed [8 December 2015
Successful health and safety management HSG65 (Second edition), HSE Books
1997.
The National Education Association Health Information Network, 2015. Available at:<http://www.neahin.org/> Accessed [8 December 2015]
The American Federation of Teachers (AFT) , 2015. Available at:<http://www.aft.org/> Accessed [8 December 2015]
The National Safety Council, 2015. Available at:<http://www.nsc.org/> Accessed [8 December 2015]
The Service Employees International Unions (SEIU), 2015. Available at:<http://www.seiu.org/> Accessed [8 December 2015]
The cleaning and gas freeing of tanks containing flammable residues Chemical
Safety Guidance Note CS15, HSE Books 1985.