Introduction
Ventilation is the modern day requirement of all buildings as it has become a necessity in recent times. As is evident from its name, Ventilation is a process through which it cleans and ventilates the air by providing fresh air from the outdoors. It has been used in various forms since early times (Sherman, 2004). Ventilation designs have a tendency to vary from buildings to buildings as they come in different parameters in accordance with the design requirements.
General apartments and commercialized building ventilation designs are more complex than simpler single family homes; the main reason being the lack of outdoor exposure to these apartments and commercial constructs. Furthermore, taller buildings have uneven distribution of air flow. This unevenness becomes a source of cracks in walls that prove to be a nuisance for the inhabitants. Various ventilation technologies that include mechanical systems, natural ventilation, passive ventilations and sustainable ventilation system designs are currently being used to install ventilation systems in buildings. Smaller buildings that are less than 4 stories high have an added advantage of naturally ventilating the premises and it can further be strengthened by operable windows. Larger buildings, however, have more complex systems to ensure proper ventilation. These systems include mechanical ventilation systems that have various components in the form of air-ducts, huge fans and inlets but may also rely on operable windows.
As mentioned earlier, ventilation has become a necessity since the recent technological and industrial boom. Air circulation is essential in closed areas like hallways, stairwells, lobbies, parking areas and various storage areas. Natural Ventilation designs however have its drawbacks due to the lack of control over the environment variables which may result in over-ventilation or periods where there is insufficient ventilation. A good design can however ensure some sort of control though which ultimately hands the responsibility over to the user who can adjust ventilation in accordance with their needs. But once these systems prove to be inadequate, mechanical ventilation remains the only choice. They provide an automated system of air filtration and are designed to adjust according to the pollutant proportion and the inhabitants' needs. These state of the art automated systems are being integrated in all new buildings and have become the center of attention while renovation.
Design Parameters
The mechanical systems installed in various buildings have a centralized supply system that controls and processes the air flow while individual exhaust fans are installed in individual building units (such as apartments/labs/lobby/offices). The choice between different ventilation technologies described above depends on various factors that include:
Weather of the area
Cost bearable
Inhabitants load
Building's construct and its access to ventilation
The mechanical systems should be smart enough to adjust the ventilation rate so as to cope up with changing environment variables that include the occupancy patterns, changing pollutant proportions and the environments' changing climate. It has to cater to individual apartments by calculating sufficient ventilation needs according to its volume and pollutants. Building inhabitants, energy service companies and the building officials have different point of views when it comes to the argument of what is proper ventilation. The choice of ventilation also depends on the air-tightness of a building which can be calculated as the amount of air leaked/exhausted in cubic feet per minute. It basically defines the buildings resistance to proper air flow. This choice further depends on various advantages that need to be expressed as far as improved living conditions, energy consumption (air conditioning/ heating) demands etc. are concerned (Holton et al., 1997).
Mechanical Ventilation systems that are found in multi apartment buildings can be categorized into two subcategories that include centralized systems and distributed systems. As the names suggest, centralized systems that are found in high-rise buildings, provide ventilation to the entire building and have at a low running and installation costs whereas a distributed system which is usually found in comparatively smaller buildings, are widespread where each apartment has its own small ventilation system installed. These distributed systems have distinct fans, motors or fan coil units that are integrated to work on ducted systems. They also include specialized windows and/or inlets that provides inlet of air. Furthermore, they also have a complex integrated system of fans, ducts, air inlets, air grilles and supply air intakes (Sherman, 2004). The choice of Mechanical systems largely depends on the comparison between its benefits and the installation, capital, running and maintenance costs. Central systems on the other hand have huge fans and interdependent duct systems that exhaust air out of individual units of the building.
There is a fine line between optimum performance of a ventilation system and its efficiency which is the ultimate goal of ventilation designs. Modern day buildings are designed in an efficient way so as to avoid any space being left between blocks of the building to attain a sealed envelope. Hence large buildings can modify their cooling/heating systems to provide air ventilation.
Different components of mechanical systems are described henceforth.
Fans, Air Handling Units (AHUs) and/or Fan Coil Units (FCUs): These are primarily large fans which supplies air to the building. AHUs are normally used for a central facility and FCUs are used in individual units connect with the main ventilation system
Ducts: They are used to carry the ventilation air throughout the building (in and out).
Chiller/heating Units: These are used to condition the air as per the requirements
Air Intakes: These are opening connected to the outside environment through which air is collected from the building's exterior and pumped through the ducts.
Diffusers/grills: These are used to supply the ventilated air into the desired space and suck the air out.
Noise Attenuators: These are used to damp the sound created by the large mechanical ventilation systems.
The optimum performance and efficiency is which ventilation systems are designed to achieve. The perfect mix of mechanically pumped air from air inlets/intakes mixes with existing air occurs when all internal separations are airtight which introduces a positive pressure that the inhabitants can make use of in the ventilated space.
There are various control instruments that can be used to control ventilation of any building in order to gain comfort and required energy savings. The applications of the control system depend on the user/design requirements; however some of the basic tools include temperature and humidity sensors, timers, C02 sensors, flow sensors, flow control valves and various others. The system which requires the occupants to open windows/paths for the supply of the air are the least reliable systems, however it can save the operational cost due reduces usage of smart equipment
The distribution system holds primary importance in all the mechanical ventilations systems, as it ensures uniform provision of conditioned/fresh air. The multipoint supply system or a mechanical ventilation system which incorporates the ductwork along with the HVAC can distribute the fresh with more efficiency as compared to the natural, passive  and central exhaust ventilation system (Rudd and Lstiburek, 2000). These systems ensure that the supplied air is entered in the building in a controlled manner and all the divisions of the complex/building receive sufficient air, and the over ventilations is avoided.  In order to avoid pollution and ensure standardized efficiency of the distribution system, it must be ensured that there are no leaks in the ducting system in place (Delmotte, 2003).
Air indoor quality also holds prime importance in any adopted ventilation mechanism.  As discussed in the research presented by (Sherman and Hodgson, 2004; Seppanen, 2004) the exposure of air pollutants can cause serious health hazards to the residents of the building. Indoor air pollution can originate from indoor as well as outdoors, which may include suspended particles, organic chemicals, biological containments and/or other effluents. The reliable method of effectively reducing/eliminating such pollutants is eliminating the source of such emissions; however this activity is not possible in some cases (Levin, 2004).  Therefore various other strategies can be adopted which can enhance the quality of the indoor air, which includes; increasing the rate of ventilation until the pollutants are diluted, filtering the air to remove particulate matter, cleaning the air to capture volatile compounds, and/or combinations of all the methodologies.  
According to Matson and Sherman (2003), increases rate of ventilation for dilution purpose does not always effectively reduce the particulate contaminations. Filtration process however has the capacity to reduce the particulate contaminations (if these cannot be eliminated at the source), and therefore filtration is most widely used in the mechanically ventilated buildings, where the air is filtered and supplied or re-circulated in the building; as shown in the figure below;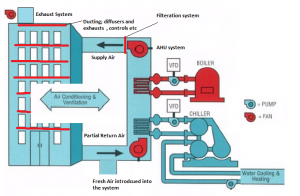 Figure 1: Mechanical ventilation system for multistory building (source: ECEN, 2014, edited)
Mechanical Ventilation Strategies
Practical analyses of the ventilation systems reveal that there are various options which can be utilized for the whole buildings mechanical system, which fundamentally works on the exhaust, supply and balanced systems.  These system can be operated though adaptation of various methods depending on the design requirements; systems can be designed as continues or intermittent, and can also be integrated with an existing HVAC (heating, ventilation, and air conditioning) system. The mechanical ventilation systems can provide optimized control over the ventilation system when compared to other ventilations systems; however the system energy consumption is greater than the natural/sustainable systems. The study conducted by Holton et al., 1997 compared various ventilations systems and suggested that modern buildings must include the mechanical ventilation system due its user preferences, higher infiltration rates, greater control and various other benefits.
Much research has been completed in order to study the mechanical ventilations system's configurations, which can include systems with complete exhaust or re-circulations via central air conditioning system. The following are the primary ventilation technologies currently in use;
Continuous exhaust-systems
The continues and complete exhaust systems provide ventilation to the whole building though single or multiple points air removal using an exhaust fans (Concannon, 2002). The amount of air is then provided through the provided vents/ducting system; as shown in the figure below;
Figure 2: the continues exhaust system (source: edited MS Paint)
Intermittent exhaust-systems
This ventilation system is quite similar to the continuous exhaust system, but with additional supply/exhaust fans installed in several areas of high ventilation requirements. This system provides more control to specified residents of the complex, and can benefit in terms of reduced cost and additional ventilation service. 
Continuous supply
Continues mechanical ventilation system is one of the most widely used systems utilized in most of the buildings/dwellings. The system supplies air through a central fan/AHU to all divisions of the building and exhausts the air stale air via exhaust-duct system.  This system allows the residents to control of the quality as well as quantity of air in the building. The occupants can filter and condition the air as per the requirements before supplying it the building via using chiller/heating equipment.
The system further allows creating a positive pressure of air in the building or building parts, which is dependent upon the air tightness of the building. This positive pressure created by higher supply and lower exhaust can prevent contaminants from the outside to enter in the building, however it may have some disadvantages too (Santamouris, 2005)
The system can also be designed for an existent central forced supply air system to distribute fresh air across the building through ducting network. An air inlet is provided at the return side of the HVAC facility to ensure fresh air's provision in the system of mechanical ventilation. This reduces the cost of operation as the fresh air is mixed with a set percentage of previously conditioned air, as shown in the figure below;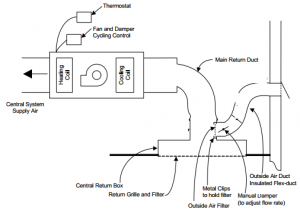 Figure 3: Continues mechanical ventilation system with single ducting system and provision of fresh air mixing along with the use of return air (source: Building Science Corporation, 2014, edited)
Balanced exhaust and supply system
The balanced exhaust and supply ventilation utilizes two separate fans and ducts for air supply and exhaust. Due to the independent supply/exhaust systems, the required pressure balance can be easily achieved for all the interior spaces of the building. This strategy can applied to any diverse climate conditions as it is easier to achieve higher flow rates of the air inlet and consequent outlet through application of this system. It is also feasible to install a heat exchanger at the return side of the ventilation system to recover heat from the exhaust and pre-condition the supply air using this energy
However, it is important to note that extensive ducting is required to supply fresh air into building interior spaces, and it also requires separate exhaust ducting to remove stale air. Due this additional works, the cost of this facility is much higher as compared to some other systems detailed previously. The system also may require multiple fans (AHUs) for various locations/floors to accommodate the design air requirements
References
Building Science Corporation, 2014. Available online at: http://www.buildingscience.com [Retrieved 19 April 2014]
Concannon, P. 2002. "Residential Ventilation." AIVC Technical Note 57, Air Infiltration and Ventilation Center.
Delmotte, C. 2003. "Airtightness of Ventilation Ducts." Ventilation Information Paper No. 1, AIVC.  Air Infiltration and Ventilation Center.
ECEN, 2014. Energy efficiency: buildings, lighting, HVAC, computer systems. Available online at : http://ecee.colorado.edu/ecen2060/efficiency.html [Retrieved 20 April 2014]
Holton, J.K., M.J. Kokayko, and T.R. Beggs. 1997. "Comparative Evaluation of Ventilation Systems." ASHRAE Transactions. Vol. 103, Pt. 1.
Levin, H. 2004. "Indoor Air Pollutants Part 2: Description of Pollutants and Control/Mitigation Measures." AIVC Ventilation and Information Paper No. 7. Air Infiltration and Ventilation Centre.
Matson, N.E and Sherman, M.H., 2003. "Reducing Indoor Residential Exposures to Outdoor Pollutants." Technical Note AIVC 58. Air Infiltration and Ventilation Centre.
Rudd, A. and Lstiburek, J. 2000. "Measurement of Ventilation and Interzonal Distribution in Single Family Houses." Proceedings of ASHRAE Annual Meeting. June 24-28, 2000. Minneapolis, MN
Santamouris, M. 2005. "Ventilation for Cooling and Comfort." published in "Ventilation: A State of the Art Review", James & James 2005.
Seppanen, O. and Fisk, W. 2004. "Summary of Human Responses to Ventilation." Indoor Air. Vol. 14(7), pp. 102-118.
Sherman, M.H 2004. "Efficacy of Intermittent Ventilation for Providing Acceptable Indoor Air Quality." LBNL-56292. Lawrence Berkeley National Laboratory, Berkeley, CA.
Sherman, M.H. 2004."ASHRAE & Residential Ventilation." ASHRAE Journal. Vol.46(1). pp. S149-156. Lawrence Berkeley Laboratory Report LBNL-53776.
Sherman, M.H., and Chan W. R. 2004. "Building Airtightness: Research and Practice" published in "Ventilation: A State of the Art Review" James & James. 2005. Lawrence Berkeley Laboratory
Report No 53356
Sherman, M. H. and Hodgson A.T.. 2004."Formaldehyde as a Basis for Residential Ventilation Rates." Indoor Air. Vol. 14 (1). pp. 2-8. (LBNL-49577).